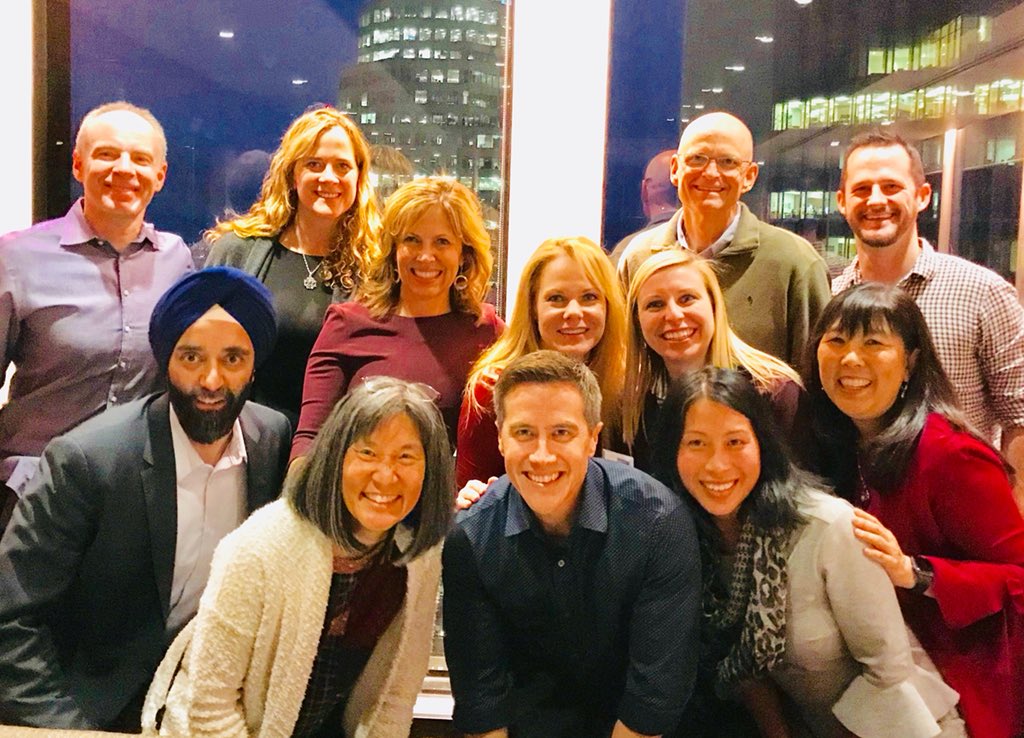 Permanente Medical Groups Present at 2018 International Conference on Physician Health
Physicians and leaders from the various Permanente Medical Groups recently presented at the 2018 International Conference on Physician Health in Toronto, Canada, highlighting successful PMG programs that address physician health and wellness.
The world conference, "Driving Meaningful Change: Make It Happen, Make It Matter," was hosted by the Canadian Medical Association, in collaboration with the American and British Medical Associations, from October 11 through 13, 2018. Attendees came from more than 16 countries.
This was the first year the Permanente Medical Groups – working under the banner of The Permanente Federation's Interregional Physician Health and Wellness working group – formally submitted abstracts for consideration. Twenty-nine of the abstracts submitted by the PMGs were selected for the convention, either as oral presentations or poster displays, representing about 20 percent of the overall conference oral and poster presentations.
"It was an honor to share the PMG self-care model with other physician groups and health care leaders on an international stage," said Dave Bell, MD, corporate vice president and associate medical director of Professional Development and Service at Hawaii Permanente Medical Group and executive vice president of People and Leadership Strategy at the Federation. "The PMGs have many insights to contribute to the conversation on physician and provider health and wellness, and we're excited to learn from our international colleagues as well."
"Our SELF CARE model has been successful because it's rooted in evidence-based practices," said Richele Thornburg, the Federation's executive vice president who co-leads the People and Leadership Strategy with Dr. Bell. "With more than 22,000 Permanente physicians across the country, we're able to test these various health and wellness programs to see what works and doesn't work well."
Both Dr. Bell and Thornburg, HPMG's vice president of Strategy, Leadership, and Communications, were among the HPMG leaders presenting on the SELF CARE model and talking about the culture of wellness fostered among HPMG physicians and providers.
Dawn Clark, MD, chair of the Federation's interregional working group, said attendees noted how advanced the Permanente Medical Groups were in developing programs, especially those that addressed systematic issues. Dr. Clark is the chief wellness officer at Southern California Permanente Medical Group.
"After each presentation our people were surrounded by international health and wellness experts trying to discover our secret sauce," Dr. Clark said. "On one hand it validated all of our hard work, and on the other hand it echoes an international sentiment regarding the need for more research in this arena."
Here's the complete list of PMGs that presented at the conference and topics covered:
Hawaii Permanente Medical Group
SELF CARE: F is for Food (oral presentation)
Culture of Wellness at HPMG (oral)
Bringing the Joy Back into Primary Care (oral)
HPMG's SELF CARE model (oral)
Foster a Culture of Health and Wellness through Professional Development Meetings (poster)
Promotion of SELF CARE Practices Through a Group-Wide Day of Volunteerism (poster)
Clinician Health and Wellness Communication Skills: How Improved Communications Skills Can "Make Your Day" (poster)
Using a Shared Publication Across a Multi-Location Medical Group to Promote Clinician Health and Wellness Through Optimizing Communication Skills: A 20-year Journey (poster)
Mid-Atlantic Permanente Medical Group
A Practice of One: Managing Loneliness in the Era of Virtual Care (oral)
Northwest Permanente
"Ghost" Clinicians Virtually Support In-basket Workloads to Improve Clinic Day Workflows (oral)
An Innovation Program to Enhance Physician Well-being. The Northwest Permanente Wellness Passport. (poster)
Southern California Permanente Medical Group
It Takes a Village: One model to implement, support and sustain a culture of health and wellness in a large physician group (oral)
If you build it they will come: How the roll-out of a large, consistent second-victim program unmasked an underlying need for broader peer support. (oral)
Supporting Primary Care Providers: The Extra Duty Reduction Project (oral)
"We've Got Your Back": How participating in a multi-disciplinary team project with a shared vision improved staff engagement and satisfaction. (poster)
The Permanente Medical Group
Giving Chiefs the Keys: Organizational strategies to help clinical chiefs drive change and lead resilient, engaged, and professionally satisfied teams (oral)
Virtual Mindfulness Course (oral)
Building a culture where physician self-care and support are seen as a key strategy to achieving sustained individual and organizational excellence (oral)
Huddle Board Reinvented: 5 Minutes a Day Promoting Wellness and Developing Culture (oral)
Leadership Development Series: The Impact of Leadership Development on Well-being and Engagement (oral)
Expanded Mentoring: Cultivating Collegiality, Inspiration and Pride throughout the Physician's Career (poster)
Technology Genius Bar (poster)
Being Present for Our Patients: Cultivating Mindful Physicians to Improve Patient Quality and Satisfaction (poster)
Improving Physician Health and Wellness in the Hospital: Putting physicians back in the driver's seat (poster)
Non-Physician Consultants as Essential Partners in Physician Wellness Interventions: Core Competencies for Establishing Trust and Leading Physicians Through Change (poster)
Inbox Ninja Program: Comprehensive electronic inbox coverage (poster)
Practice Refresh: A 6-week intervention to Recapture Physician Well-being (poster)
New Physicians Orientation and Wellness Series: Building a mindful community of doctors from day one (poster)
Mini-Grants to Support Innovation, Optimize Engagement and Diversify options for Physician Health and Wellness Activities (poster)