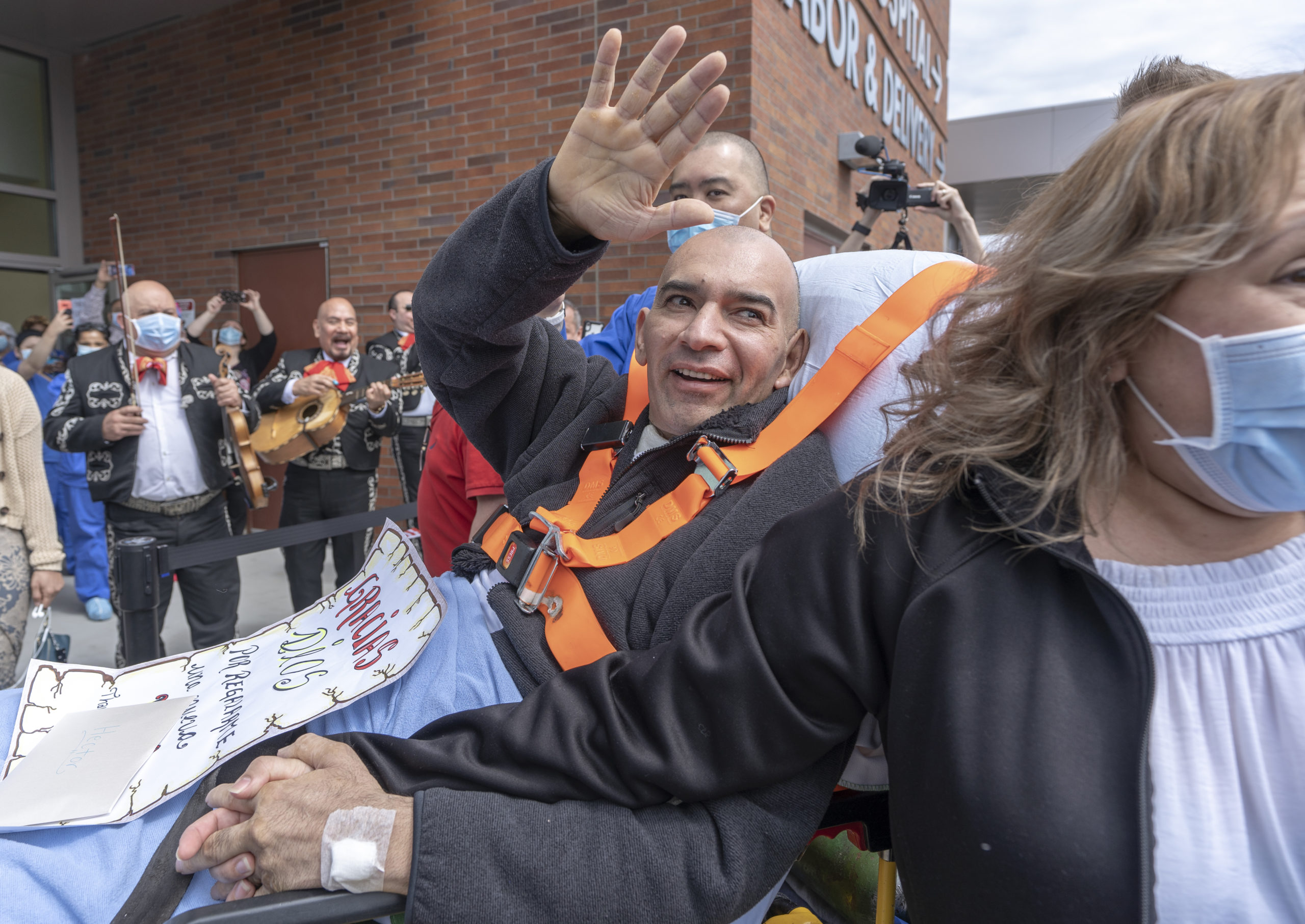 Permanente infectious disease specialists power COVID-19 response
This is the first of a two-part series highlighting the work of Permanente infectious disease physicians and emergency medical staff during COVID-19.
Collaboration across medical groups drives high-quality care during the pandemic
By Michael J. Green
The Permanente Federation
It was a moment 80 days in the making. Jose Dryjanski-Yanovsky, MD, an infectious disease leader for Southern California Permanente Medical Group (SCPMG), looked on as the patient he and his colleagues had cared for was discharged following a harrowing battle with COVID-19.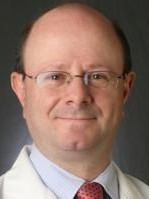 The patient, in his late 60s, encountered numerous life-threatening complications that required intubation, dialysis, and multiple infection treatments during his nearly 3-month stay at the Kaiser Permanente Woodland Hills Medical Center. His path to going home was an inspiration for frontline staff working tirelessly from the outset of the pandemic.
"His wife came to pick him up after not being able to see him for so long and it was very emotional," recalls Dr. Dryjanski-Yanovsky. "All the ICU nurses, floor nurses, intensivists, everybody that took care of him were there — it was a miracle he survived."
In a time when heroes wear white coats rather than capes, physician-led care teams on medicine's frontlines are providing leadership, expertise, guidance, and comfort during the COVID-19 pandemic. They face unprecedented challenges in caring for patients during this time that require exceptional teamwork and collaboration.
Among the heroes leading efforts to steer our country through this tumultuous time are infectious disease physicians.
Working in the eye of a pandemic
Infectious disease physicians diagnose and treat a range of diseases caused by viruses, bacteria, and parasites. They may also have additional training in epidemiology, which allows them to lead or contribute to investigations into how illnesses spread and the causes for associated upsurges.
At Kaiser Permanente, infectious disease specialists from across the organization's 8 Permanente Medical Groups are connected via an integrated care delivery model, which includes emergency management. The network allows them to share learnings and best practices to better care for members and patients.
Permanente infectious disease physicians comprise an Infectious Diseases Clinical Experts Group, which plays a vital role in informing and advising policymakers so they can propose solutions to address the pandemic.
In recent months, leaders within this group have worked at breakneck speed to go from a blank canvas of knowledge about COVID-19 to developing playbooks for effective and efficient patient care.
"We've all leaned in to make this a coordinated response, knowing that we have shifting bases of knowledge to work off," says Stephen Parodi, MD, associate executive director of The Permanente Medical Group The Permanente Medical Group, Inc.in Northern California and national infectious disease leader at Kaiser Permanente.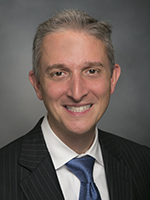 Dr. Parodi, who also serves as an executive vice president for The Permanente Federation, guides Kaiser Permanente's COVID-19 response, leading the development of playbooks, videos, and additional research. He credits an integrated care approach across all Kaiser Permanente departments for the rapid progress in developing plans to tackle the pandemic.
Permanente infectious disease physician leaders began convening with medical teams in January to better understand the virus and its spread, and how the health care system can best respond, Dr. Parodi explains. These discussions happened months before COVID-19 was a national concern, providing Kaiser Permanente and infectious disease leaders with an early game plan.
"When we determined that a different plan of action was needed for COVID-19, we convened the right experts in a room and went from no mitigation playbook to a full mitigation playbook in 48 hours," says Dr. Parodi, adding that local and state public health agencies have used the mitigation playbook as a model for policy.
To further guide local, national, and international pandemic responses, Dr. Parodi and other infectious disease leaders have shared their expertise in medical journals, spearheaded clinical trials, and appeared on national television.
Leading the response
As part of their early response, Permanente infectious disease leaders played a pivotal role in the development of regional and national COVID-19 command centers, which serve as hubs for clinical experts and operational leaders with, for example, up-to-the-minute statistics on caseloads. Ten infectious disease doctors from all the Permanente Medical Groups share their research and expertise with one another to determine community advocacy, policy, guidelines, and best practices for their respective regions and nationally. They also exchange learnings with infectious disease doctors in other health care systems and agencies to advance response efforts.
"All medical and operations issues are coordinated in the regional and national command centers," says Paul Thottingal, MD, regional chief of Infectious Diseases for Washington Permanente Medical Group, co-leader of the Kaiser Permanente command center in Washington state, and a chief medical officer of the national command center. "We continuously evaluate every single piece of the delivery system, enterprise, labs, supply chain, and clinics to create an agile response to the pandemic."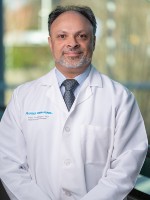 What started as a small group of infectious disease leaders now includes representatives from across Kaiser Permanente medical departments, IT, supply chain, and more. Dr. Thottingal says that when COVID-19 first began spreading early in 2020, national command center leaders met regularly to share information and come together on a unified action plan.
When the coronavirus first reached the United States, cases were primarily in the country's coastal states. However, the coronavirus eventually made its way into other regions. As the virus spread, the command center network was able to track and respond with recommendations on where to focus resources, and protocols for offering care to keep staff, patients, and their communities safe and healthy, Dr. Thottingal says.
"There was a lot of decision-making — some in the moment and some on the horizon," he says. "Whether it was clinicians, nurses, or IT, much of the COVID-19 response coordination was done through the command centers."
Evolving care for COVID-19
Dr. Dryjanski-Yanovsky, SCPMG's regional infectious disease chief lead and national representative, says the national infectious disease group's work was also instrumental for establishing best practices for breakthrough COVID-19 treatments, such as remdesivir and dexamethasone. He adds that information shared among command center leaders contributed to the development of critical care guidelines for treating acute respiratory distress and blood clots, and protocols for isolating those infected with COVID-19 to protect other patients and frontline medical staff.
"These practices have evolved and developed greatly since COVID-19 started, and we are able to teach them across all our PMGs," he says.
Early in the pandemic, resources to treat patients were limited to supplemental oxygen and supportive medication like antibiotics, Dr. Dryjanski-Yanovsky says. Now the course of treatment for COVID-19 patients has transformed to include standard practices — such as formal risk analysis and the supervised administration of clinically tested antiviral drugs — based on recommendations from Kaiser Permanente's command centers.
Better outcomes through integration
Leveraging Kaiser Permanente's network, Permanente infectious disease leaders work with other departments across geographies to evaluate the best PPE practices, enroll patients in clinical trials, and share research findings with remarkable speed and coordination.
"The one thing that underpins all of this is the remarkable response and commitment from our medical teams in terms of stepping in and working together," says Dr. Thottingal.
The interdependence and flexibility between Permanente care teams allows them to share uniform data, metrics, and communications so that members and patients receive exceptional care during extraordinary times. This is highlighted by how Kaiser Permanente accommodated patient spikes by expanding hospital and ambulatory capacity, increasing the practice of telemedicine, and growing offsite testing.
We've all leaned in to make this a coordinated response, knowing that we have shifting bases of knowledge to work off.

— Stephen Parodi, MD
Dr. Parodi adds that care integration will be essential as Kaiser Permanente advances best practices for COVID-19 suppression and participates in phase 3 COVID-19 vaccine clinical trials in the coming months. "Look at all we've done together so far — drive-through clinics, contact tracing, resource distribution, PPE sourcing, and so much more. Further establishing these practices across Kaiser Permanente is the work that's coming."
He also acknowledges that Permanente infectious disease leaders must collaborate to slow the spread of fear that comes with a pandemic and grows amid the backdrop of social and political unrest in our country.
"We must actually understand the human factors — the social determinants that affect peoples' health," Dr. Parodi says. "This has come up with COVID-19 when we think about the racial disparities that exist, who's at risk for acquiring the infection, and who's at risk for having complications. These aspects of the pandemic's spread must be incorporated into the recommendations that we put forward."
With a roadmap for an effective, coordinated response in place, Permanente infectious disease leaders, in parallel with all Kaiser Permanente departments, are ready for what comes next in route to flattening the COVID-19 curve.
"There is a long road ahead, but we can get there," Dr. Thottingal says. "Our infectious disease leadership is always going to keep the engine running."
The Infectious Diseases Clinical Experts Group is composed of 8 chairs of chiefs from across the Permanente Medical Groups.