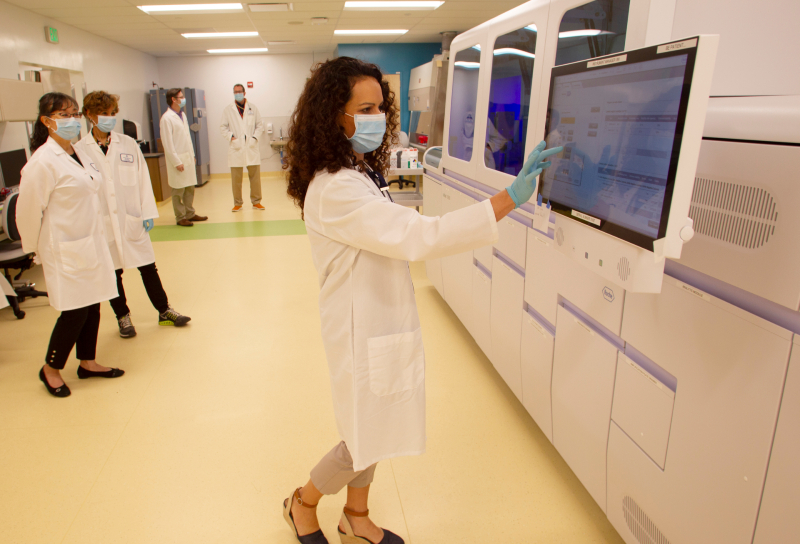 New lab, contact tracing at heart of COVID-19 suppression strategy
Kaiser Permanente transforms the way it cares for members as pandemic continues
By Douglas Oakley
Senior Communications Consultant
As California reopens its society and economy, Kaiser Permanente is rolling out a large-scale testing operation in the fight against COVID-19.
The operation is one part of a multi-pronged effort, known as a virus suppression strategy, that will usher in long-term protective measures for managing the virus across Kaiser Permanente in Northern California. Part 1 of this series described how the pandemic is changing health delivery at Kaiser Permanente in Northern California.
Expanded access to testing — including tests for people who are asymptomatic but have had close contact with people who developed the disease — will help slow the spread of the virus because it will identify people who were in contact with confirmed patients. By testing these contacts, who may not feel bad but are infected, it prevents them from unwittingly spreading it to others in their communities. Contact tracing is critical to predict new cases and get those who test positive into care.
Reopening society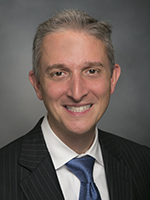 "We haven't eliminated community transmission of the virus, but we know the state of California and Kaiser Permanente are moving forward to reopen," said Stephen Parodi, MD, associate executive director of The Permanente Medical Group and national infectious disease leader for Kaiser Permanente. "So, the question becomes, how do we continue to keep a handle on COVID-19 disease and open up for the regular and preventive care we are known for?"
When someone has been diagnosed with COVID-19, trained people interview that person to find out who they have been in contact with. Then, those people are contacted to inform them that they might have been exposed to the virus. Those who are contacted, including patients and care givers in skilled nursing facilities, will get tested and receive treatment advice based on clinical and public health protocols.
"Each person who tests positive has on average 10 contacts who will need to be called and tested," Dr. Parodi said. "If you have 50 cases, there's potentially 500 people we would need to test."
Large-scale testing
A new $14-million Kaiser Permanente laboratory in Berkeley, Calif., capable of performing 10,000 COVID-19 tests a day for its members and patients when fully operational, opened last week. Scientists will perform tests to support successful contact tracing efforts, as well as tests from other Kaiser Permanente members, including patients who report symptoms such as fever, cough, and body aches, and those entering hospitals for elective surgeries and procedures.
As of June 2, California had tested over 2 million residents for COVID-19, and close to 4,300 people in the state had died from the disease.
A proven method used to control all kinds of infectious diseases, contact tracing is vital to controlling COVID-19 in the absence of a vaccine, which will take a year at the very least to develop, Dr. Parodi added.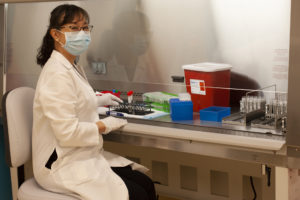 "Because Kaiser Permanente cares for a large proportion of people in Northern California, we have a moral imperative to help find those who may have been exposed and provide them with the testing and isolation practices," he said.
According to the Centers for Disease Control and Prevention, contact tracing requires sensitivity in order to keep people calm and protect patient privacy by not divulging the identity of the person who may have exposed them to the disease.
Contacts are provided with education, information, and support to understand their risk, what they should do to separate themselves from others who are not exposed, and how to monitor themselves for illness, such as taking their temperature twice a day and watching for cough and shortness of breath.
Contact tracers not only get information that can help protect others, they also give important information to help the person who has tested positive. Ideally, they also refer people to supportive care or services, if needed, to assist with isolation.​
Dr. Parodi emphasized that big changes are necessary to keep members safe going forward.
"Realistically, we have to operate under the assumption we are still going to have COVID-19 circulating in our communities, but there are many things we can do to reduce its impact."
Douglas Oakley is a senior communications consultant with Kaiser Permanente Northern California communications. This story is reprinted from the LookInside KP Northern California site.