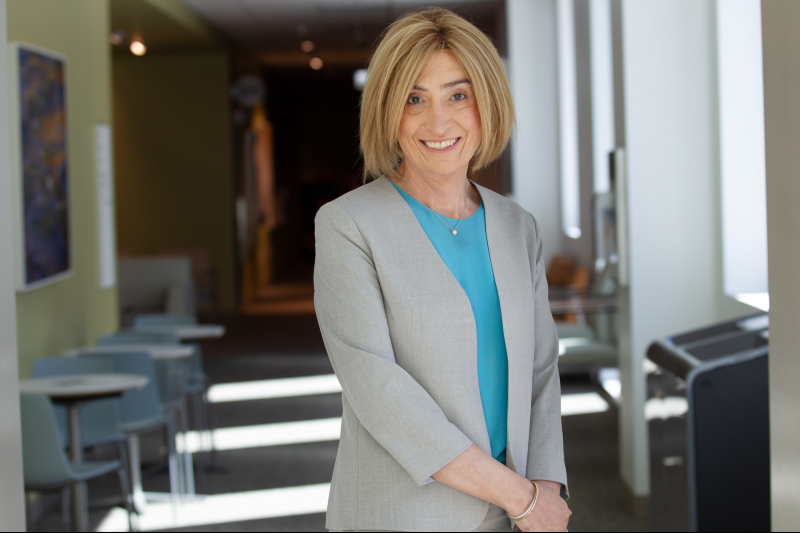 Leading the way in transgender health care
Grace Firtch, MD, shares her journey as a transgender woman at Kaiser Permanente
Grace Firtch, MD, physician in chief of the Kaiser Permanente Redwood City Medical Center, was 58 when she decided to transition 3 years ago and live as her true self. It was a journey filled with challenges and discoveries, but ultimately with love, support, and fulfillment. As transgender awareness and education was low when Dr. Firtch was in her youth, she couldn't put a name to what she was experiencing.
"Growing up in the 60s, there weren't a lot of LGBTQ+ role models. I didn't know any transgender people until I was in my 30s," she says. "I grew up always feeling out of place."
After a divorce and personal hardships in her 50s, her gender dysphoria became overwhelming. Initially, Dr. Firtch planned to transition in retirement, privately and on her own. But then she met a professional consultant who specializes in transgender transition and it changed her life.
"My coach gave me the confidence and skills I needed to bridge the gap between the medical and social needs of my transition," says Dr. Firtch.
Support, inclusivity at Kaiser Permanente
When she began her transition in 2018, receiving care from Kaiser Permanente Redwood City Medical Center, one of the first things Dr. Firtch did was tell her supervisor, Richard S. Isaacs, MD, FACS, CEO and executive director of The Permanente Medical Group.
"His immediate response was, 'How can I help you?'" she says. "I always get emotional when I talk about this. I am part of such an inclusive and supportive environment at Kaiser Permanente where people have the opportunity to express themselves as who they really are — and that's extraordinary."
Dr. Firtch's friends and family, including her daughter, were accepting of what she calls "the single most important decision of my life." Dr. Firtch's transition also sparked her pathway to creating a more robust transgender care program at the Kaiser Permanente Redwood City Medical Center.
First-of-its kind transgender health care
Dr. Firtch was instrumental in establishing the Transgender Care Department at the medical center in January 2021, which focuses on the medical aspects of transitioning, including primary care medicine, mental health support, and, when appropriate, access to hormone replacement and gender-affirming surgeries.
Also in 2021, she guided the creation of a first-of-its-kind pilot Gender Expression Care Program at the Redwood City medical center, which accepts Kaiser Permanente members from anywhere in Northern California. It's led by Monica Prata, gender expression specialist, and assists members with the social components of transitioning.
The program gives Kaiser Permanente members an opportunity to explore how they want to physically and socially express themselves through discussion, tutorials, and guided instruction. Topics range from how to talk to their loved ones about their transition to gender-affirming movement and exercises, always centered around the patient's unique needs.
"Gender expression care is immensely important to a person's transition experience and is something that has been overlooked in transgender health care," Prata says. "It gives patients a safe space to discover their authentic social identity and allows them to connect to others going through a similar experience."
I am part of such an inclusive and supportive environment at Kaiser Permanente where people have the opportunity to express themselves as who they really are — and that's extraordinary.

— Grace Firtch, MD
She also emphasized the importance of having a transgender person lead and help build transgender programs. "This is how we start to give voices to a community that is often not heard and whose programs are often defined and directed by cisgender individuals who aren't intimately familiar with the needs of transgender people," Dr. Firtch says.
More than 100 patients from Northern California have completed the 12-week Gender Expression Care Program.
While transgender medical care is available at all Kaiser Permanente Northern California medical centers, along with specialized centers in San Francisco, Oakland, and Santa Clara, Dr. Firtch explains that transgender health care as a field is still developing.
"Everyone deserves adequate and supportive health care to guide them through that journey. It's life-affirming and a true gift to fully express yourself as you really are."
This story is reprinted from the Kaiser Permanente Northern California LookInside site.