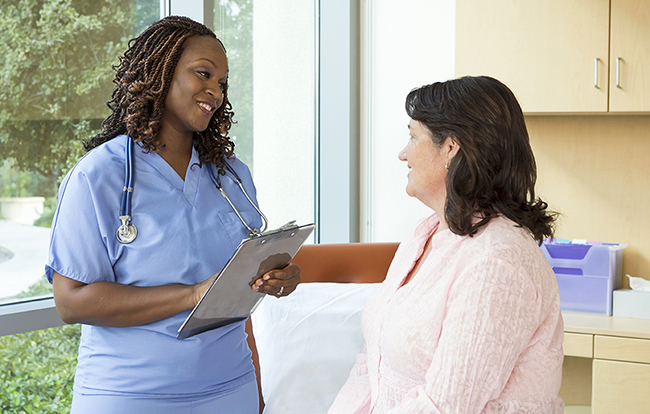 Kaiser Permanente Receives $32 Million for Cancer Research
Five Research Centers to Address Optimizing Cancer Screening in Community
The National Cancer Institute recently awarded funds to 10 research centers and a coordinating center to improve screening for three cancers. Kaiser Permanente leads two of the awards and co-leads a third study based at University of Texas Southwestern. Five of the research sites are Kaiser Permanente regions (Northern California, Colorado, Washington, Southern California, and Hawaii).
Known as PROSPR II (Population-based Research Optimizing Screening Through Personalized Regimens), investigators will address optimizing cancer screening in the community, focusing on lung, cervical and colorectal cancer screening.
Previously, in 2011, NCI funded seven research centers and a statistical coordinating center to develop multi-site, coordinated, transdisciplinary research to examine and improve screening for breast, cervical and colorectal cancers. Kaiser Permanente scientists from California and Washington participated in that work, known as PROSPR I.
Lung cancer screening
The Institute for Health Research at Kaiser Permanente Colorado, in collaboration with Kaiser Permanente Hawaii, the Henry Ford Health System in Metro Detroit, Marshfield Clinic Health System in Wisconsin, and the University of Pennsylvania Health System, has been awarded nearly $16 million over five years by NCI to create the Center for Research to Optimize Precision Lung Cancer Screening.
The lung cancer research center, co-directed by Debra P. Ritzwoller, PhD, senior investigator at the Colorado Institute for Health Research, and Chyke Doubeni, MD, associate professor at the University of Pennsylvania's Perelman School of Medicine will evaluate the benefits, harms and costs of lung cancer screening.
Screening works to find lung cancer at more treatable stages, particularly in community health systems and among medically underserved populations, explained the research scientists.
"Bringing together health systems from a variety of settings will allow the center to address health disparities in lung cancer screening that contribute to higher lung cancer deaths among these harder-to-reach populations," said Ritzwoller.
Colon cancer screening
Researchers at Kaiser Permanente Northern California's Division of Research have been awarded nearly $16 million over five years to co-lead a project to optimize early detection of more treatable colon cancers and enhance colon cancer prevention through the identification and removal of precancerous polyps. This collaboration includes scientists from Kaiser Permanente's Department of Research & Evaluation in Southern California, Kaiser Permanente Washington Health Research Institute, and Parkland Health and Hospital System/University of Texas Southwestern in Dallas.
"Colorectal cancer is the second leading cause of cancer death in the United States today," said Douglas A. Corley, MD, PhD, a Kaiser Permanente gastroenterologist and research scientist at the Division of Research, who co-leads the investigator team. "Screening is highly effective; this grant will allow an in-depth evaluation of how we can use screening most effectively and consistently in different settings, so all populations can receive the greatest benefit."
The new project will leverage the collaboration's diverse health care settings to achieve four primary goals:
Identify when to start and stop screening, to maximize benefit and minimize harms, by age and other factors.
Evaluate how frequently follow-up examinations (also called surveillance) should occur, based on findings from initial screening exams.
Explore why screening and surveillance are not always completed, and ways of improving follow-up.
Evaluate how to increase the effectiveness of colonoscopy and fecal immunochemical tests (or FIT tests), the latter of which screens for colorectal cancer by detecting small amounts of blood in the stool.
Cervical cancer screening
Kaiser Permanente research scientists are co-leading the center that will address strategies to improve cervical cancer screening. The collaboration, a $20 million, five-year award, includes Parkland Health and Hospital System/University of Texas Southwestern, the prime award recipient, and Partners HealthCare in Boston
For more than six decades, the United States has sought to lower cervical cancer deaths through screening. Human papillomavirus -based tests and HPV vaccines have expanded cervical cancer prevention strategies and changed screening and management guidelines, but there is more to be learned about how to optimize screening.
"As technologies, guidelines and policies change, our work in this national screening consortium will help us understand the factors that hamper or facilitate the cervical cancer screening process, improve how we deliver tailored screening, and reduce disparities in vulnerable populations," said Aruna Kamineni, PhD, epidemiologist and principal investigator of the cervical research center at Kaiser Permanente Washington Health Research Institute. Kamineni is also a principal investigator on the colorectal cancer award.
This story was originally published on KP Share.