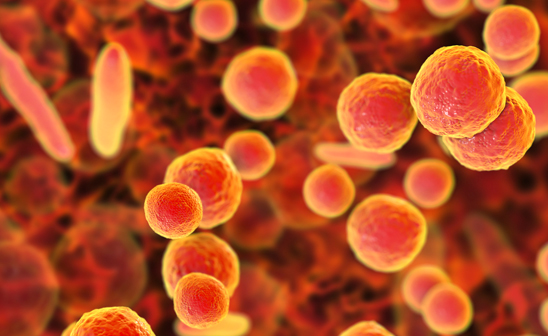 Kaiser Permanente Announces Continued Commitment to Fighting Antibiotic Resistance
National health quality leader joins more than 100 organizations at United Nations General Assembly making formal commitments to address the growing threat of antibiotic resistance.
OAKLAND, Calif. — Kaiser Permanente, the nation's largest nonprofit integrated health care system, announced today at the United Nations General Assembly its continued commitment to remaining a strong antimicrobial steward by joining the "AMR Challenge," an unprecedented joint effort led by the U.S. Department of Health and Human Services and Centers for Disease Control and Prevention to address the growing threat of antibiotic resistance.
"Physicians at Kaiser Permanente share the CDC's commitment to elevating visibility of the growing threat of antibiotic resistance around the world," said Stephen Parodi, MD, executive vice president of external affairs, communications, and brand, The Permanente Federation, and associate executive director for The Permanente Medical Group, which cares exclusively for Kaiser Permanente members in Northern California. "As an infectious disease specialist, I can tell you we are seeing new types of resistance worldwide, which is why Kaiser Permanente champions initiatives to avoid unnecessary antimicrobial usage. Our physicians and pharmacists are dedicated to optimizing antimicrobial prescribing in the inpatient, outpatient and skilled nursing facility settings."
As part of today's announcement, Kaiser Permanente is demonstrating its continued commitment to antimicrobial best practices in the inpatient, outpatient and skilled nursing facility settings as well as through its medical product sourcing processes. Some of these ongoing efforts include:
Programs and guidelines to eliminate inappropriate antimicrobial use in patients with certain conditions
Advanced use of our electronic medical record to guide prescribing practice for antimicrobials
Improved tracking, data collection and reporting of antimicrobial practices
Facilities, sanitation and environmental practices that support infection prevention and control efforts
Antibiotic resistance occurs when germs develop the ability to defeat the drugs designed to kill them. According to the World Health Organization, antimicrobial resistance is an increasingly serious threat to global public health that requires action across all government sectors and society. In the U.S. alone, at least 2 million people get resistant infections each year and at least 23,000 people die, according to the CDC. The resistance is caused primarily by over-prescription of antibiotic medications and indiscriminate use of antimicrobial compounds in soaps and other consumer goods.
Kaiser Permanente joins more than 100 health insurance and pharmaceutical companies, health care providers, food animal producers and purchasers, government health officials and other leaders from around the world to work together and accelerate the fight worldwide against antimicrobial resistance. It follows pledges made by Kaiser Permanente at the White House Forum on Antibiotic Stewardship in 2015, announcing public and private commitments to slow the emergence of antibiotic-resistant bacteria.
"Kaiser Permanente's pledge to remain a strong antimicrobial steward builds on our longstanding environmental-stewardship commitment and will further align our business practices with our mission of improving the health of our members and the communities in which we serve," said Kathy Gerwig, vice president of Employee Safety, Health and Wellness, and environmental stewardship officer of Kaiser Permanente. "These efforts are part of our ambitious 2025 environmental goals for a healthier future for all that include becoming carbon neutral, buying only sustainably produced food and sending zero waste to landfills."
Kaiser Permanente has a long history of working with manufacturers to remove harmful chemicals from the products it purchases and to develop greener and safer products that are now widely available to consumers. With thousands of projects underway at any given time across Kaiser Permanente's 39 hospitals and more than 680 medical offices, the decision to ban these products has significant influence.
Recently, Kaiser Permanente announced it has integrated a robust set of purchasing standards into its product-sourcing processes that include criteria for safe chemicals and sustainable waste disposal, such as a total elimination of antibacterial agents triclosan and triclocarban from soaps, lotions and sanitizers used at its facilities.
And in 2015, Kaiser Permanente banned paint and other interior building products treated with "germ-fighting" antimicrobial agents for use in its hospitals and other buildings to address concerns about mounting exposure to toxic chemicals in everyday life and the threat of drug-resistant bacteria. That same year, the organization formalized its opposition to finishes and fabrics containing antimicrobial chemicals and identified 15 specific antimicrobial chemicals to ban from its hospitals and other buildings because they can be toxic to both people and the environment.