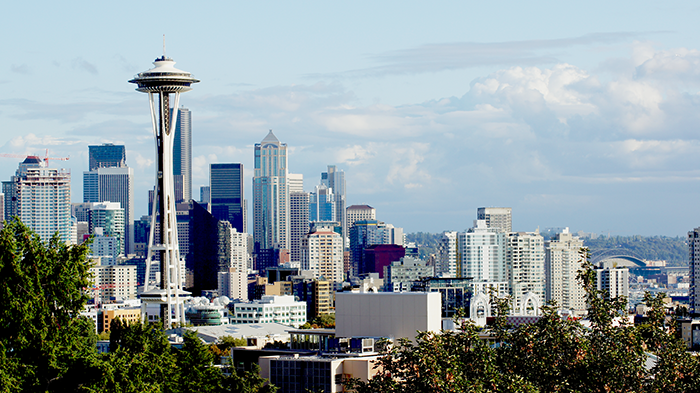 Kaiser Permanente, a National Leader in Integrated Health Care and Coverage, Completes Acquisition of Group Health Cooperative in Washington State
SEATTLE — Kaiser Permanente's acquisition of Group Health Cooperative became final today, and with that, Group Health's more than 651,000 members and more than 6,000 employees in Washington are now part of the largest integrated health system in the nation. With the acquisition, Kaiser Permanente now serves more than 11.3 million members in eight states and the District of Columbia, providing both care and coverage.
Through this acquisition, Kaiser Permanente expects to better meet the needs of individuals as well as large commercial and national accounts with employees who live and work in Washington. The move will bring Kaiser Permanente to an additional 19 counties in Washington state, including 25 primary care clinics in 17 cities, three urgent care facilities and four outpatient surgery centers. Kaiser Permanente will invest $1 billion over the next decade to expand and modernize facilities and technology, and to improve care and service. There are no immediate changes to the member care and coverage. The name change will become final in the coming weeks.
"We are proud to extend our integrated model, delivering the future of health and health care to the residents of Washington state," said Bernard J. Tyson, chairman and CEO of Kaiser Permanente. "Since our inception 71 years ago, we have continued to deliver high-quality, affordable and accessible coverage and care to more people and communities in ways that align with our mission. Kaiser Permanente and Group Health have had a working relationship stretching back nearly 20 years, and this collaboration has resulted in high-quality care outcomes and medical excellence. We are honored to build upon the legacy of health care leadership in Washington state."
Kaiser Permanente's quality performance is regularly rated at the top for measures in preventive and specialty medicine in national surveys that compare the quality of care among health plans and hospitals, including the National Committee for Quality Assurance and the U.S. Centers for Medicare & Medicaid Services.
"Kaiser Permanente is recognized by industry experts for high-quality care year after year, and this acquisition brings together two leaders in integrated care delivery," said Steve Tarnoff, MD, president and executive medical director, Washington Permanente Medical Group. "The impact on care delivery and benefit to our members and patients will be tremendous, through improvements in technology, added capital resources, and a new partnership with 19,000 Kaiser Permanente physicians in both evidence-based care delivery and clinical research. These benefits will be felt by Kaiser Permanente members in Washington for years to come."
Across the country, Kaiser Permanente has embraced technology to bring its members innovative new ways to access care and service, and the Kaiser Permanente health care system in Washington is also expected to become more connected and accessible.
"Kaiser Permanente will invest in the facilities, technology, member experience and local workforce to ensure the best possible health care and coverage for the people and communities in Washington," said Susan Mullaney, president of Kaiser Foundation Health Plan of Washington. "With these investments, our integrated model, comprehensive facilities and interactive technologies will enable us to provide our members personalized care and service on their terms, when and where they want it. More broadly, in the communities we serve, we intend to be an active partner, investing time and resources aimed at achieving total health for everyone — the optimization of mind, body and spirit."
Kaiser Permanente and Group Health share a similar history. Both emerged in the years after World War II as organizations that pioneered the novel approach of integrating and offering care and pre-paid coverage together. Both organizations have worked with exclusive medical groups that stress a preventive approach to medicine, and at the same time offer the entire spectrum of medical specialties. These medical groups practice evidence-based medicine and support robust research operations that focus on measuring which therapies and approaches work best.
Today's closing of the acquisition is the culmination of a process that began in December 2015, when Kaiser Permanente and Group Health Cooperative announced that a definitive agreement had been signed. Group Health then held a series of town hall meetings and discussions throughout the state of Washington regarding the proposed acquisition, engaging Group Health members as well as other individuals in the community. The review and approval process included approval by both state and federal regulators.
---
About the Permanente Medical Groups
The Permanente Medical Groups are composed of more than 21,000 physicians dedicated to the mission of improving the health of our patients and the communities in which we provide care. We practice in eight self-governed, physician-led, prepaid, multispecialty medical groups. Together with the Kaiser Foundation Health Plans and Kaiser Foundation Hospitals, we are Kaiser Permanente – an award-winning health care system that delivers Permanente Medicine to more than 11.8 million Kaiser Permanente members. We work collaboratively, enabled by state-of-the-art facilities and technology, to provide preventive and world-class complex care in eight states – from Hawaii to Maryland – and the District of Columbia.
About The Permanente Federation
In 1997, the Permanente Medical Groups formed The Permanente Federation LLC to represent their shared interests. The Federation serves as the key partner on behalf of the medical groups with Kaiser Foundation Health Plan and Kaiser Foundation Hospitals on national initiatives.