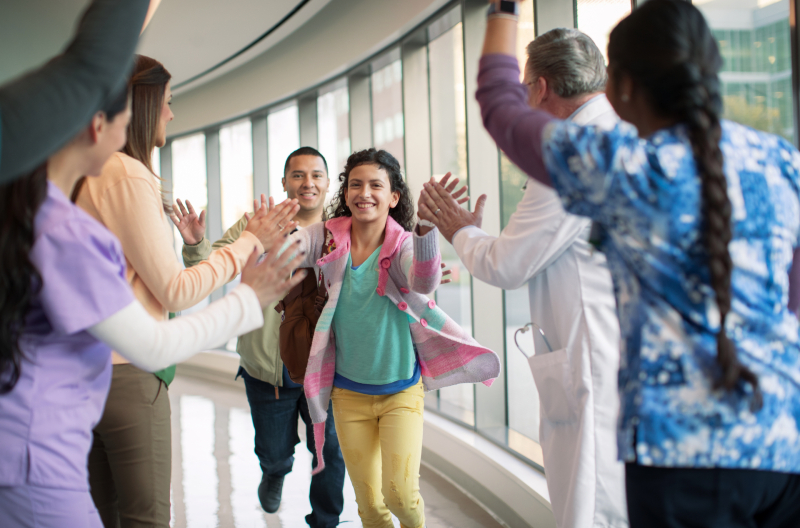 High-quality care is our calling
Kaiser Permanente's health plans are top-rated in all regions we serve
When Molly Young was diagnosed and successfully treated for breast cancer, she said she was able to focus on her recovery because of Kaiser Permanente's integrated, coordinated care system.
"I have heard horror stories from patients who are not only fighting cancer but they're also having to be the go-between with their insurance company and the hospital and the doctor," Young said. "Having all of that guesswork being lifted off me has helped me focus on just getting better."
Young's experience — from early diagnosis to the comprehensive and professional care she received during and after treatments — is precisely why Kaiser Permanente continues to be rated among the elite health organizations in the nation, according to the National Committee for Quality Assurance's Health Insurance Plan Ratings 2019-2020.
"Everybody was in one spot, and I really did feel like I had this team. I have an oncologist and a surgeon and a radiation oncologist and a clinic coordinator. … Every single one of them has been compassionate and incredibly warm," Young said.
This level of expert specialty care, compassion, and personalized service is what has made Kaiser Permanente a leader in health care. NCQA's annual report, released Monday, rates more than 1,000 health plans, including Medicare, Medicaid, and private (commercial plans), on a 0 to 5 scale, with 5 being the best. Among the report's findings:
Only 11 health plans in the country (approximately 1%) received a 5.0 rating — the highest possible rating — and Kaiser Permanente has 5 of the 11.
For the 5th year in a row, Kaiser Permanente has more 5.0 plans than any health care system in the nation.
For the 2nd year in a row, Kaiser Permanente has the highest rated commercial and Medicare plan (or is tied for the highest) in every geographic region it serves. Kaiser Permanente serves more than 12.3 million members in 8 states and the District of Columbia.
"We are proud of the results from NCQA, but more importantly, we are proud that Kaiser Permanente is proactive in creating more healthy years for members," said Patrick Courneya, MD, executive vice president and chief medical officer for Kaiser Foundation Health Plan and Hospitals. "We know that prevention, early intervention and access to superb primary and specialty care help our more than 12 million members — like Ms. Young — get well sooner and get back to doing what they love most."
"These excellent ratings we receive year after year are a reflection of exceptional work being done by our compassionate and highly skilled physicians, nurses, clinicians, and front-line staff," said Nancy Gin, MD, executive vice president and chief quality officer for The Permanente Federation, the national umbrella organization for the nearly 23,000 physicians who provide care to Kaiser Permanente's members. "Our care teams are dedicated to doing what's best for the member."
The NCQA's Health Insurance Plan Ratings are based on combined scores for health plans in the Healthcare Effectiveness Data and Information Set®, commonly called HEDIS; the Consumer Assessment of Healthcare Providers and Systems®, or CAHPS; and NCQA Accreditation standards scores.
The ratings and methodology are posted on NCQA's website.
This is reprinted from the AboutKP site.