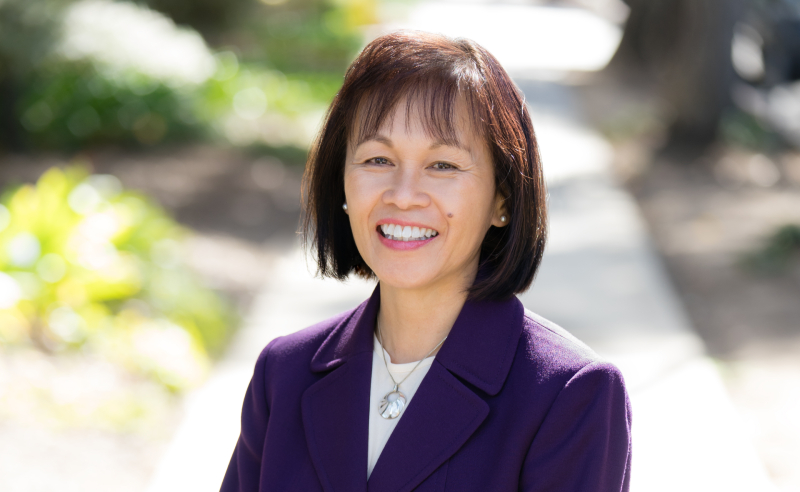 Helping others at the heart of quality care
Nancy Gin, MD, feeds her passion to improve the quality of care for Kaiser Permanente members
By Benjamin Seto
The Permanente Federation
Nancy Gin, MD, shares a middle name with her favorite aunt. Growing up in Arizona, she recalls how at 9 years old, she stood with her family on a sidewalk outside a hospital where her aunt was receiving treatment for recurrent, metastatic breast cancer. Hospital rules then prohibited young visitors, and decades later, Dr. Gin still recalls with sadness how alone and frightened her aunt looked as she waved down to them from her room.
Although her aunt died not too long after that, this early experience with health care served as a pivotal moment for Dr. Gin – one that set her on a path to pursuing a career in medicine that focused on improving the quality of care for all patients.
"At the time that she needed us most, her family couldn't even be there with her," says Dr. Gin of the practices of hospitals decades ago. "I thought to myself, 'There must be something I can do with my life that would make that situation better for others.' "
Today, Dr. Gin is an internist and medical director of Quality and Clinical Analysis with Southern California Permanente Medical Group. In April 2019, she was appointed executive vice president and chief quality officer with The Permanente Federation, giving her oversight over the clinical quality of the nearly 23,000 Permanente physicians providing care to more than 12.2 million Kaiser Permanente members.
Connecting patients to services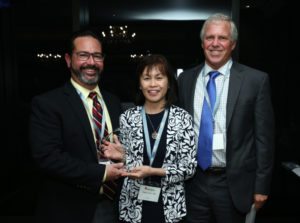 Her dedication to high-quality care is now front and center in the Federation position. As chief quality officer, Dr. Gin works with colleagues with Kaiser Foundation Health Plan and Hospitals to create systems and evolve programs that "make it easier for our physicians and teams throughout the continuum to provide excellent care to our members and the communities we serve." Kaiser Permanente, she says, is unique because of its integrated care model, which allows members and their care team to connect with services throughout the organization.
Dr. Gin says she chose to specialize in internal medicine because of the capacity to provide a full spectrum of care to patients as well as the opportunity to interact with colleagues from a variety of specialties. The latter is heightened at Kaiser Permanente, where physicians of all specialties readily consult and connect on a patient's treatment plan. "The opportunity to interface with specialty colleagues from almost every discipline fuels my love of lifelong learning," she says.
That love of learning also explains her early career path of serving as clinical faculty with the University of California, Irvine, College of Medicine, and as director of Internal Medicine Education at Long Beach Memorial Medical Center. After joining SCPMG in 1997, she eventually moved into leadership roles, including serving as medical director and chief of staff of Kaiser Permanente Orange County. In June, Dr. Gin was named the 2019 "Physician of the Year" by the Orange County Medical Association.
Roadmap to quality
Dr. Gin was also recently selected to serve on a workgroup of 18 health care organizations from across the country providing clinical quality recommendations to the U.S. Department of Health and Human Services as part of its National Quality Summit and "quality roadmap." She says Kaiser Permanente stands apart from other summit participants because of its innate ability to provide integrated care.
"Our model," Dr. Gin says, "gives us tremendous opportunity to foster high-quality outcomes that are more efficient and seamless for the care team to provide exceptional care.
"Quality means the kind of care and outcomes that you would want for every member of your family," she notes, adding that Permanente physicians are supported by evidence-based medical services and ongoing research that improve clinical practices. She also says Kaiser Permanente strives to provide consistent quality in all regions. "It shouldn't matter where you are receiving care," she says, "Permanente Medicine should be universal."
Quality means the kind of care and outcomes that you would want for every member of your family.
Those who meet Dr. Gin can attest to her high energy, which she will need more than ever because of her busy schedule of clinical quality meetings, presentations, and travel. She says she finds balance by spending time with her family, dogs, and friends. She also enjoys travelling, often choosing destinations off the beaten path to force herself to unplug. "There's nothing like being in nature in a faraway land where you don't have digital access 24/7 to put life into perspective."
Still, her work in medicine and specifically in quality continue to drive her.
"I am a helper by nature and truly enjoy being around others who are committed to doing good in the world," Dr. Gin says. "It is such a privilege that patients so readily allow us to come into their lives and work with them as partners in their health. That trust is something I never take for granted, and becomes so energizing."