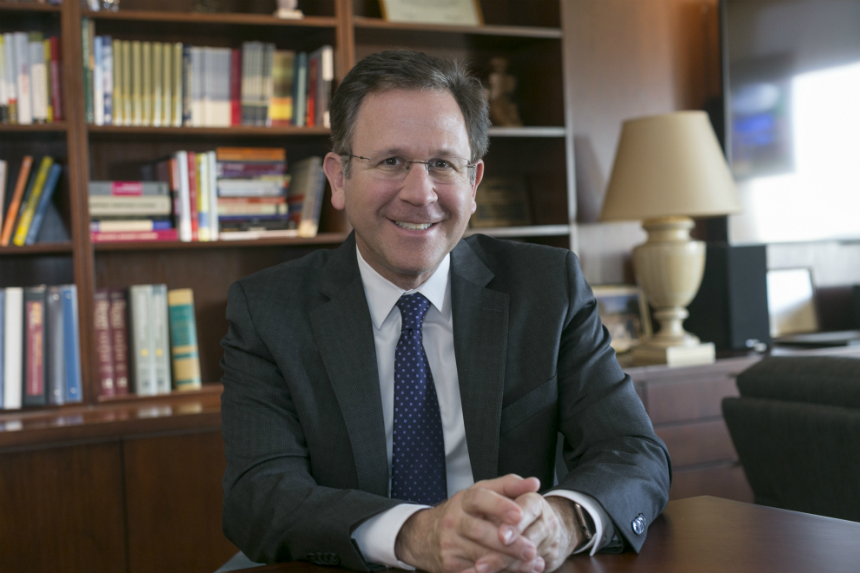 Facing Health Care's 'Known Unknowns'
A New Leader Lays Out a Roadmap for Success to His Physicians
The following are excerpts from The Permanente Medical Group CEO Richard S. Isaacs, MD, FACS, to the TPMG Board of Directors upon taking the leadership helm in June 2017. Oakland, Calif.-based The Permanente Medical Group's nearly 9,000 physicians and 35,000 staff provide care to 4.1 million Kaiser Permanente members in Northern California. 
By Richard S. Isaacs, MD, FACS
It has been my privilege to work with so many talented and dedicated Permanente physicians over the past 22 years. We have much to celebrate together.
The Permanente Medical Group is the premier medical group in the country. We are widely recognized for our leadership in preventive medicine, for providing world-class medical treatment, and for leading the transformation of health care in this country.
We are the model for how health care should be delivered to all Americans.
This recognition for our medical group is no accident. We are where we are today because of the hard work our physicians and staff do every day—individually and collectively—to provide the highest levels of care and service to our patients.
Your dedication to being the best is inspiring. Because of your commitment to excellence, we impact the health and well-being of our 4.1 million patients and often change the course of their lives.
An Uncertain Environment
This is an exciting and challenging time in health care. As we look to the future, we face a health care environment that is uncertain and continually evolving, and one that will require different approaches in how we work.
While we must continue to be the very best at treating all conditions and delivering exceptional performance—focusing on prevention, early intervention, and world-class medical treatment in partnership with our patients—we also need to understand that this alone will not be enough.
The challenges we face for the next decade are unlike the ones we have faced previously.
In the past, what we needed to do was execute on the "known knowns." We needed to ensure that all patients received preventive interventions and the latest in evidence-based care and treatment, and had convenient access to that care.
As we look to the future, we will need to do more to be the very best. If all we do is to continue doing what we've done, we will fall short in our efforts to improve the lives of our 9,000 doctors, 35,000 staff, and 4.1 million patients.
The future we face demands that we understand how to handle and solve the "known unknowns."
How do we provide exceptional quality and service efficiently and effectively throughout our organization?
How do we lead the nation in patient safety and the prevention of medical errors?
How do we ensure that our doctors feel fulfilled and supported?
How do we solve the challenges of tomorrow that we have yet to face?
Getting to this next level will require all of us working together and constantly challenging our assumptions of what great outcomes and care should look like.
Leading by Example
This will take courage, vision, and leadership. It will require that we fully use our advantages of prepayment, our integrated medical group with our advanced technology, and our physician leadership to show Kaiser Permanente and America how health care can and should be delivered.
We've had many examples of this over the past few years, including:
Our work around sepsis. Diane Craig, MD, a hospitalist at Kaiser Permanente Santa Clara, questioned our assumptions about one of the major causes of hospital deaths. She reviewed the data, collaborated with others, and then implemented new workflows that not only saved thousands of lives in Northern California, but also became the standard for many hospitals nationally.
Our rapid response to the Ebola crisis. Hundreds of doctors worked together in our integrated health care system, and through our connectedness with technology they continued to adapt and revise our response in a very fluid and dynamic situation, real-time. Through their actions, we reassured our patients and the nation that we were ready for the challenge and allayed fears.
Our work around perioperative surgical care for patients undergoing elective colon surgery or emergency hip fracture repair, which focused specifically on improving outcomes by concentrating on nutrition, pain management, mobility and engaging patients. Using other studies as a basis for our implementation, the enhanced recovery after surgery (ERAS) program deployed in Northern California was unlike anything done previously both in size and scale. The outcomes were equally as stunning with significant decreases in hospital stays and surgical complications.
The innovative work and accreditation around the trauma centers at Kaiser Permanente South Sacramento and Vacaville. Again, doctors from different specialties had to collaborate in very different ways towards a shared vision of something completely new and better than anything we previously envisioned.
Each of these examples and countless others demonstrate "what's possible" when we leverage our strengths and our roles as physician leaders to create a brighter and better future.
We will need to work together even better, share best practices, eliminate silos, challenge long-held assumptions, and create systems and structures that sustain the work we currently do and the work we will need to do in the future, while simultaneously supporting our physicians and staff in these unprecedented times.
It won't be easy. Nothing worthwhile ever is. No one, nationally or internationally, has solved the health care issues of high quality, accessible and affordable care.
And yet, I'm optimistic that we will.
We will because no one in the world is like us:
Nowhere in the world do doctors have the ability to rethink how to provide care like we do.
Nowhere in the world do doctors have the technological tools and big data (12.5 million patients system-wide) to discover, challenge and transform health care.
Nowhere in the world do doctors embrace a culture of working together for the good of all and do so at the scale we do—from across Northern California to the Mid-Atlantic—and care for people from all walks of life.
It will take all of us to solve the challenges of today and tomorrow—all of our ideas, all of our willingness to try and to change, all of our support for each other, and all of our optimism and belief that we can create a better future for ourselves and our patients and that our best days are still ahead.
We will have challenges, and some setbacks, as we create this new foundation of what's possible. It is a tremendous responsibility.
The future we face demands that we understand how to handle and solve the "known unknowns."
Yet I know it is a responsibility our founders would have welcomed—and it is one that we will welcome together.
There is so much more we can and must do. Because when we succeed, it will mean our outcomes are the best in health care, our costs are affordable, and our level of care is available not only to all Californians, but to all Americans.
I'm optimistic that our best years are ahead, because nobody is better positioned to handle these challenges than we are.
Thank you again for all you do. I'm looking forward to our bright future together.
Richard S. Isaacs, MD, FACS, is executive director and CEO of The Permanente Medical Group and president and CEO of the Mid-Atlantic Permanente Medical Group, two of the largest and most distinguished medical groups in the nation. He also serves as co-CEO of The Permanente Federation, LLC, which represents all the Permanente Medical Groups in the nation, supporting the work of more than 21,000 Permanente physicians and 80,000 employees.