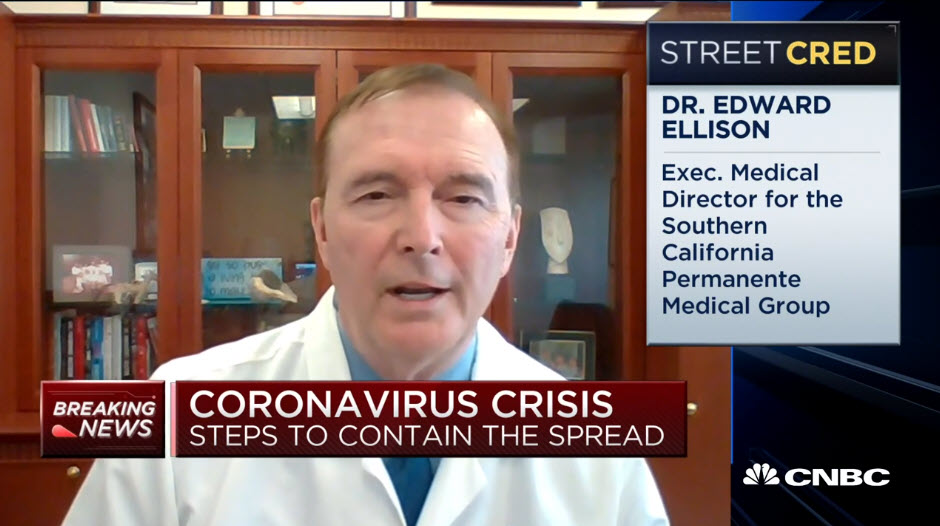 Edward M. Ellison, MD, shares coronavirus surge scenario planning with CNBC
Edward M. Ellison, MD, co-CEO of The Permanente Federation, shared on a CNBC broadcast the many ways in which the Permanente Medical Groups have been planning aggressively for a surge of coronavirus patients.
"We have several scenarios, kind of a low, medium, and high, that will help us assess everything from our personnel, our beds, our ICU beds, our protective equipment, [and our] ventilators to make sure we understand what the gaps are and how to fill those gaps," said Dr. Ellison, who also serves as executive medical director and chairman of the board, Southern California Permanente Medical Group, and chairman and CEO, The Southeast Permanente Medical Group. Dr. Ellison appeared on CNBC's "Power Lunch" segment with host Tyler Mathisen.
Asked by Mathisen about how the Permanente Medical Groups are managing, Dr. Ellison responded: "We're managing well, so far. I'm really impressed by the commitment and dedication of our people. We obviously have a lot of experience leading through previous pandemics, epidemics, wildfires, and floods in California, but nothing on this scale."
Dr. Ellison said that the Permanente Medical Groups are now working aggressively on supply-chain issues.
"I've been really gratified to see that we've had outreach from other industries to provide similar kinds of protective equipment, even in the building industry, which has face masks and shields to help us with that issue," he said. "Individuals have been very generous in even donating similar supplies for us, so we're aggressively pursuing all the avenues we can to make sure we keep our people safe and provide the highest-quality care — that's our fundamental mission."
Asked about whether the medical groups are receiving the help they need from the local, state, or federal government, Dr. Ellison said: "The biggest impact we've had so far is in the state of California, where we've had the shelter in place…I think that's really important, and is helping to manage the spread of the virus."
Dr. Ellison added that he and his colleagues were gratified to hear that the government is opening some stockpiles of equipment and that the California governor has allocated resources allowing Kaiser Permanente to lease several hospitals in the state that could potentially be opened when the surge of patients arrives.
View the full interview on the CNBC website.