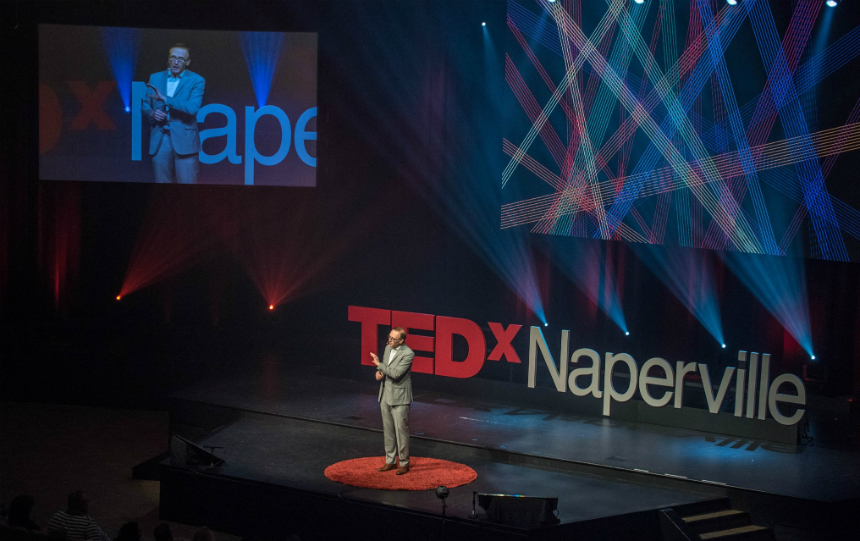 Edward Ellison, MD, Turns Spotlight on Physician Burnout in TEDx Talk
Addressing the country's physician burnout epidemic, Edward Ellison, MD, on Friday sought to shine the spotlight on the humanity of our physicians, and challenged the audience to begin with the simple task of expressing gratitude to a doctor.
"The next time you see your doctor, say hello and thank you. Those little gestures can make a big impact in recognizing their humanity," Dr. Ellison said at the end of his presentation on physician wellness and resilience at TEDxNaperville.
In its eighth year, TEDxNaperville, known as Chicagoland's TED event, brings inspirational speakers from around the country to Naperville, Illinois, just outside of Chicago. This year's theme, "Full Spectrum," fostered an environment of unearthing biases and seeing the world in all colors. Dr. Ellison, executive medical director and chairman, Southern California Permanente Medical Group, and chairman and CEO, The Southeast Permanente Medical Group, talked about how physician burnout is a topic that the physician community doesn't traditionally talk about—among themselves, let alone with their patients—but that the time is now to address and solve it.
A Mayo Clinic survey showed that between 2011 and 2014, the number of physicians experiencing at least one of the symptoms of burnout rose from 45.5 percent to 54.4 percent.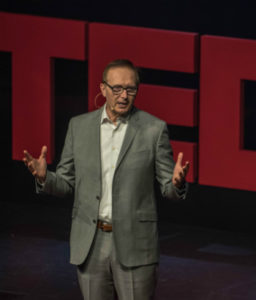 "The field of medicine is enormously strained by a number of factors," he said, detailing the symptoms of physician burnout that includes busy schedules, often inefficient and time-consuming workflows, lack of family time, exhaustion, and pressures of getting everything perfect for one's patient—calling doctors "devoted perfectionists."
Dr. Ellison asserts that leaders in health care must take ownership for the creation of a wellness culture that supports physician health, along with the design of efficient systems and workflows that maximize a physician's unique contributions to patient care. He stresses that bureaucracy and inefficiency in care delivery systems must be addressed.
The pressures also add a tragic strain, as Dr. Ellison shared about medical school classmates and colleagues who have committed suicide. Over the past two years, he said, data shows that male physicians are 40 percent more likely to commit suicide than the general public; female doctors are 130 percent more likely to commit suicide than the rest of the population. Dr. Ellison emphasized that this is absolutely unacceptable.
As co-CEO of The Permanente Federation, Dr. Ellison said he's gained perspective on the widespread physician burnout epidemic, and felt the "weight and responsibility of my role … it is profound, and to me, sacred."
"The patient is why we are here," he said. "And the cardinal rule of medicine is 'first do no harm.' But if we don't also recognize and care about the lives of those who save lives…if we ignore the humanity of the community of those who care for others, then we are doing harm and this epidemic, will not stop."
"If we don't also recognize and care about the lives of those who saves lives. … If we ignore the humanity of the community of those who care for others, then we are doing harm and this epidemic, it will not stop." @EdEllisonMD #TEDxNaperville #physicianburnout

— PermanenteDoctors (@PermanenteDocs) November 10, 2017
Dr. Ellison, who is also a founding board member of the Kaiser Permanente School of Medicine, gave a preview of the school's approach to tackling physician wellness early by encouraging students to adopt positive skills to balance life and work, and to teach "that their wellness matters." During a brief question-and-answer session following his talk, he was asked if he would encourage people to enter medical school given all the perceived pressures.
"Absolutely," Dr. Ellison said emphatically. "You have to do what you love." However, he advised potential medical students to go into the profession with their eyes open, and to suggest changes for improvement. "We will teach them how to be advocates for and agents of change," he shared.
Dr. Ellison said: "Doctors are people too. That may sound trite, but it's not. If we want our physicians to shine with resilience and joy, we have to lift them up. We need them…and they need us.
"In order to fulfill this noble calling of saving lives, [physicians] must also learn to save their own."
To view a replay of Dr. Ellison's talk, click on the video below.