Want to teach medicine? Practice where opportunities to provide medical training abound
Clinical training is a valuable part of the physician experience at Permanente Medical Groups
Teaching medicine and training the next generation of doctors is fundamental to the continuing success of the Permanente Medical Groups. It's also part of our mission to improve health care in our communities, as well as a source of satisfaction and joy for many of our physicians. If you aspire to guide the development of future clinicians, consider a career as a Permanente physician.
Kaiser Permanente provides some of the most sought-after medical education programs in the country. In 2021, Permanente physicians taught and trained more than 6,000 fellows, residents, and medical students from schools such as Stanford University, Emory University, Oregon Health & Science, University of Southern California, several University of California institutions, and more.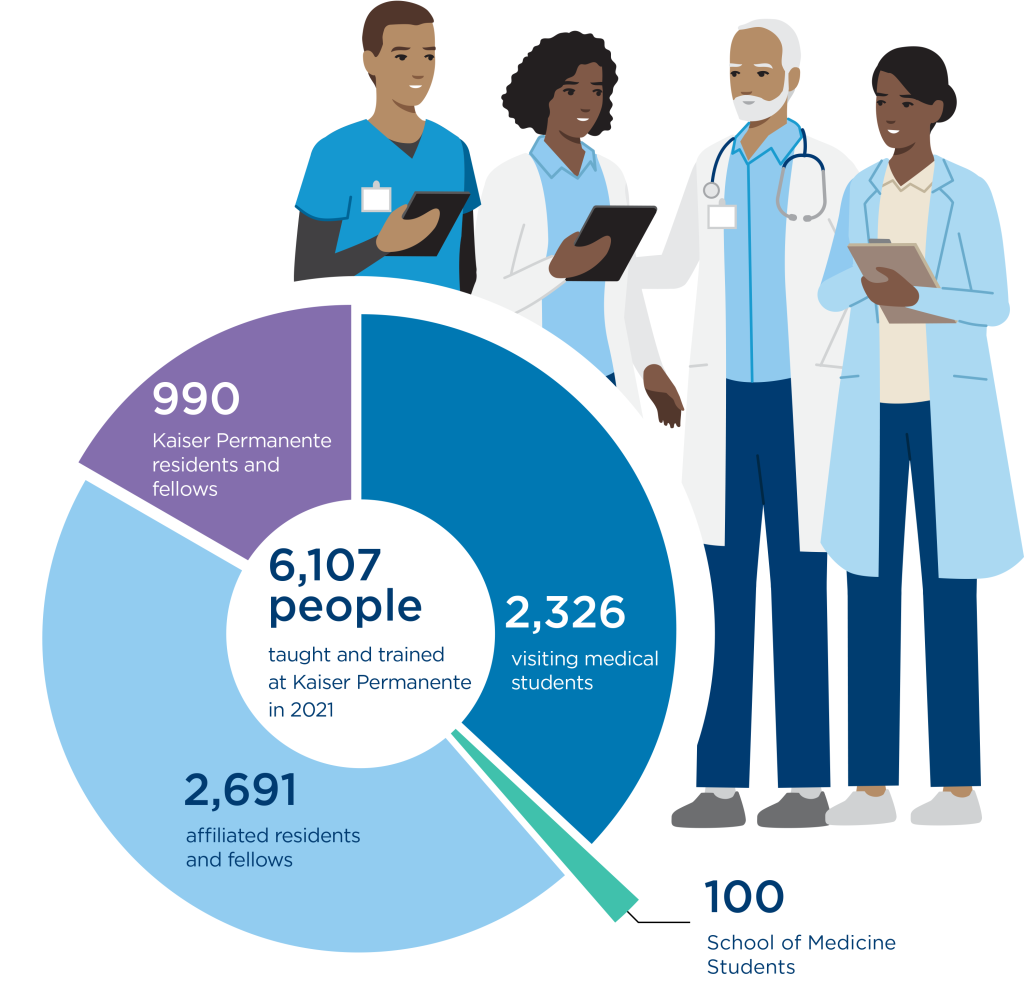 Find joy in clinical training and physician education
"Our doctors thrive when they're teaching," says Lindsay Mazzotti, MD, FACP. She serves as an assistant physician in chief for Education and Development in Northern California, as well as assistant dean at the Kaiser Permanente School of Medicine.
"[Medical training] keeps things current," Dr. Mazzotti says. "It helps physicians who teach to see that there are people who are excited about medicine and want to do what their teachers are doing."
New physicians require in-depth attention from expert mentors to build a solid foundation in our unique approach to integrated care delivery. That's why we give our mentors the infrastructure, support, and time to provide new physicians with the hands-on training and education they need.
Learners receive an in-depth medical education at Permanente Medical Groups
This deep focus on providing top-tier physician education is paying off. Medical students, residents, and fellows get hands-on experience practicing medicine, interacting with patients, and coordinating with a care team and other specialists.
Just as importantly, learners begin to experience the feeling of being valued for their contributions. This strengthens their sense of purpose and ability as they pursue the call to care.
"One of the main reasons I came to Kaiser Permanente was to have a unique learning experience," says Tadeo Daniel, MD. "There has certainly been no shortage of that."
Watch Dr. Tadeo's entire residency journey.
Taking medical training and teaching further with a new kind of medical school
In 2020, the Kaiser Permanente School of Medicine opened in Pasadena, California. Our medical students experience real-world clinical scenarios, discover leading-edge technologies, and embrace evolving best practices in medical education. They also receive clinical training that starts in their first year. This modern medical training reflects the physician-led, patient-centered care embodied by Permanente Medicine.
"I feel like I can come in and make mistakes, said Kelly Shriver, a medical student at the School of Medicine. "It feels like a safe space to do that. And that is a real gift of this program."
Our small-group, case-based medical curriculum also fosters understanding of the importance of health care equity. The faculty and staff provide a supportive environment that helps develop wellness skills that help prevent burnout. Future physicians become committed to prevention, fluent in evidence-based care, and adept at addressing the needs of underserved communities.
Teach medicine in an exceptional classroom
Our extensive graduate medical education curricula and rotations are among the most respected in the nation.
Residents and fellows find a wide range of teaching and learning opportunities in primary and specialty care. Our supportive settings offer amazing opportunities to practice medicine and teach others in a collaborative and rewarding environment.
If you're a medical professional who values sharing their knowledge and skill with others, a Permanente Medical Group is the place to practice.