Younger children waiting for COVID-19 vaccines need to be protected, Stephen Parodi, MD, tells CNN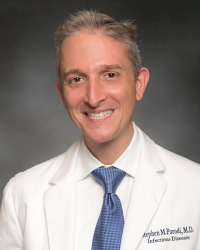 With this week's CDC endorsement of the Pfizer COVID-19 vaccine for children ages 5 to 11, Permanente physician leader Stephen Parodi, MD, reminded parents in a recent CNN report that they should continue to practice public health safety measures for younger children under the age of 5.
"We've got to do our best to protect them," Dr. Parodi, national infectious disease leader at Kaiser Permanente, told CNN on Wednesday. "For the youngest children that we have, we still got to take those protective measures when it comes to distancing, and ideally, if people are coming into the household, that they have gotten vaccinated so they you're minimizing the risk."
The CNN report described ongoing clinical studies by Pfizer and Moderna on COVID-19 vaccine use for children younger than 5. Medical experts predict that a vaccine for this age group could be available by early 2022.
Note: Read the complete story on the CNN site.