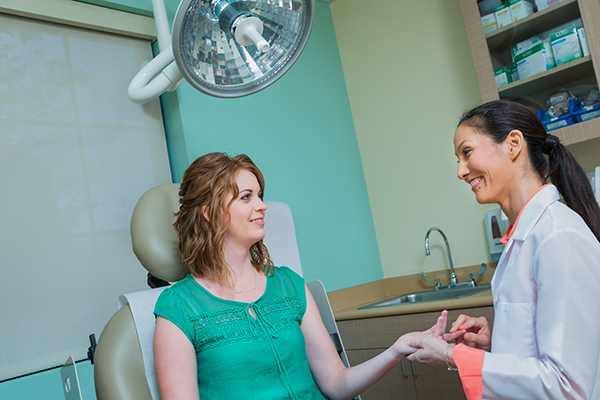 How Wellness Helps Healing Hands
Orthopedic Hand Surgeon Kimberley Wirsing, MD, Practices Yoga for Self-Care
By Carly Marker
The Permanente Federation
The alarm goes off before 5 a.m., leaving half an hour for the second-year orthopedics resident to get ready, eat breakfast, and hustle out the door, hopefully avoiding notorious Los Angeles traffic. She arrives at the hospital before 6 a.m. to her patient list; both newly admitted and recovering inpatients. After meeting with the attending doctor and team, she hurries off to check on her patients. She then gets to the operating room for her first surgery of the day. After finishing the surgery, she reviews with her colleagues and tries to get lunch before afternoon rounds. Another case later, around 6 p.m., she joins her team to review their day. She heads home to eat dinner and get some rest – and then she'll do it all over again tomorrow. 
As Kimberley Wirsing, MD, reflects on her residency experience years later, one of the most important lessons she learned is that to best care for her patients she must also take care of her own body and mind. For Dr. Wirsing, self-care comes in the form of a regular yoga practice that has helped to improve her performance and her ability to connect with patients and fellow physicians.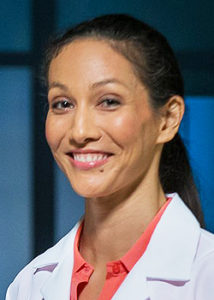 Dr. Wirsing, an orthopedic surgeon with the Hawaii Permanente Medical Group (HPMG), is the type of person you meet and then immediately feel at ease. With her tranquil demeanor and positive disposition, she gives no indication that she once lived the chaotic life of a medical resident in Los Angeles, one to which many physicians can relate.
Today she serves the Maui community working as the only orthopedic hand surgeon on the island. In bringing together the two seemingly opposite worlds of surgical medicine and yoga, Dr. Wirsing upholds the value of taking care of oneself to best take care of others – a fundamental tenet of Permanente Medicine.
Early on in medical school, Dr. Wirsing knew she wanted to choose a surgical specialty. For the first two years, she actually believed she was going to specialize in obstetrics and gynecology because of a great experience with an ob/gyn mentor she had in college. The turning point came during her third year of medical school where she had a two-week orthopedics rotation. She says that after those two weeks, "I was hooked on orthopedics and the ability to vastly improve mobility and quality of life for my patients."
Dr. Wirsing describes her desire to work as an orthopedic surgeon as something driven from her love of "working with her hands." It is only fitting then that, following her residency, she completed her fellowship at Stanford University as one of its only two orthopedic hand fellows per year. After her training, she made the decision to relocate to her mother's home state of Hawaii, a place she grew to love over the course of many childhood vacations to the islands.
Medicine: Science and Art
Dr. Wirsing's duties as an orthopedic surgeon vary from one day to the next. One day she may spend all her time in the clinic seeing patients for consults or follow-up visits. On another day, she may work on a variety of routine or more complex cases that require hours of dedicated concentration in the operating room.
Because of the fast pace and complexity of her job, Dr. Wirsing found that going to work became more enjoyable when she started to let herself "slow down and be present" with her patients. She also finds that by clearing her head before a procedure, she can truly dedicate her full attention to the patient, no matter how complicated the case. She describes the experience as an energy exchange, where she gives a part of herself to do her work on behalf of her patients. In return, Dr. Wirsing says, "taking time (for herself) to refuel is critical."
She is motivated by how improving people's hand function really impacts their overall well-being. Being a physician is much more than just the science and practice of medicine, she says, explaining that it is about connecting with people in ways that build meaningful relationships. Dr. Wirsing says, "I believe that creating this bond is an art form."
In each patient interaction, Dr. Wirsing tries to find the place she best fits in her patient's overall recovery process. For some, that may lie exclusively in her clinical expertise. But for others seeking more from their medical care, she combines her clinical abilities with her knowledge of wellness practices to help them feel more comfortable and supported. While finding this balance with her patients, she realized how much her colleagues – who often asked her how she could stay so relaxed and present in tense moments – could also benefit from training in their own wellness.
Breeding a Culture of Wellness
After too much time spent watching her colleagues struggle to care for themselves, she decided to do something about it in the workplace. Dr. Wirsing's advocacy for wellness at Kaiser Permanente first started with lunch-time yoga and meditation sessions that are open to everyone in the clinic, not just physicians.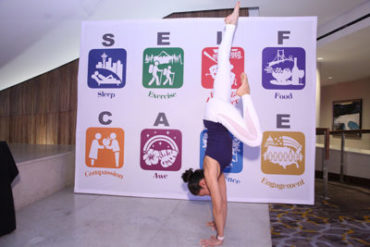 Whether someone comes for the yoga or solely for the quiet space, Dr. Wirsing discovered that one of the additional benefits of these sessions was the fostering of community among colleagues. For one brief moment in the day, everyone in the room comes together to just "be."
In supporting HPMG's effort to address physician self-care, Dr. Wirsing served as one of several physician instructors at HPMG Professional Development Days dedicated to health and wellness in 2015 and 2017. Because of the geographical challenges of convening in-person sessions for all HPMG clinicians and Kaiser Permanente employees, Dr. Wirsing decided to develop on-demand videos for her colleagues who wanted to try guided meditation or yoga.
By spreading her passion and knowledge of wellness practices, she hopes to shift habits and breed a culture of awareness of how people take care of themselves and the downstream effects of self-care on the patient experience.
Fighting Physician Burnout
When discussing the widespread problem of physician burnout, Dr. Wirsing believes that doctors must watch out for those who don't know they are at risk. These are the clinicians who may feel like just another cog in the wheel and are drained to the point that they are unable to recover in their non-working hours.
Advances in clinical technology have meant great strides in health care quality and efficiency, but have also contributed to the already immense pressures on care providers. In addition to the expectation that they are constantly available, clinicians face difficult choices about how to prioritize their time. Because of documentation requirements, for example, patients can leave an office visit feeling neglected when their doctor spends minutes of their already limited appointment focused on the computer screen.
I believe that creating this bond [with a patient] is an art form.
Dr. Wirsing believes that doctors can start to combat this by looking at how health organizations onboard new physicians — asking them what they value and what invigorates them, and then providing the support. She also reinforces that a culture shift requires dedicated champions to exhibit the desired behaviors. By resetting priorities and demonstrating them herself, she believes she can play a role in encouraging new habits and shifting organizational culture.
Ultimately, Dr. Wirsing hopes she can serve as an example of balance and wellness that inspires other physicians to find something that works for them. The hurdles contributing to physician burnout are unlikely to disappear any time soon, but she is dedicated to spreading awareness about wellness and encouraging her colleagues to practice it in their own lives, with the goal of providing even better care for all patients.