Tracy Lippard, MD, offers tips for couples to stay healthy together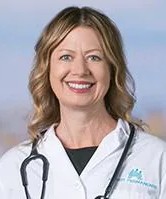 Spouses or partners are rarely on the same health path, but experts said they can help each other on the road to improved wellness, especially during retirement, in a recent Wall Street Journal story. Tracy Lippard, MD, an internal medicine physician specializing in geriatrics with Colorado Permanente Medical Group, was among the experts encouraging partners to support each other when it comes to healthy lifestyles.
In "How to Get Your Spouse to Eat, Exercise and Live More Healthfully," Dr. Lippard said that often one person is healthier than the other, and the healthier one can play a role in helping the partner. "It's also an opportunity to nudge each other in a healthier direction," she said.
Dr. Lippard also noted that if one partner needs to bring in the advice of a physician to help influence the other partner, they should feel free to lean on their family doctor. She said advice from a health expert is less likely to be resisted or dismissed.
NOTE: Read the complete story on the Wall Street Journal site (subscription required).