The Transparency of Trust
Sharing Clinical Notes and Member Reviews Builds a Better Doctor-Patient Relationship
By Leong Koh, MD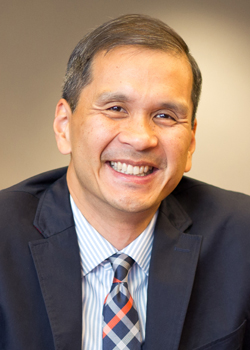 Over the years, one of the most trusted relationships in our society continues to be between doctor and patient.
As physicians, we should never take this relationship for granted. Instead, we must nurture it and honor the trust our patients place in us.
At Northwest Permanente (NWP) – made up of the physicians who care for Kaiser Permanente members in Oregon and Southwest Washington – we've taken steps to create an open environment for our patients, especially in the areas of member reviews and sharing notes from patient visits. By being the first Permanente Medical Group to share clinical notes and member reviews, we've paved the way regionally for a shift toward service-focused, transparent care.
Why This is Important
Transparency builds trust and improves the care experience. Patients want to be informed before they come to see us. We want to give patients the most thorough and accurate picture possible as they make important decisions about which physicians and clinicians they'll choose.
Research shows over 80 percent of people use online reviews to evaluate doctors. But current consumer ratings sites (Healthgrades, Vitals, Yelp, etc.) typically have a very small number of reviews, which provide an incomplete picture of a physician's performance.
Our thousands of independently collected, verified reviews through our Real Reviews program is a trustworthy source of information. Reviews are conducted by Press Ganey Associates, an industry-leading independent survey vendor. The feedback our members share with us is an invaluable tool as we strive to continually improve upon the services we offer. And because of the excellent care we provide, the patient experiences highlighted on our Real Reviews site are overwhelmingly positive.
Leading by Example: OpenNotes, Real Reviews
OpenNotes is a nationwide movement that encourages clinicians to share clinical notes and visit summaries with patients with the goal of improving transparency of care. With OpenNotes, only the patient can view his or her doctor's notes online, maintaining the confidential nature of this bond. It started as a demonstration in 2010 whose results were later published two years later in the Annals of Internal Medicine – which found that patients appreciated seeing the clinical notes while doctors didn't see any disruption to their practice.
After receiving enthusiastic feedback from our patient advisory groups in 2014, NWP moved forward with our own OpenNotes program. The "big bang" launch included all participating specialties going live with notes at the same time. Our members appreciate the additional openness and information the notes provide.
Transparency builds trust and improves the care experience. Patients want to be informed before they come to see us.
In 2015, in another step toward openness, we went fully transparent with the launch of the Real Reviews website after several years of sharing our service data internally. This site shares member feedback about clinicians and care experience, using ratings and comments from the Press Ganey survey. We were the first Kaiser Permanente region and one of the first large medical groups in the Northwest to start sharing patient reviews online.
Other Kaiser Permanente Regions in Colorado and Washington have been so impressed with our success, they are both exploring rolling out their own versions based on our experience.
"I could have gotten in for an earlier appointment but I decided that I wanted to be seen by Dr. Ann Stanek after I read the bios and reviews. it was worth the wait, though, as I was very pleased with the care I received from her. I felt like she really cared about what was best for my interest and health. I'm very glad I waited and that I have chosen her to be my gyn doctor." – KP patient
As health care becomes more consumer-focused, both individuals and large employer groups are turning to transparency as an additional way of evaluating physicians and clinicians. At Kaiser Permanente where the patients are the center of care, we have to ensure they're truly members of their care team. Being informed through access to clinical notes and understanding their care helps them be active participants in their health.
All of health care should move toward this era of openness. Only then can we provide the best care possible to those who've placed their trust in us.
Leong Koh, MD, is a family medicine physician and vice president of Quality, Care Experience, and Patient Safety at Northwest Permanente, the physician group that provides exclusive care to Kaiser Permanente patients in Oregon and Southwest Washington.