Tatjana Kolevska, MD, discusses cancer prevention and detection on Reuters panel
During a recent Reuters Events online panel, Tatjana Kolevska, MD, medical director for the Kaiser Permanente National Cancer Excellence Program, underscored the importance of cancer prevention and early detection.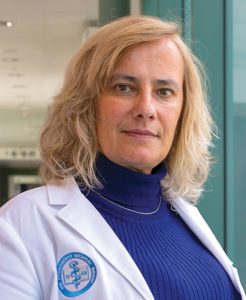 "It's in our power to eliminate 42% of cancers right here, right now," said Dr. Kolevska, an oncologist with The Permanente Medical Group. "That means cancer in a population the size of Seattle can be prevented with screening and preventative steps."
The online panel focused on the role of early detection of cancer as part of a comprehensive population health management strategy.
Dr. Kolevska shared the example of a Kaiser Permanente program that uses the organization's electronic health record to automatically enroll members in regular colorectal cancer screenings with a simple stool test, which has cut mortality rates for that disease in half.
"We now have one of the lowest mortality rates [among health care organizations] for colorectal cancer, and I now rarely see patients with advanced colorectal cancer in my clinic," she said.
Dr. Kolevska said it is equally important to educate patients about lifestyle changes that can help to prevent cancers in the first place. "We all own our lifestyle … how we exercise, how we eat. That's a tremendous power, and it's really important for all of us to keep that in mind."
Dr. Kolevska appealed to physicians and patients to participate in cancer research, which she said is needed to eliminate the disease.
"In the United States right now, less than 5% of cancer patients participate in clinical research," she said. "So, if you have an opportunity, please consider it, talk to your doctor, and let's advance cancer science together."
Reuters Events produced the webinar alongside its Total Health online conference slated for Nov. 15 to 18. That gathering brings together leaders from the health care industry to discuss ways to build a better health care system that offers full access and equity.
Note: View the full webinar below.