Stroke specialist Alexander Flint, MD, shares results of blood pressure reading study on NBC News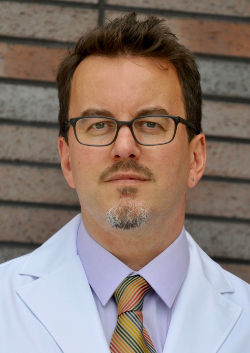 A new study published in the New England Journal of Medicine found that the top and bottom numbers in a blood pressure reading are both important in determining a patient's risk for heart disease. Alexander Flint, MD, a neurointensivist and stroke specialist with The Permanente Medical Group, says in an article on NBCNews.com that clinicians need to pay attention to the bottom number (the diastolic pressure) just as much as the top (systolic).
Dr. Flint, who's based at Kaiser Permanente Redwood City, was the lead author of the study and is an adjunct researcher with the Kaiser Permanente Division of Research. The study reviewed 36 million blood pressure readings taken between 2007 and 2016 from 1.3 million adult Kaiser Permanente members in Northern California.
Decades of research support the belief that a high systolic blood pressure is more likely to lead to adverse outcomes such as a heart attack or stroke. So for years clinicians have paid attention to the systolic number, but the new study found both the systolic and diastolic pressures strongly influenced the risk of heart disease.
"We should not declare victory just because one number is under control. We need to pay attention to both," Dr. Flint tells NBC News.
In 2017, the American College of Cardiology and American Heart Association updated their guidelines to indicate that normal blood pressure was considered to be under 130/80 mmHg. Doctors in the NBC News article were quoted to say medications and lifestyle play a role in controlling high blood pressure, and clinicians should tailor medications to the individual patient when treating hypertension.
Read the full story on NBCNews.com.
Related coverage on CNN.com.