Stephen Parodi, MD, tells CNN he expects strain on hospital capacity to persist through 2022
Stephen Parodi, MD, associate executive director of The Permanente Medical Group, recently told CNN that he expects the strain on hospital capacity in the United States to continue at least through the end of this year, and it will be important to distinguish between the burden from COVID-19 and patients with other conditions who are now filling hospital beds.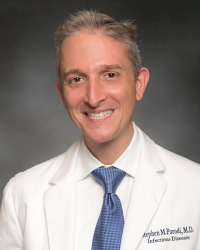 "From an endemic COVID monitoring perspective – at least that's where we hope we're heading – we need to be able to tell whether we're in a state that requires public health measures," said Dr. Parodi, who also serves as a national infectious disease leader for Kaiser Permanente.
Pre-pandemic, health care leaders typically could plan for bed capacity needs based on seasonal variation, with more patients anticipated during the winter flu season and with a lighter hospital census over the summer.
During the pandemic, many patients postponed surgeries and care for other conditions that required hospitalization. However, many of those same patients are now seeking care, and in some cases, their conditions have been exacerbated by the delay.
"What's different now, since the pandemic, is essentially we're running full all the time," Dr. Parodi said. "That calculation of a plan – when it comes to staffing those beds, having the workforce available, the doctors, nurses and support services like laboratory and radiology – it's changing our thinking about what we need to plan for an entire year as opposed to just one particular season."
NOTE: To read the entire article, visit the CNN website.