Stephen Parodi, MD, tells AP that Kaiser Permanente is prepared for surge as delta variant spreads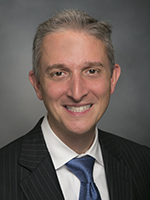 Permanente physician leader Stephen Parodi, MD, told The Associated Press he is confident Kaiser Permanente's 36 California medical centers can handle the influx of new COVID-19 cases seen in recent weeks as the highly contagious delta variant spreads and causes severe symptoms, particularly among people who have not been vaccinated.
Over the past 3 weeks, COVID-19 cases have doubled across Kaiser Permanente hospitals in California, to more than 400. Dr. Parodi, Kaiser Permanente's national infectious disease leader who helped develop surge plans for the organization, said the total is still less than 20% of the January 2021 peak.
However, he said that the medical centers are busy with people who have deferred care during the pandemic, many of whom are showing up in emergency departments with more severe illnesses than if their health conditions had been detected sooner.
"At some point illness doesn't wait for us," said Dr. Parodi, who is also associate executive director with The Permanente Medical Group. "The ability to defer additional care when you have already deferred for a year, year and a half, is just simply not an acceptable option."
Note: To read the full story, visit AP News.