Stephen Parodi, MD, says regulatory flexibilities are needed for virtual care
During a recent online appearance at the J.P. Morgan Health Care Conference 2022│Virtual, Stephen Parodi, MD, executive vice president of The Permanente Federation, called for ongoing federal and state regulations to support shifting health care from physicians' offices and hospitals to patients' homes.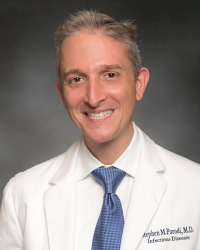 While federal and state waivers implemented during the pandemic have been extended temporarily to support physicians, hospitals, and health systems during the current COVID surge, "those are all facing a virtual cliff, if you will, with the expiration of the public health emergency, whenever that might be," Dr. Parodi said.
Part of the challenge is that the virtual programs do not fit the current regulatory landscape, Dr. Parodi said. "We're going to need a regulatory framework that allows us to codify these new systems so we can continue to provide this care."
He added that the fundamental changes in care delivery have yielded encouraging outcomes.
For example, nationally hospitals have readmission rates of between 15% and 20% after an initial hospitalization, Dr. Parodi said. By contrast, the readmission rate is about 6% to 8% among qualifying patients in Oregon that Kaiser Permanente has provided with hospital-level care at home. "We're also monitoring other quality outcomes, like hospital-acquired infections, which are reduced compared to the brick-and-mortar facilities," he said.
And while the shift to telehealth — which accounted for more than 80% of patient visits with physicians during the height of the pandemic — has settled down to about 40% for specialty care and between 40% and 50% for primary care visits at Kaiser Permanente, Dr. Parodi said telehealth will remain a key part of care delivery going forward.
Dr. Parodi, an infectious disease specialist who has an HIV practice, said he often cares for patients in cities who have transportation challenges. By providing virtual care via phone or video, he said, "I'm able to provide the care that they need, the medications that they need, virtually, and keep them out of the hospital, keep them out of the emergency department. We're going to need to be able to provide those flexibilities going forward."