Stephen Parodi, MD, says health care professionals' frustrations mount as COVID-19 hospitalizations surge
Permanente physician leader Stephen Parodi, MD, acknowledged in a recent interview with Hearst TV that many medical professionals — overwhelmed by the sheer number of unvaccinated COVID-19 patients in hospitals during the latest COVID surge — have grown frustrated as they combat misinformation and try to persuade patients to get a vaccine.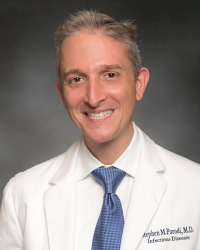 "It's hard to drive change," said Dr. Parodi, national infectious disease leader at Kaiser Permanente. "And that's why we're in it. We're in it to save lives."
At the start of the pandemic, doctors and nurses were hailed as heroes; as those same health care professionals champion vaccines amid the fourth surge of COVID cases, many are met with resistance and even insults, according to the TV report.
Despite such challenges, experts cited in the report emphasized the need to practice empathy with patients, rather than judgment. Dr. Parodi said that health care professionals benefit from expressing empathy with each other, often through peer support groups.
"We've measured this within Kaiser Permanente and know that when people talk to each other, more people feel supported," Dr. Parodi said. "And they report better mental health [and] well-being."
Note: View the full Hearst TV report on the WAPT-TV website.