Stephen Parodi, MD, discusses pandemic-driven shift to virtual care at Milken Institute's Global Conference
During the recent Milken Institute Global Conference, Stephen Parodi, MD, executive vice president of The Permanente Federation, said patient visits across Kaiser Permanente via video or phone grew from 16% before the pandemic to 38% in 2020, more than doubling after the pandemic hit.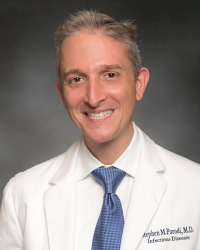 "In 2021, 29 million visits across Kaiser Permanente were virtual in nature using either video or telephony, and another 15 million were actually 'e-visits' where patients were logging on, describing their symptoms and resolving them using algorithmic information and data, or getting directed to an in-person virtual visit," said Dr. Parodi during a panel called "The 21st Century Home: Health Hub of the Future."
"I see it settling out where almost 40% of our care is now virtual, and I'm excluding e-visits from that," Dr. Parodi said about Kaiser Permanente's online assessments on kp.org. "I think that's going to be a burgeoning area of expansion."
Another burgeoning area of care is the move to provide hospital-level care in patients' homes. Like Kaiser Permanente's telehealth care, the hospital-level care it delivers in patients' homes "is actually person-centered, and increasingly focused on not just the medical care, but also the community supports that are required," Dr. Parodi said.
He added that Kaiser Permanente's Thrive Local initiative can help patients or caregivers address any social needs a patient may have, including housing, food, safety, and utilities.
Note: To watch the entire panel presentation, visit the Milken Institute Global Conference website.