Stephen Parodi, MD, describes epidemiologist's role as 'dynamic and exciting'
Stephen Parodi, MD, an associate executive director for The Permanente Medical Group, described the role of the epidemiologist as personally fulfilling and socially beneficial in a U.S. News & World Report article spotlighting this specialty field as a career option.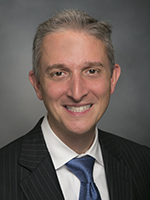 "This field is extremely dynamic and exciting," Dr. Parodi said. "One way or another, you are always working with something that is new, challenging, and deeply impactful to the health and welfare of a lot of people."
The U.S. News & World Report article, "What Epidemiology Is and Reasons to Study It," describes the science of epidemiology as "discovering the causes of disease outbreaks and tracing the spread of illness … an academic discipline with real-world relevance."
In his role as Kaiser Permanente's national infectious disease leader, Dr. Parodi participates in epidemiological research, and he has co-authored research articles on COVID-19 and other medical conditions.
"Whether it is studying the effects of a pandemic or the prevention of heart disease from smoking, the epidemiologist's work is geared to helping humanity," he said.
Note: To read the full article, visit the U.S. News & World Report website.