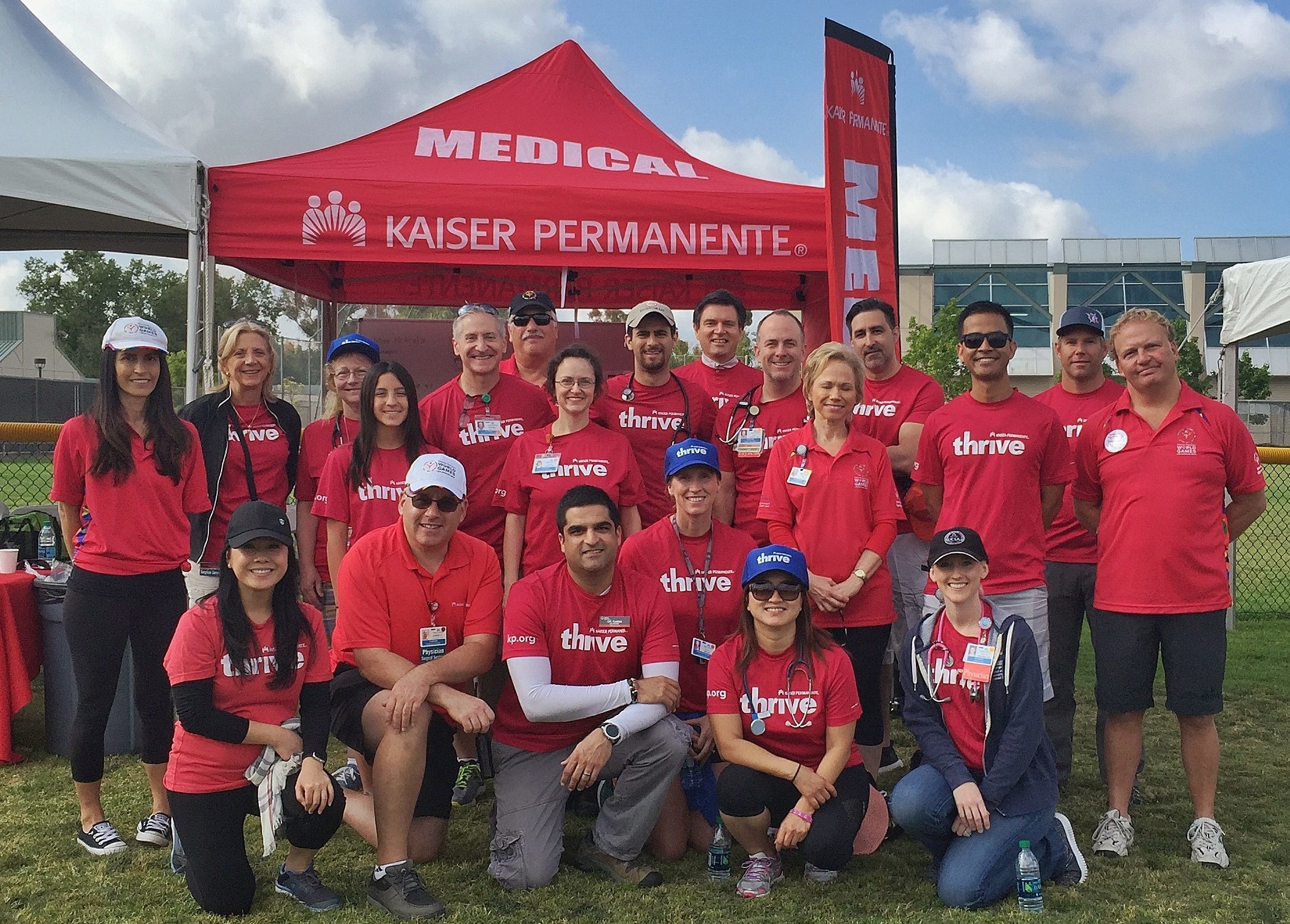 Special Olympics and Permanente Medicine form a winning team
Permanente physicians support healthier athletes as volunteers at Special Olympics
By Michael Green
The Permanente Federation
On the field of competition at the Special Olympics, the athletes aren't the only ones going for gold. As part of a growing partnership, Permanente physicians are working to provide world-class care for Special Olympics athletes across multiple specialties.
Kaiser Permanente's relationship with Special Olympics began in 2015 at the World Summer Games in Los Angeles where the organization served as the event's official health care provider. In this role, Permanente physicians collaborated with other doctors from across the globe to provide exams and sideline care for participating athletes, while implementing the integrated care delivery model that's a cornerstone of Permanente Medicine.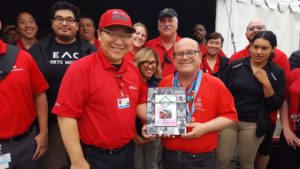 The event was the largest sports and humanitarian event in the world that year, with 6,500 athletes, 2,000 coaches, 10,000 volunteers, and more than 500,000 spectators. Out of the 6,500 athletes who participated in the Summer Games, only 21 experienced medical issues that could not be treated by on-site medical staff – a number that at the time was unparalleled in the history of the Special Olympics.
Aaron Rubin, MD, a family medicine physician with Southern California Permanente Medical Group (SCPMG) and program director for the Kaiser Permanente Fontana Fellowship Program, was the medical director at the 2015 Special Olympics World Games. For Dr. Rubin, who now serves as chief medical officer for Special Olympics Southern California, keeping athletes on the field is about more than ensuring their good health.
"We want the athletes to go out on the field and have fun, because sports are supposed to be fun," says Dr. Rubin, who added that more than 700 physicians volunteered at the 2015 games.
Last year, Kaiser Permanente and SCPMG reached a 3-year agreement with the Special Olympics to be the official health care provider of Special Olympics Southern California. SCPMG's involvement in the World Games opened the door for other medical groups to follow. Kaiser Permanente Washington and the Washington Permanente Medical Group (WPMG) reached a 3-year agreement to be the official health care provider of Special Olympics Washington, which began with the 2018 USA Games in Seattle.
Treating the whole athlete
One program that Dr. Rubin helps oversee for Special Olympics Southern California is Healthy Athletes, which offers free health exams for adults and children with intellectual disabilities. The clinics, run by trained volunteers, include 7 programs – Opening Eyes, Healthy Hearing, Fit Feet, Fun Fitness, Health Promotion, Special Smiles, and Med Fest.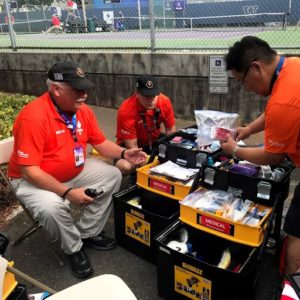 These free health exams often uncover previously undetected medical ailments for individuals with intellectual disabilities, such as dental problems that can be misdiagnosed as behavioral issues and foot problems that stem from wearing the wrong shoe size. In some instances, the medical issues that are discovered can be addressed on the spot by providing athletes with items such as new prescription glasses or hearing aids.
"Thanks to an uptick in our screenings, we're discovering more medical needs in our adult athletes and they're getting some much-needed care that they weren't getting before." says Bill Shumard, president and CEO of Special Olympics Southern California. "The flip side of that is the Kaiser Permanente medical professionals are becoming much more comfortable and oriented to deal with patients who have intellectual disabilities."
For many physicians, the opportunity to work with Special Olympics athletes is a learning experience that can't be replicated anywhere else.
"I can sit down with a group of physicians and lecture about intellectual disabilities, but the best way to get people less nervous and more engaged is to actually go out and interact with the athletes," says Dr. Rubin. "You gain a respect for what the athletes are doing and how they are as people."
Helping "hear" and there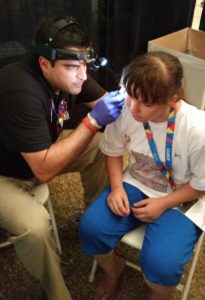 Ramin Zolfagari, MD, a pediatric anesthesiologist for the Southern California Permanente Medical Group and a Special Olympics Southern California Board of Directors member, experienced this dynamic first-hand when he volunteered to conduct ear exams at the 2015 World Games. Due to a volunteer shortage, he ended up performing 4 hours of ear exams in one day.
While conducting the exams, Dr. Zolfagari was approached by a coach who described an issue he was having with one of his athletes.
"The coach said [the athlete] is a good kid, but he has trouble communicating…he's always quiet," recalls Dr. Zolfagari.
After performing an ear exam on the athlete, Dr. Zolfagari discovered the cause of the issue. "His ears looked like they had never been cleaned out," he says. "As soon as we cleaned his ears, he couldn't stop talking."
Roadmap for success
The exceptional care received by athletes at the 2015 World Games paved the way for volunteers from all 8 Permanente Medical Groups to come together to provide care for athletes at the 2018 Special Olympics USA Games in Seattle. In total, there were about 270 sideline volunteers at the USA Games, and approximately 50% of them came from Kaiser Permanente.
The Seattle games also introduced a mental health component to the Healthy Athletes program called Strong Minds. This new clinic focuses on the mental well-being of athletes, coping strategies, and preparing for competition.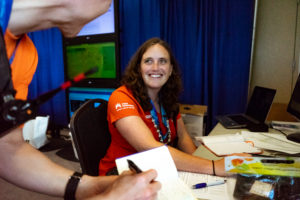 "Through Strong Minds, athletes are able to learn techniques they can use on the field and in the community," says Jessie Fudge, MD, a sports medicine doctor for WPMG who served as chief medical officer for the Seattle USA Games.
For the games, WPMG brought in a Kaiser Permanente process improvement team to help guide the flow for Healthy Athletes – streamlining the screening process for participants while also improving the experience for the athletes and clinicians.
"Athletes could easily navigate between the locations and carry their medical record throughout," says Dr. Fudge. "With improved processes and flow, we were able to evaluate and provide care to more athletes than any other USA Games."
Permanente physicians leveraged this approach to integrate with outside volunteer doctors specializing in vision, hearing, and dentistry so that athletes could be treated and return to play without ever having to leave the field. The process once again set a new standard for care at the Special Olympics.
A common mission
With the success of the 2015 World Games and 2018 USA Games as a backdrop, there is hope that more Permanente physicians will become involved in future Special Olympics events so that athletes can continue to receive high-quality care before, during, and after they take the field. It's part of an aligned mission coming from both organizations to serve their communities and members.
"Kaiser Permanente is the cornerstone of preventive medicine," says Dr. Rubin. "And Special Olympics, if you look at what they have with Healthy Athletes and other programs, it's the same philosophy. It's preventive medicine."
Dr. Fudge adds: "I think it's important to remember that athletes with intellectual disabilities often don't have access to health care, for numerous reasons. We're really able to provide world-class inclusive health care to a population that often lacks it. Our goal is to reach out to even more athletes and provide this level of care to as many Special Olympics athletes in as many areas as we can."