Sameer Awsare, MD, highlights Kaiser Permanente model in case for biosimilars market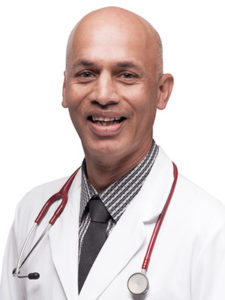 Some may want to abandon the fledging biosimilar drugs market, but physician leader Sameer Awsare, MD, FACP, co-writes an article in Health Affairs encouraging competition in the market to help curb rising health care costs.
Dr. Awsare, an associate executive director for The Permanente Medical Group, uses Kaiser Permanente as a model to demonstrate how a large, integrated system can adopt biosimilars for the benefit of patients. The article, "The Case For Letting Biosimilars Compete," was co-written with Anthony Barrueta, senior vice president of Government Relations, Kaiser Foundation Health Plan; Amy Gutierrez, PharmD, senior vice president and chief pharmacy officer, Kaiser Foundation Health Plan; and Polly Webster, senior policy adviser, Kaiser Foundation Health Plan.
Biosimilar drugs are identical copies of an original product made by a different company with no clinical, meaningful difference from their brand name counterparts. Biosimilars have high molecular complexity and – just like the original products known as "biologics" – are derived from living organisms, which is an important difference from generic drugs, most of which are composed of small molecules.
"Our experience shows that the lack of perfectly substitutable alternative to biologics is not an insurmountable barrier to competition," the authors write. "Rather, slow biosimilar market growth is primarily attributable to artificial barriers, such as overpatenting, payment incentives, and gaps in education."
Much of the health care industry is also influenced by financial incentives related to reimbursements for biosimilars. The authors note that Kaiser Permanente's exclusive contracts with Permanente Medical Group physicians remove the financial incentives because doctors are paid on a salary basis.
"Integrated systems such as ours have some advantages in biosimilar adoption," the articles says, "but we believe with the right support, it is possible for others to replicate our success and make threats to reference product market share more real."
Read the complete article on the Health Affairs site.