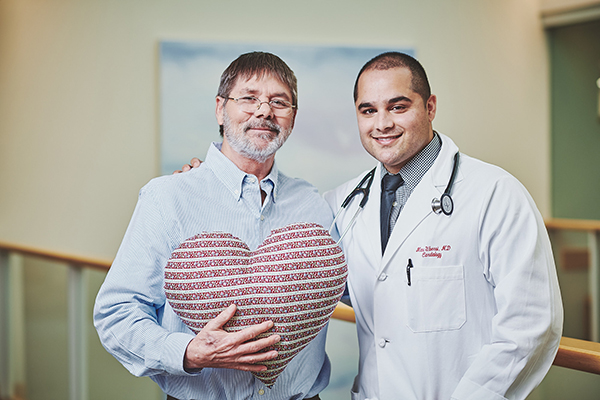 Rise of Life-Changing Cath-Based Procedures
Innovation Powers Minimally Invasive Cardiac Care that Helps Patients Heal Faster, Live Longer
Frank Burns could no longer walk his beloved dogs along their favorite riverside trail. He couldn't climb the stairs or perform simple tasks without experiencing shortness of breath and fatigue. He chalked it up to "old age," and put off seeing a doctor for as long as he could.
After several rounds of tests at Kaiser Permanente, the 65-year-old was diagnosed with what he calls "a laundry list of problems" — including aortic valve stenosis. This common but serious condition occurs when a narrowing of the aortic valve opening restricts blood flow from the left ventricle to the aorta.
Because of other health issues, however, Burns wasn't a viable candidate for open-heart surgery to replace his worn-out valve. Abhimanyu Uberoi, MD, an interventional cardiologist with Northwest Permanente (NWP) and structural heart medical director at Kaiser Permanente Northwest, offered him an alternative treatment called TAVR (transcatheter aortic valve replacement).
Less-Invasive, Faster Recovery
As with a growing number of heart procedures that are performed using a cath-based technique, Dr. Uberoi threaded a catheter through the patient's leg into the heart and positioned the new valve.
Cath-based procedures mean smaller scars, less risk of infection, and quicker recovery, compared to open-heart surgeries. Hospital stays following cath-based procedures are usually just one or two days. Patients stay a week or more following open-heart surgery.
"My life has gone from a slow-degeneration toward certain death, to a full life with my physical ability restored," said Burns. "I feel 20 years younger." He jogs a couple of miles each day, walks his dogs, does pushups, and has discovered a fondness for yoga. He's also become more introspective, vowing to make changes in his approach to life.
Burns attributes his new lease on life to his sister, who recommended that he join Kaiser Permanente for excellent care and coverage. He's also grateful to the care team of doctors, nurses, and other professionals "who managed all my needs quickly, efficiently, professionally and often with a smile."
Innovation, New Technologies
Kaiser Permanente's Center for Heart and Vascular Care in Oregon was founded in 2009 and has grown into a regional leader and early adopter of cath-based heart procedures. To keep pace with these innovations, a state-of-the-art surgical room with advanced imaging capabilities is being added to Kaiser Permanente Sunnyside Medical Center. It will be available for patient care in October 2018.
Besides TAVR, Dr. Uberoi and interventional cardiologists Robert Crawford, MD, Tim Hudson, MD, and Arun Kuchela, MD, are helping patients with heart conditions by using new technologies and less-invasive surgical techniques to close holes in hearts, remove blockages, and open arteries.
Atrial fibrillation is another condition that can be treated minimally invasively. Dr. Uberoi implants Watchman, a tiny umbrella-like device that blocks the left atrial appendage to prevent blood from pooling.
"This is important because Watchman prevents clots from breaking loose, entering the blood stream, and potentially causing a stroke," explains Dr. Uberoi.
Life-Changing Devices
He also says that NWP heart specialists are using "amazing minimally invasive technology" to repair mitral valves. The device, called a MitraClip, can be used to clip the two leaflets of the mitral valve together to prevent blood from leaking backward and causing serious breathing problems for the patient. Like many cath-based procedures, the MitraClip procedure is a good option for patients who are high-risk for surgery.
If I can help people to improve their quality of life and enjoy their time on this earth, then that's what I want to do.

— Abhimanyu Uberoi, MD
Another important new cath-based procedure is helping patients whose hearts need a little extra help to survive coronary stenting and other high-risk procedures. Dr. Uberoi inserts Impella, a temporary internal heart pump, through a catheter in the femoral artery and advances it into position in the left ventricle.
Dr. Uberoi's gratified when he sees patients who struggled to initially walk in the door emerge from cath-based, minimally invasive procedures transformed and thriving. "If I can help people to improve their quality of life and enjoy their time on this earth, then that's what I want to do."
Learn more about cardiac care at Kaiser Permanente at kp.org/cardiac/northwest.