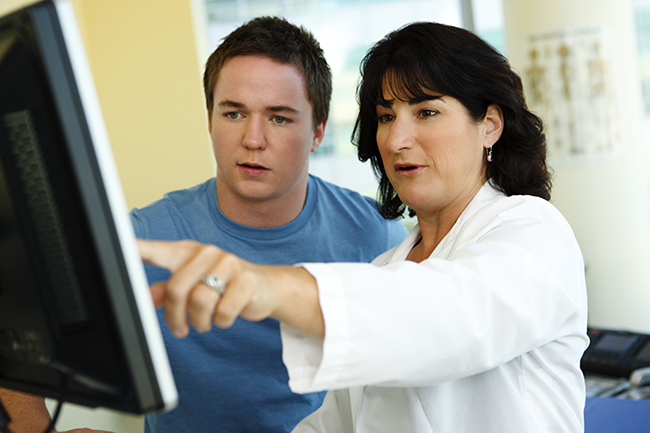 Reducing Diagnostic Errors
Kaiser Permanente's 'SureNet' Improves Patient Safety, Closes Care Gaps
By Laura Evenson and Christina Kerby
The Permanente Federation
A 24-year-old patient goes to Urgent Care for symptoms of a cold. Routine lab testing shows high-levels of creatinine, a by-product of normal muscle contractions that becomes a chemical waste product filtered from the blood through the kidneys. The physician treats the cold, but there is no follow-up on the high creatinine. Four years later, the patient is diagnosed with renal failure.
This is an example of a diagnostic error. The creatinine test should have been repeated either to rule out acute dehydration or rule in chronic kidney disease.
Such diagnostic errors – diagnoses that are delayed, wrong, or missed – affect at least 12 million patients per year in the United States, according to a study published in BMJ Quality & Safety. A 2016 British Medical Journal study calls diagnostic errors the third leading cause of death in the United States. Delays in following up on tests can lead to delayed diagnoses of life-threatening conditions such as cancer and kidney disease.
To address this challenge, Kaiser Permanente has pioneered a technology-enabled safety net program called SureNet that has tremendously improved diagnosis of certain conditions. Powered by Kaiser Permanente's robust electronic health record (EHR), the program has been so successful that the organization has partnered with safety leaders at Brigham and Women's Hospital in Boston to develop a conceptually similar tool, called Ambulatory Safety Net.
"'Failure to diagnose' is a leading problem in ambulatory care and sometimes this occurs when a test result comes back abnormal, but the patient does not receive needed follow-up," says Michael Kanter, MD, executive vice president and chief quality officer, The Permanente Federation, and regional medical director for quality and clinical analysis with Southern California Permanente Medical Group (SCPMG). "KP SureNet alerts physicians to these potential lapses before harm comes to patients."
54 Tracking and Alert Programs
Kaiser Permanente now has 54 tracking and alert programs implemented or in progress across its system as part of KP SureNet, with early evidence demonstrating the program's widespread effectiveness. For example:
In Southern California, KP SureNet has reduced the potential medication-related safety risk for outpatients with a history of falls or dementia by 70 percent.
Another Southern California program identified 9,381 men with an elevated prostate-specific antigen (or PSA) level who had not been evaluated by a urologist within 12 weeks of receiving results. After SureNet flagged the elevated PSAs, clinicians referred 3,377 of these men for biopsies, and about one-third subsequently were diagnosed with prostate cancer.
Kaiser Permanente Colorado launched an atrial fibrillation SureNet in December 2016, with 3,139 patients identified as high stroke risk and not on anti-coagulation. By May 16, 2018, 986 (31 percent) were on anticoagulation medication. Another 389 (12 percent) had a shared decision-making conversation with their primary care physician that resulted in a decision not to medicate.
Dr. Kanter says that KP SureNet can help to ensure that anytime a patient has an abnormal test result, medical teams dig deeper to determine whether additional care is needed. It also adds some peace of mind and convenience for patients by ensuring follow-up when needed. "This will help us provide our patients with more timely care," he says, "and therefore save more lives."
Sonali Desai, MD, medical director for Ambulatory Patient Safety at Brigham and Women's Hospital, agrees. "The concept of a safety net can be broadly applied to non-cancer diagnoses and other at-risk patients," she says, "as Kaiser Permanente has successfully shown."
Brigham and Women's Hospital in Boston has piloted a conceptually similar safety net program that has electronic surveillance in place for follow-ups on lung nodule imaging and colonoscopy pathology reports. The hospital plans to start work this year on a third program around rectal bleeding and iron deficiency. Kaiser Permanente's SureNet program already addresses both health challenges.
"Our goal at Brigham and Women's Hospital has been to create an Ambulatory Safety Net to impact missed and delayed diagnoses of lung and colon cancer that can result from test results requiring further follow-up," says Dr. Desai. "These safety nets need to be reliable and fit within existing workflows of busy clinicians. Our hope is to continue to build this system, expanding its scope to further impact quality patient care.
Permanente physicians have found that improving diagnostic accuracy has been challenging for two reasons: errors are hard to identify because of the gap in time that often occurs between the initial diagnostic error and its detection, and the resulting reporting gaps make them difficult to quantify. SCPMG physicians initially began looking at the challenge of delayed or missed diagnoses in 2006.
Safety Net Incorporated in EHR
Knowing that there are two main factors that contribute to diagnostic errors – cognitive errors (errors in the thinking process) and systems errors (missing lab results, lack of follow through on referrals, etc.) – the physicians designed a safety net in the electronic medical record to reduce delayed or missed follow ups on abnormal lab tests.
To create the first safety net program, SCPMG's physicians turned to Kaiser Permanente's robust EHR, which connects physicians with lab, imaging, pharmacy, and other resources across the integrated health care system. The goal was to close potential care gaps for two categories of care: diagnostic detection and medication safety.
Kaiser Permanente's SureNet program addresses key causes of diagnostic error and supports clinicians and patients in the diagnostic process.

– Mark Graber, MD, president/founder,
The Society to Improve Diagnosis in Medicine
The automated program scans the EHR to identify potential patient safety issues ranging from drug-disease interaction to early detection of cancer. Initially, Permanente physicians created an alert to improve diagnosis of chronic kidney disease, which is identified by taking two elevated blood creatinine levels three months apart. If no second test appears in the record within 90 days of the first, SureNet alerts both the physician and patient to proceed with a follow-up test. Over a 4-year period, SureNet identified 12,396 people in need of a repeat test, and 30 percent of them had confirmed chronic kidney disease.
The more recent collaboration between Kaiser Permanente and Brigham and Women's Hospital demonstrates that other organizations, including those outside an integrated system, can implement aspects of KP SureNet. Success depends upon strong leadership support, a culture that embodies a proactive, team-based approach to care, and existing electronic data that SureNet can obtain from medical records.
"Kaiser Permanente's SureNet program addresses key causes of diagnostic error and supports clinicians and patients in the diagnostic process," says Mark Graber, MD, president and founder of The Society to Improve Diagnosis in Medicine. "With its ability to intercept diagnostic errors before there is harm, the SureNet program represents a model that, in 10 years, every health care system in the country will be using."