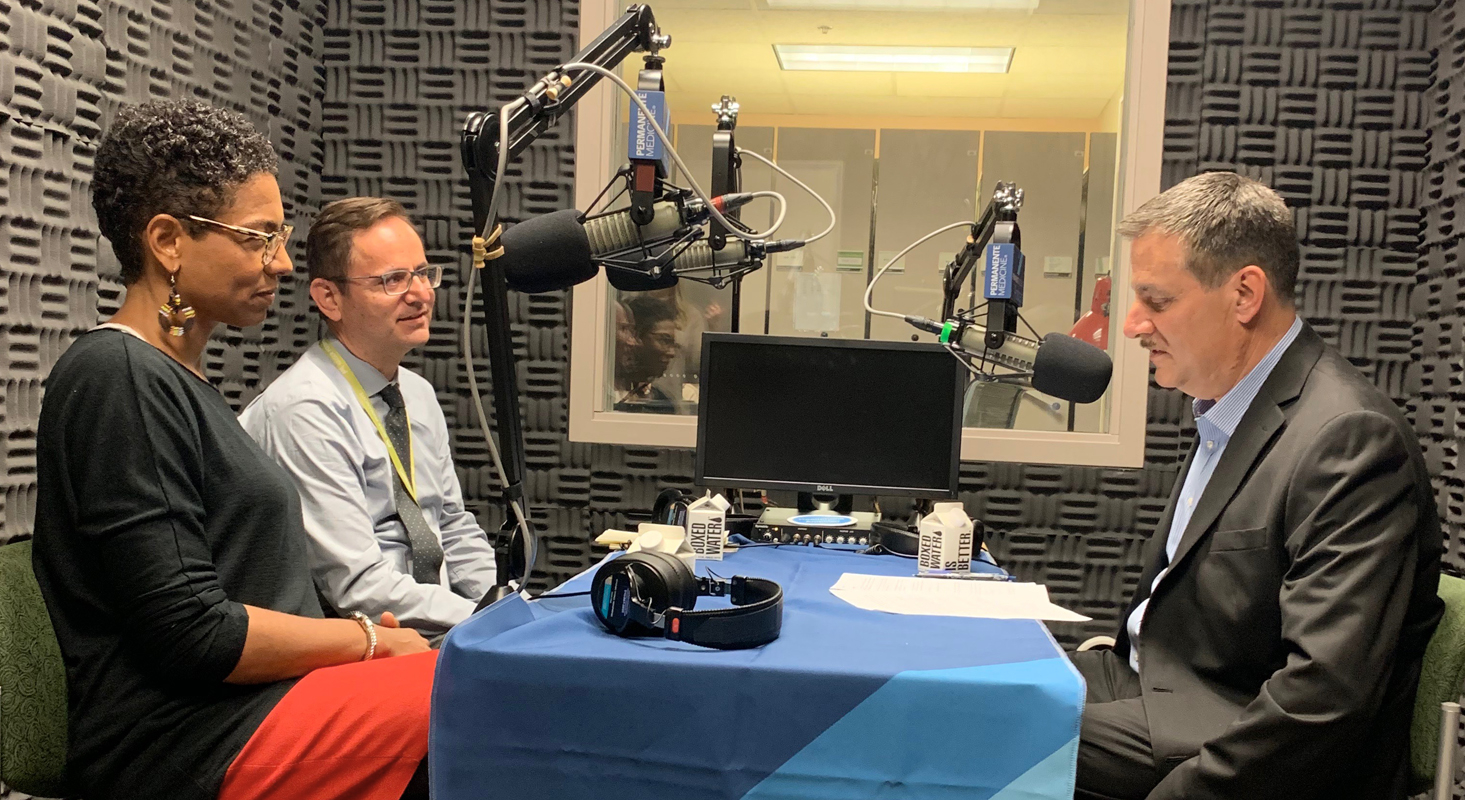 Podcast: High tech with a human touch
Permanente physicians Amanda Williams, MD, MPH, and Najeh Ahmad, MD, MPH, discuss the value of physician presence on social media
The Permanente Medical Group physicians Amanda Williams, MD, MPH, and Najeh Ahmad, MD, MPH, join host Chris Grant in the latest episode of the Permanente Medicine Podcast to discuss their experiences as Permanente Medicine ambassadors on Twitter and how the experience helped them find their joy and meaning in medicine.
Dr. Williams, an obstetrician-gynecologist, serves as chair of the TPMG chiefs of Ob-Gyn subgroup on pregnancy care and medical director of maternity services for Kaiser Permanente Oakland Medical Center. She's often seen as a mentor for underrepresented minority women in medicine and a promoter of women's health.
Family medicine physician Dr. Ahmad serves as chief of complex and transitional care for Kaiser Permanente's Roseville Medical Center. As a physician coach, he promotes wellness for his patients and shares that message on social media.
In the episode, both physicians share their experiences building a community on Twitter, their thoughts on the importance of a physician presence on social media, and what they'd like to learn from the next generation of physicians. The podcast is part of an ongoing series of conversations between physician leaders and Grant, executive vice president and chief operating officer of The Permanente Federation.
When asked why it was so important to talk about women's health in such a public forum, Dr. Williams explains: "So many issues in women's health are considered private. … So when we can lift that veil and create community, create a common language, I think that we're doing tremendous good in the Twitter-verse to help women be connected and feel less shame about their experiences."
Dr. Ahmad also shares his excitement for digital natives to join the medical community. "I believe that they can teach us to be high tech without losing the human touch," he says. "I truly believe in the next generation leading us in that way."
Stay tuned for upcoming Permanente Medicine Podcasts showcasing perspectives from some of the brightest minds in health care, including a former U.S. surgeon general.
Listen to the podcast above, or download it on iTunes. Connect with Dr. Williams on Twitter at @KPobgyndoc, Dr. Ahmad at @KPbewelldoc, and Grant at @cmgrant.