Planning for Life's 'What-Ifs'
How Physicians Play a Role in a Patient's Advance Care Plans
By Matt Handley, MD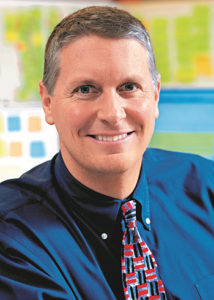 What if something suddenly unexpected happened to a loved one that left that person unable to express his or her wishes?
Making important care decisions for a family member or a close friend can be challenging – especially if that person never had a conversation about how he or she would want to be cared for. As a physician, I've seen few patients having these conversations and many more avoiding life care planning altogether. I think it's the anxiety that's attached to conversations that lead both patients and physicians to perceive them as difficult, and I also think that's why only 20 percent of Americans have their preferences met when they receive end-of-life care.
As we approach National Health Care Decisions Day on April 16, I wonder why so few patients are having their preferences met during a time when health care organizations continuously prioritize patient experience. The answer may be found in breaking down the reluctance in our culture to have these conversations sooner rather than waiting until the end of life. To do so, clinicians need to be equipped with the appropriate structure and training that enable them, their patients, and their patients' families to effectively have a conversation about life care planning.
Kaiser Permanente has launched a Life Care Planning program to normalize the conversation around a patient's preferences. It also provides structure and training to support a series of conversations based on what's most appropriate for the person's stage in life. Conversations are held with a person and designated health care agent, ranging from discussing what might happen if the person gets sick, to discussing how to treat the anticipated effects from a chronic illness, to advanced steps in a person's final year of life.
Choices and Preferences
Physicians are experts in making medical diagnosis, but we are not experts at diagnosing personal preferences. It's up to physicians to help patients understand their choices and ask about their preferences for care rather than presume they know them. In doing so, doctors will be practicing person-centered care that leads to better outcomes. Outcomes experienced like that of my own patient Tosh.
Tosh is a remarkable guy from Seattle whom I have taken care of for many years. He shared his story with me when we first met, and it seems another interesting chapter about his life is shared at every visit. He was placed in an internment camp with his family during World War II. Despite the internment camp, he volunteered to join a Japanese-American unit in the U.S. Army that fought in Europe. When Tosh returned from the war, he found a lot of discrimination against Japanese Americans.
As he aged, he noticed there were few care homes or assisted-living facilities that readily welcomed Japanese-American patients. He founded a philanthropic organization that opened assisted-living homes for Japanese Americans in Seattle, and today he is among many residents who live there.
It's up to physicians to help patients understand their choices and ask about their preferences for care rather than presume they know them.
About two years ago Tosh began having several medical issues that kept sending him to the hospital. Each time he went, he had trouble bouncing back to his normal self. I set up a visit with Tosh and his extended family to talk about life care planning. We discussed what he was facing and what his prognosis was. We also had a conversation about what's important to him in life and his care goals.
Tosh decided that his goal in life was to find joy every day. If he had a condition that could be easily reversed he would still want to go to the hospital, but he would not want to be resuscitated if he had a natural death. The visit was a bit of a celebration of his life, an acknowledgement of the importance of his family, and a conversation about his medical condition and what he was facing. Tosh came back to see me a couple of months later for a visit, which is when he told me, "I'm following doctor's orders, and am finding joy every day."
Tosh continued to find joy every day in everything that he did, but later that year he came in for a check-up and we noticed he was experiencing several gastrointestinal symptoms. We discussed what could be causing the symptoms, how we would diagnose it, and what treatments might be available depending on what we found. Tosh decided that he was not interested in any further evaluation or treatment, but knew it would be difficult for his family to understand why he would choose not to pursue it.
A week later, we had a conversation with his family about his care goals and together they decided that it would be best to provide him comfort care in his home and not return to the clinic or hospital. To this day, Tosh continues to find joy and invites family members to his home to reminisce, spend time, and celebrate life together, supported by our hospice team.
Starting the Conversations
Looking back on that experience, it feels fulfilling to have provided person-centered care and thoughtful conversations to support both Tosh and his family to make this time of life more manageable for everyone. Clinicians tend to think about this as a difficult conversation, but if you're prepared and practiced it's simple and powerful. It gives as much to me as to the family I am working with.
The people we care for want to have these conversations and often wonder why we haven't had them. Today the structure and training from our program can be used as a national framework to break down the reluctance in approaching these conversations that will help millions of people and their families navigate through this time of life. Launched in Kaiser Permanente Northern California in 2013, we are now in the process of spreading our Life Care Planning program to all eight of our regions with the support of our Kaiser Permanente Care Management Institute – a specialized institution within Kaiser Permanente that is tasked with identifying, supporting, and spreading best practices across the organization.
Kaiser Permanente will continue to support efforts to ensure clinicians have the appropriate resources, structure, and training to start a conversation about life care planning with their patients so that they receive the care they truly want. The best way for all of our care teams to better understand the process is to participate personally in a first-steps conversation – in person or online at kp.org. This is a cultural change and I'm confident that more health care organizations will join us in making every effort possible to deliver better care that is informed by what our patients want.
Matt Handley, MD, is senior associate medical director for Quality and Safety at the Washington Permanente Medical Group, which provides exclusive care to Kaiser Permanente patients in Washington state. Dr. Handley leads Kaiser Permanente's Life Care Planning program, which supports adults of all ages in making advance care plans so their health care wishes are documented and can be honored if there comes a time they are unable to speak for themselves.