Permanente research lead Steven Jacobsen, MD, selected as president-elect of American College of Epidemiology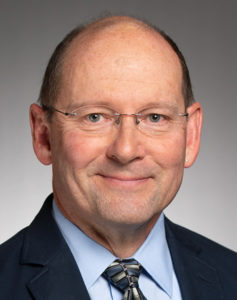 Steven J. Jacobsen, MD, PhD, senior director of Research for Kaiser Permanente Southern California, was elected as president-elect of the American College of Epidemiology during the college's annual meeting this week in Pasadena, California. He will become president of the college in 2021.
Dr. Jacobsen directs the research programs for Kaiser Permanente Southern California and the Department of Research & Evaluation, which has more than 30 faculty in epidemiology, health services, and related research. The Department of Research & Evaluation, a part of Southern California Permanente Medical Group, is one of 8 Kaiser Permanente regional research centers and one national research center that serve the more than 12.3 million Kaiser Permanente members and patients.
The American College of Epidemiology is a credential-based organization of epidemiologists dedicated to continued education and advocacy for epidemiologists in their efforts to promote good science and the public health. This year's annual ACE conference was hosted by the Kaiser Permanente Southern California Department of Research & Evaluation.
"The college has benefited from the leadership of the leading Epidemiologists in the world, including dedicated professionals like Steve Jacobsen," stated Russell Kirby, MD, ACE president. "The college is very fortunate to have Steve to lead ACE into the future."
"As epidemiologists our charge is to inform public health and health care with evidence that can't be found through randomized trials or other means," Dr. Jacobsen said. "ACE is an organization with membership that goes far beyond the traditional academic world of epidemiology and really speaks to the practice of medicine and the formation of public policy."
Dr. Jacobsen serves as site principal investigator for the Vaccine Safety Datalink, funded by the Centers for Disease Control and Prevention, and has directed several large-scale, post-licensure safety studies mandated by the U.S. Food and Drug Administration. Before joining Kaiser Permanente, he was professor and chair of the Division of Epidemiology for the Mayo Clinic College of Medicine. He is a chronic disease epidemiologist with a long-standing interest in men's urologic health, cardiovascular disease, and vaccine research.
To learn more about ACE, visit its website. Check out this Twitter moment featuring highlights from this week's American College of Epidemiology's 4-day annual meeting focused on "Real-World Epidemiologic Evidence in Policy and Practice."