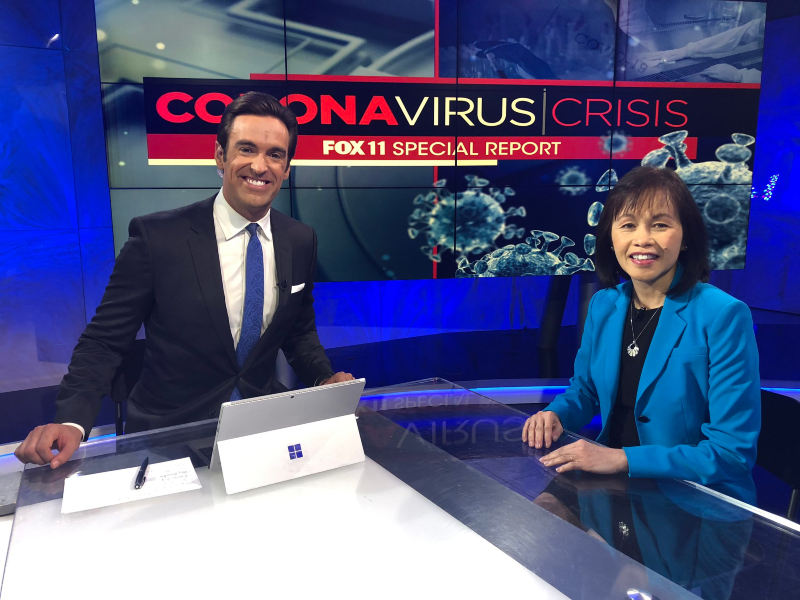 Permanente physicians provide expertise to media coverage of coronavirus, COVID-19
During the fast-changing coronavirus pandemic gripping the nation — and the world — physicians have been on the front lines providing care to patients. But several of them have been doing extra duties as experts in news stories, helping to dispel health misinformation by dispensing evidence-based information about the virus.
Permanente physicians have been helping to educate people about COVID-19 and update Kaiser Permanente members and patients about receiving care, and now adding perspective on moving into an endemic stage and the future of care delivery. The following Permanente physicians were quoted in media reports.
March 16, 2023
March 8, 2023
March 7, 2023
February 21, 2023
February 8, 2023
January 30, 3023
January 25, 2023
January 11, 2023
January 6, 2023
January 3, 2023
December 28, 2022
December 21, 2022
December 18, 2022
December 17, 2022
December 16, 2022
December 14, 2022
December 13, 2022
December 12, 2022
December 7, 2022
December 5, 2022
November 23, 2022
November 18, 2022
Oct. 4, 2022
Sept. 22, 2022
Sept. 19, 2022
Sept. 13, 2022
Aug. 8, 2022
Aug. 6, 2022
July 29, 2022
July 28, 2022
July 26, 2022
July 25, 2022
July 12, 2022
July 11, 2022
July 8, 2022
July 5, 2022
July 1, 2022
June 24, 2022
June 5, 2022
May 23, 2022
May 16, 2022
May 5, 2022
May 2, 2022
April 27, 2022
April 22, 2022
April 21, 2022
April 18, 2022
April 15, 2022
April 4, 2022
March 12, 2022
March 11, 2022
March 10, 2022
March 8, 2022
March 1, 2022
February 28, 2022
February 24, 2022
February 15, 2022
February 13, 2022
February 11, 2022
Jan. 12, 2022
Dec. 20, 2021
Dec. 16, 2021
Dec. 15, 2021
Dec. 8, 2021
Dec. 7, 2021
Dec. 6, 2021
Dec. 4, 2021
Nov. 30, 2021
Nov. 29, 2021
Nov. 25, 2021
Nov. 18, 2021
Nov. 8, 2021
Nov. 3, 2021
Oct. 27, 2021
Oct. 18, 2021
Oct. 13, 2021
Oct. 12, 2021
Oct. 11, 2021
Oct. 1, 2021
Sept. 28, 2021
Sept. 27, 2021
Sept. 26, 2021
Sept. 20, 2021
Sept. 17, 2021
Sept. 14, 2021
Sept. 13, 2021
Sept. 10, 2021
Sept. 8, 2021
Aug. 30, 2021
Aug. 28, 2021
Aug. 27, 2021
Aug. 26, 2021
Aug. 25, 2021
Aug. 24, 2021
Aug. 11, 2021
Aug. 8, 2021
Aug. 7, 2021
Aug. 4, 2021
Aug. 3, 2021
Aug. 2, 2021
Aug. 1, 2021
July 29, 2021
July 28, 2021
July 23, 2021

July 16, 2021
July 12, 2021
July 11, 2021
July 9, 2021
July 6, 2021
June 28, 2021
June 25, 2021
June 22, 2021
June 16, 2021
June 12, 2021
June 11, 2021
June 10, 2021
June 3, 2021
May 24, 2021
May 20, 2021
May 19, 2021
May 17, 2021
May 14, 2021
May 13, 2021
May 12, 2021
May 6, 2021
April 26, 2021
April 23, 2021
April 18, 2021
April 16, 2021
April 14, 2021
April 13, 2021
April 10, 2021
April 8, 2021
April 7, 2021
April 6, 2021
April 5, 2021
April 3, 2021
April 2, 2021
March 30, 2021
March 25, 2021
March 23 2021
March 22, 2021
March 17, 2021
March 16, 2021
March 14, 2021
March 1, 2021
February 26, 2021
February 25, 2021
February 23, 2021
February 22, 2021
February 17, 2021
February 12, 2021
February 8, 2021
February 5, 2021
February 3, 2021
January 28, 2021
January 27, 2021
January 26, 2021
January 23, 2021
January 16, 2021
January 13, 2021
January 11, 2021
January 6, 2021
January 5, 2021
December 22
December 21
December 18
December 17
December 16
December 15
December 13
December 9
December 8
December 7
December 6
December 5
December 3
November 18
November 17
November 16
November 15
November 12
November 9
November 2
October 29
October 27
October 26
October 23
October 19
October 16
September 30
September 24
September 22
September 18
September 17
September 15
August 31
August 30
August 19
August 14
August 12
August 11
August 9
August 8
July 30
July 21
July 20
July 12
July 10
July 7
July 2
June 30
June 26
June 23
June 22
June 21
June 18
June 17
June 16
June 13
June 12
June 9
June 4
May 29
May 28
May 26
May 25
May 22
May 17
May 15
May 14
May 13
May 12
May 6
May 5
May 4
May 1
April 30
April 29
April 28
April 23
April 22
April 21
April 19
April 16
April 15
April 14
April 13
April 9
April 8
April 7
April 6
April 4
April 2
April 1
March 30
March 27
March 26
March 21
March 20
March 19
March 18
March 17
March 16
March 14
March 12