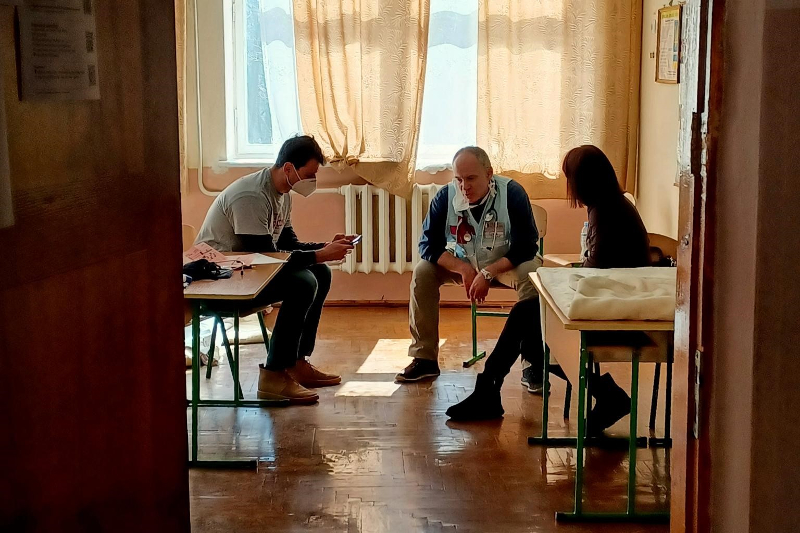 Permanente physicians called to service in Ukraine
2 doctors bring care, compassion to aid thousands at border camps
By Benjamin Seto
The Permanente Federation
As an emergency medicine physician at Mid-Atlantic Permanente Medical Group, Gene Gincherman, MD, saw the suffering on television in the early days of the Ukraine-Russia conflict and decided to go on a volunteer mission to help refugees at the Ukraine border. "You have to be of service when that service is called for," he says.
For Irina Crook, MD, a hospitalist with Hawaii Permanente Medical Group, the conflict hit even closer to home. She was born and raised in Kyiv, and her family still lived there. So she volunteered at a border camp for much of April to do what she could to help. "Initially it was heartbreak and thinking I can't do anything," she says, "but then I just sort of found things to do and it helped."
Drs. Gincherman and Crook are just a couple of examples of Permanente physicians who found ways to help or contribute to the ongoing humanitarian crisis that began more than 3 months ago when Russia invaded Ukraine, prompting more than 6.6 million Ukrainian residents — according to latest figures from the United Nations — to flee their homes and find safety in neighboring countries such as Poland. Whether volunteering with an NGO (nongovernmental organization) or rallying support locally, Permanente physicians have stepped up to bring Permanente Medicine to global communities in need.
"We're called to serve whether in Ukraine or downtown Baltimore," Dr. Gincherman says. "It's an incredible privilege to be of service knowing how much pain and suffering there is in the world."
Noting that he is of Russian descent, Dr. Gincherman says he felt he carried an additional responsibility to help the people of Ukraine. "My grandparents served with honor and compassion as military physicians during World War II as the Allies defeated the Nazis," he says. "It is my turn now."
More than medicine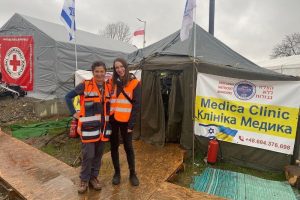 In many of the volunteer situations, the medical expertise came with a heavy dose of compassion and care.
Both Drs. Gincherman and Crook say their volunteer missions involved helping displaced people who had a variety of ongoing health conditions, such as diabetes, high blood pressure, and heart disease. But most of the time, their efforts involved attending to psychological trauma due to the loss of loved ones, livelihood, and homes. Being available to listen or hold a hand was just as important as providing medical care.
"What can I really do to fix the situation for a 57-year-old mother whose son is being deployed to the front?" Dr. Gincherman says. "What kind of medicine can I offer? Sometimes it's not about medicine but knowing there is a hurting human in front of you, and bearing witness to that with kindness and compassion."
Dr. Crook says just being there to listen made a difference to those who have left their homes and face uncertainty about their future. "I tried to be there to support them," she says. "I think I gave them hope. I think they felt that somebody was there that cares about them."
Dr. Crook spent much of her time in Medyka, one of the busiest border crossings in Poland, working with an NGO called Sauveteurs Sans Frontieres ("Rescuers Without Borders"). She recalls how surreal it was to see the women and children who came through the camps with their lives interrupted. "It was just a huge amount of people who just exited their normal life," she says, "and you see things from total breakdown to 'we're going to deal with this, we're going to be ok.' "
Dr. Crook was later joined by her 35-year-old daughter, who helped at a refugee camp, and 27-year-old son, who volunteered with World Central Kitchen. She also took some time to help her 81-year-old mother and sister, who fled their home in Kyiv to a temporary location in France.
Related links: PermanenteDocs Chat on global health
An oath to care
Dr. Gincherman volunteered in late March as part of Team Rubicon, which sent his team to Lviv, the largest city in western Ukraine. He has been on volunteer medical missions in the past, such as helping in the aftermath of the 2010 Haiti earthquake.
Reflecting on the last 2 years of the COVID pandemic and the stress faced by physicians and other health care workers, he says these global health crises help to put things into perspective, depending on how you look at it.
"You have 2 choices," Dr. Gincherman says. "Either you become burned out and lose yourself, or you flip that and say what a privilege it is to witness and serve and be part of that human connection."
Sometimes it's not about medicine but knowing there is a hurting human in front of you, and bearing witness to that with kindness and compassion.

— Gene Gincherman, MD
Dr. Crook echoes that sentiment, saying her volunteer Ukraine mission reminded her of why she became a physician.
"Sometimes we lose sight of that," she says. "We have to practice in a highly regulated environment, so you forget why you came into medicine, because you have to do notes and you have to do a lot of other documentation. … Then you come into an environment where people have nothing. You can check their blood pressure and examine them, and you just talk to them. And they're eternally grateful. You just hand them a hot cup of tea, and they're just happy that you're there."