Paul Thottingal, MD, tells Health.com that most interactions are low risk for fully vaccinated
Paul Thottingal, MD, infectious disease physician with Washington Permanente Medical Group and national infectious disease leader for Kaiser Permanente, told Health.com that most in-person interactions for those who are fully vaccinated are "quite low-risk."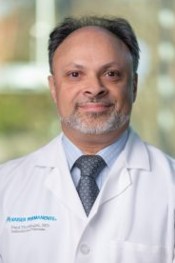 However, Dr. Thottingal said fully vaccinated people may want to take precautions to protect both themselves and others as the highly infectious delta variant fuels an increase in COVID-19 cases across the nation.
"You may want to know about other people's vaccination status to help think through how you can make activities as low-risk as possible for everybody," he said.
That may mean wearing a mask at indoors, such as at a bar or restaurant, or better yet, gathering outdoors, Dr. Thottingal said. "Out in the open air, I think you're OK."
He also suggested that anyone hosting friends with unvaccinated children should wear a mask, in part to model safe behaviors.
"It's easier to support the kids if everybody's wearing a mask without singling them out," he said.
Note: To read the full story, visit Health.com.