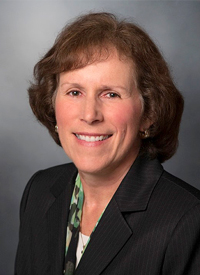 Patricia Conolly, MD
Executive Vice President
Information Technology and Chief Information Officer
The Permanente Federation

Associate Executive Director
The Permanente Medical Group
Patricia Conolly, MD, is executive vice president of Information Technology on The Permanente Federation's National Permanente Leadership Team and the Federation's chief information officer with oversight over the Permanente Medical Groups' information technology efforts.
Dr. Conolly also serves as an associate executive director of The Permanente Medical Group (TPMG). She joined TPMG in 1983 and has served as director of the Internal Medicine Residency Program, director of Medical Education and chief of Medicine at the Oakland Medical Center. In 2000 she assumed leadership of the TPMG Regional Call Centers, providing 24/7 telephone access to information, appointments, and medical advice for more than 3 million Kaiser Permanente members in Northern California.
In her current role, Dr. Conolly leads TPMG's Technology Group, which includes development, oversight, and support of technology tools to assist our members and our clinicians in transforming and optimizing health care delivery.
Dr. Conolly is a graduate of the University of San Francisco. She received her medical degree from the University of California, Los Angeles, and served on the clinical faculty at the University of California, San Francisco's School of Medicine. She continues as a clinical preceptor in the UC Berkeley/UC San Francisco Joint Medical Program.
Dr. Conolly is a fellow of the American College of Physicians and serves as chair on the board of directors of the American Board of Internal Medicine.