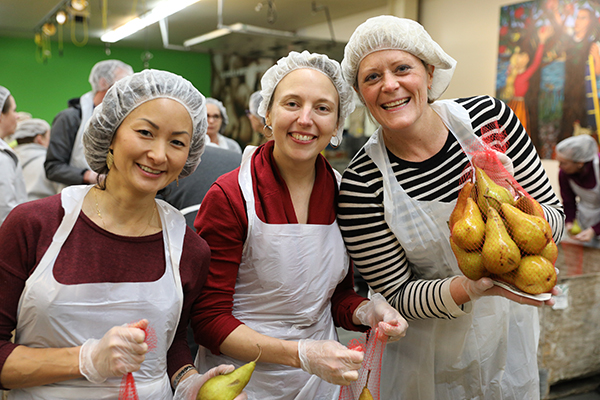 Northwest Permanente's B-Corp Journey
Physician Group Becomes the First Designated as a B Corporation
In 2016, Northwest Permanente, P.C., was the first physician-led organization globally to be certified as a B Corp — corporations that meet rigorous standards of social and environmental performance, accountability, and transparency.
Why seek a B Corp certification?
The first B Corps were certified by the B Lab in 2007, and in short they're for-profit companies that have value-based missions similar to those of non-profit organizations. By 2015 an awareness of this movement had surfaced among members of the Northwest Permanente (NWP) Board of Directors. It was felt that NWP, following the path started by its founder, Sidney Garfield, MD, was already meeting the B Corp standards in its mission and philosophy, and its practices aligned well with the obligations of B Corp boards to make decisions based on people and the planet — not purely on profits.
"The fundamentals of a B Corp company of being a force for good, good for workers, good for communities, good for the environment, echo our values of Permanente Medicine," says Imelda Dacones, MD, NWP CEO and president. "With this certification, we also have a responsibility as the second largest B Corp in Oregon and the first physician-led B Corp in the world. We are taking stock of our activities and leveraging them to have greater impact whenever we can. It is pretty exciting for us."
In 2016, NWP began to focus on B Corp certification in earnest — a two-pronged effort that took several months to complete and that required the close cooperation of professionals across the organization. The first aspect of the process involved an assessment by B Lab, which measured five areas: governance, workers, community, environment, and customers.
A Passing Score
Some 85 percent of companies who attempt certification fail on their first attempt, with 80 points out of 200 needed to pass. NWP managed to pass the B Lab assessment on the first attempt, with a score of 135.
Next in the process was changing the medical group's Articles of Incorporation, which ultimately required a vote of 75 percent of over 600 physician shareholders. Of those 75 percent of shareholders that voted, 75 percent had to vote in favor of the Articles changes supporting becoming a B Corp. Once that vote was accomplished, in September 2016, NWP achieved official B Corp status. Portland Business Journal recognized NWP as the second-highest-scoring new B Corp to be certified in Oregon in 2016.
In January 2017, NWP officially filed with the State of Oregon as a Benefit Corporation.
"Northwest Permanente has been doing all the right things historically and now our goal is to streamline our activities and focus on impact as part of an integrated plan that ultimately supports our patients, workers, community, and environment," says Colin Cave, MD, an otolaryngology surgeon with NWP who is also the director of Government Relations and Community Benefit. Dr. Cave serves as the physician lead for NWP's B Corp program, working closely with the Board of Directors.
NWP's internal audit of all community benefit, volunteer, sponsorship, and corporate goodwill activities made it clear that for the organization to make an impact and be most effective, it needed to organize these varied activities under one umbrella. This review provided the genesis of NWP's Corporate Social Responsibility (CSR) Program, designed to keep track of, align, and measure these activities. The B Corp strategy helps inform the CSR plan.
NWP looks forward to its future as a B Corp and to becoming a national leader in the areas of diversity and inclusion, environmental stewardship, and community partnership.

– Imelda Dacones, MD, president and CEO, Northwest Permanente
Also in 2017, NWP participated in the B Corp Inclusion Challenge, focusing on a series of changes to benefit its workers, diversity and inclusion pipeline programs, and community volunteerism. Because of its assessment score and ongoing actions, NWP received B Lab acknowledgement as a "Best for the World" B Corp in the Overall and Workers categories. The 2017 Best for the World honorees represent the top 10 percent of all B Corporations internationally.
"We are very early in our journey as the first B Corp physician group in the world, and it's nice to get this recognition," says Dr. Dacones. "But we're not here for the recognition or awards. Instead, we're committed to the work and learning how we can continue to be a better company and business that does good."
In September 2017, NWP celebrated its first year of B Corp certification. "Now, with a forthcoming Corporate Social Responsibility plan as our guide," Dr. Dacones says, "NWP looks forward to its future as a B Corp and to becoming a national leader in the areas of diversity and inclusion, environmental stewardship, and community partnership."
To learn more about Northwest Permanente, visit its physician career site, or contact its media team at NWP-Communications@kp.org.