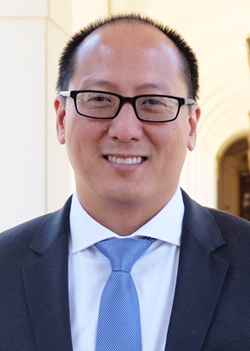 Nolan Chang, MD
Executive Vice President, Strategy, Corporate Development, and Finance
The Permanente Federation
Regional Medical Director
Business Management
Southern California Permanente Medical Group
Nolan Chang, MD, is executive vice president of Strategy, Corporate Development, and Finance for The Permanente Federation. He is also medical director for business management for Southern California Permanente Medical Group. In this role, he provides oversight for multiple areas including Kaiser Permanente HealthConnect®, Permanente Human Resources including benefits strategy and physician compensation, and SCPMG financial services.
As a member of The Permanente Federation's National Permanente Leadership Team, Dr. Chang has a broad set of governance and leadership responsibilities for strategy, corporate development, finance, labor, documentation, and coding.
Dr. Chang has 15 years of medical expertise and leadership experience. Prior to his current position, he served as regional assistant medical director for strategic projects with SCPMG operations, successfully leading care transformation, telehealth, facility, and information technology initiatives across Southern California. He developed strategic partnerships to build 18 next-generation medical offices and established a governance group to coordinate the clinical, legal, compliance, billing, access, IT, training, credentialing, and privileging aspects of SCPMG's telehealth initiatives.
A family medicine physician, Dr. Chang joined SCPMG in 2005 following his internship and residency at the Kaiser Permanente Fontana Medical Center, where he later served in multiple leadership positions, including physician director of primary care operations, assistant chief of family medicine, and physician director for outside utilization. Additionally, he was the staff president for the Fontana and Ontario medical centers.
Dr. Chang earned his Bachelor of Science in biology from University of California, Los Angeles and his Master of Science in physiology from Georgetown University, where he also earned his medical degree.