Multiple Awards for Family Medicine Residency Director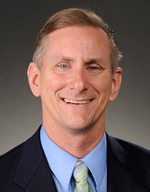 Timothy A. Munzing, MD, a family medicine physician with the Southern California Permanente Medical Group, was honored by the American Academy of Family Physicians and the Association of Family Medicine Residency Directors with the 2017 Outstanding Program Director award. This national award was presented recently during the Program Directors Workshop and Residency Program Solutions Residency Education Symposium in Kansas City, Missouri.
In addition, the California Academy of Family Physicians recently named Dr. Munzing the 2017 Hero of Family Medicine, recognized for his work to train the next generations of family physicians and end the primary care physician shortage.
For more than 25 years, Dr. Munzing – who practices in the Kaiser Permanente Orange County area – has directed the Kaiser Permanente Orange County Family Medicine Residency Program. He's also involved with the development of the Kaiser Permanente School of Medicine.