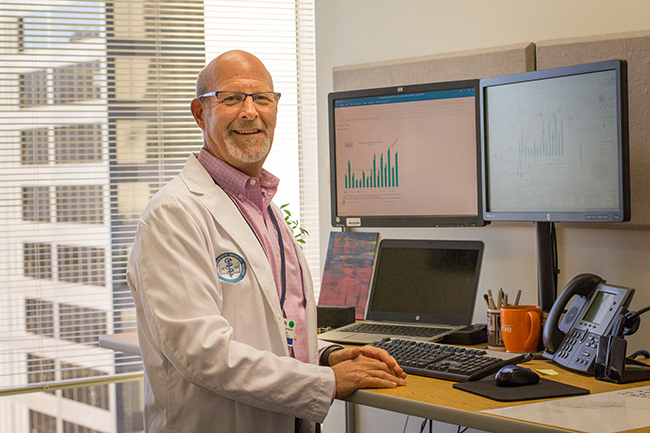 Metrics and good medicine
Steve Olson, MD, educates physicians on the importance of data integrity
By Benjamin Seto
The Permanente Federation
Growing up, Steve Olson, MD, always had a mind for numbers. In high school he contemplated whether to pursue a career as a mathematician, physician, or nuclear physicist.
Luckily for medicine and his many patients, Dr. Olson chose the path of a doctor, specifically a family medicine physician. But numbers continue to play a vital role in his work today.
"I really like engaging with people and creating moments with them. But I wanted to apply more of a scientific rigor to what I would be able to offer people," he says, explaining his decision to become a doctor.
After more than 19 years in private practice in Santa Rosa, Calif., Dr. Olson joined The Permanente Medical Group (TPMG) in 2006. Over the years he has taken on various leadership roles and today is a TPMG regional medical director responsible for documentation and reporting, outside medical services, and benefit assessment and implementation.
Compliance and reporting
For some physicians, the need for accurate and complete documentation and reporting may seem like paperwork that takes them away from patients. But Dr. Olson talks to them about the importance of such reporting and the value it plays in health care organizations such as Kaiser Permanente. "It's difficult to make documentation and reporting glamorous," he says.
Dr. Olson's team ensures that accurate and complete information is reported to the federal government, especially regarding chronic ongoing health conditions. The comprehensive information submitted by health care organizations influences the amount of reimbursement they receive for Medicare advantage plans. At Kaiser Permanente, Dr. Olson says the organization's rigorous standards in data reporting also helps it get a clear understanding of the care that's being provided.
"We make sure the data is a real reflection of what the physicians are thinking and documenting," Dr. Olson says. "Accurate data is important to really describe the populations we care for."
Dr. Olson recalls how when he first started in this role more than four years ago, people weren't as open to hearing about documentation and reporting. Now, he regularly speaks to doctors about the proper ways to document services. "It's been quite a culture change," he says. "Before it was 'can I get on your agenda?' and now it's getting invitations" to chiefs' meetings.
Accurate data is important to really describe the populations we care for.
He credits the shift in thinking to the emphasis on data integrity and on the Permanente Medical Groups' overall mission-driven approach to care. The medical groups emphasize a culture that supports the doctors' passion to improve care for all patients. "We're really a bunch of people trying to do the right thing," he says. "Do we know what's the right thing all the time? No, but we try to find it together."
Every Permanente Medical Group has a physician leader focused on documentation and reporting, and these physician leaders meet every month to standardize processes and support each other's work.
Complete care for patients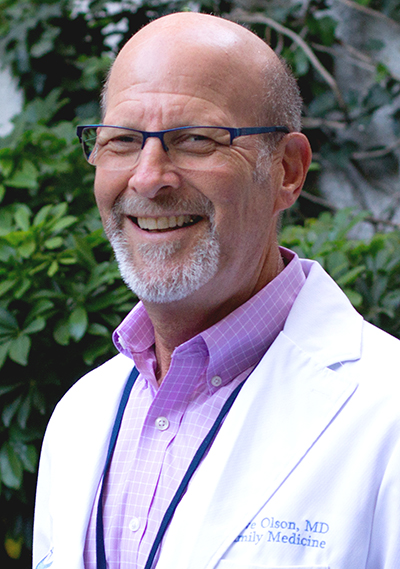 Along with his documentation and reporting responsibilities, Dr. Olson also supervises the various associate physicians-in-chiefs responsible for outside medical services at Kaiser Permanente's 21 hospitals and 15 service areas in Northern California. These leaders are responsible for reviewing and approving requests to go outside Kaiser Permanente to receive medical services.
TPMG coordinates its more than 9,000 physicians to offer a high level of care, so most services can be provided within Kaiser Permanente – because every patient deserves Permanente Medicine. In situations when service needs to be provided outside, Dr. Olson says his team reviews cases to ensure that medical evidence supports that the service will help the patient and then determines the most qualified place for the patient to receive the care they need.
"We refer for outside services if the service is medically indicated and not available in the medical group," he says. "The goal is that the patient gets the best care possible."
If issues come up with an outside institution, he says picking up the phone is also an effective way to protect a patient's experience.
Transplant services is an example of a service in which Kaiser Permanente members are referred out.
With outside medical referrals, Dr. Olson says it's important to always listen to the patients. In fact, he says oftentimes the patient has gathered a lot of the research and supporting documents about a particular service.
While Dr. Olson still sees patients, he doesn't see the volume he had early in his career because of his current role. But he says he still finds satisfaction in his work because he knows he's improving the overall situation for not just one patient, but many.
"I now get to help promote a culture of respect throughout the organization, build open communications, and create a supportive environment that can improve care for all our members."