Matthew Daley, MD, Named a Childhood Immunization Champion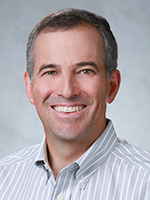 Matthew Daley, MD,
a pediatric researcher for the
Institute for Health Research
at Kaiser Permanente Colorado and a pediatrician with the Colorado Permanente Medical Group, is one of 35 physicians across the country receiving the 2017 Childhood Immunization Champion Award from the Centers for Disease Control and Prevention.
Dr. Daley, a recognized advocate for childhood vaccines among parents, public health professionals and pediatricians, is the only Kaiser Permanente physician recognized among this year's honorees. The award, presented with the CDC Foundation, honors individuals who are doing an exemplary job to promote childhood immunizations in their communities.
In addition to practicing pediatrics and conducting vaccine research, Dr. Daley volunteers his time and expertise as chair for the Vaccine Advisory Committee for Colorado (VACC). He regularly meets with the Colorado Department of Public Health and Environment (CDPHE), and has testified on its behalf in support of critical childhood immunizations policies.
"Dr. Daley is a thoughtful, inclusive advocate who works hard to make sure all voices are heard," said Lynn Trefren, immunization branch chief at the CDPHE. "This acknowledgement by the CDC is well-deserved."
The CDC award is presented each year during National Infant Immunization Week, April 22-29, 2017. To see the complete list of honorees, visit the CDC site.