Mary Meyer, MD, writes on rebuilding U.S. health care workforce during and after COVID-19
Mary Meyer, MD, emergency medicine physician and regional medical director of emergency management for The Permanente Medical Group, shared lessons learned from her own participation in disaster and humanitarian responses about how to recover and heal from the COVID-19 public health emergency.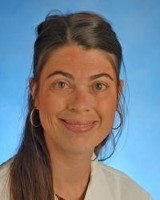 In a recent STAT column, Dr. Meyer wrote that emergency managers think of disasters as having 4 phases: mitigation, preparation, response, and recovery. The recovery phase, comprising the transition back to normal operations and regular duties, is a less-appreciated part of the cycle that holds valuable lessons for today's health care workers if they are to effectively heal and reenter a new normal.
"Recovery is the process of negotiating short-term needs with long-term goals, and of balancing the desire to return to normal with the goal of decreasing future vulnerability," wrote Dr. Meyer, who participated in relief efforts in Sri Lanka after the Indian Ocean earthquake and tsunami, in Haiti during the height of the AIDS epidemic, and elsewhere.
Healing can start by Americans acknowledging the inspiring work of health care workers throughout the pandemic and the toll that this transformative experience has had on them, Dr. Meyer wrote:
"Post-disaster social support on the part of relief workers' communities and employers is essential for successful reintegration … Health care organizations can address barriers to care by normalizing the need to seek mental and emotional health support. Clinicians should be provided with the necessary and evidence-based tools to rebuild themselves, such as practicing self-compassion, participating in peer support, and being intentional about sleep, nutrition, movement, and connectedness with other people."
Dr. Meyer urged the nation to listen and provide health care workers with the respect, compassion, and support that they have provided to their patients and communities during an extraordinary time in history.
"Most health care workers will experience some form of reentry during the recovery phase of the pandemic," Dr. Meyer wrote. "As a society, we are all accountable to health care workers and their recovery, as we expect them to be accountable to us."
To read the entire column, visit STAT.