Mary Giswold, MD, gives in-depth look at advanced-care-at-home programs in webinar
Mary Giswold, MD, chief operating officer for Northwest Permanente, and industry physician experts leading hospital-at-home programs, were quoted in Healthcare Innovation about a March 15 Permanente Live webinar, "The revolution and evolution of acute care at home."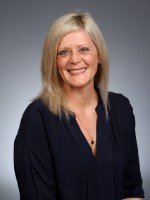 Dr. Giswold spoke about the advanced-care-at-home program at Kaiser Permanente in the Northwest and how it improves access while meeting the needs of patients by fostering safe, equitable, and person-centered care in the comfort of their own homes.
"Among the many benefits of the program, we find that being in the home virtually and physically allows a real in-depth understanding of the social needs of our patients," she said. "It increases that opportunity to connect with patients and their families, so that we can address social needs and connect them to community resources."
Dr. Giswold added that Kaiser Permanente's hospital-at-home program has evolved over time and said that the program could be scaled to more people if the U.S. Senate approves a recently introduced bill that would extend Acute Care at Home waivers for 2 years after the COVID-19 public health emergency ends.
"As an integrated system, we think the program also will bring value to our members because as these programs scale, they potentially will offer more affordable options for hospitalization than building brick-and-mortar facilities," she explained.
Dr. Giswold highlighted the role hospital-at-home programs have played in increasing hospital capacity in response to the pandemic, and shared an example of the program's use in rural Oregon after the area was hit hard by the COVID-19 delta variant, leading to significantly reduced hospital capacity.
The Permanente Live webinar on acute care at home also included speakers from Mayo Clinic, Brigham and Women's Health, and The SCAN Foundation. Stephen Parodi, MD, executive vice president of External Affairs, Communications, and Brand at The Permanente Federation, served as moderator.
Note: To read complete coverage of the webinar, visit Healthcare Innovation and Modern Healthcare (subscription required). Register here to receive a link to watch the entire March 15 webinar.