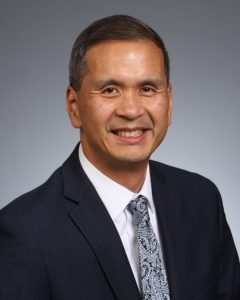 Leong Koh, MD
President and CEO
Northwest Permanente, P.C. (NWP)
As president and CEO of Northwest Permanente (NWP), Leong Koh, MD, leads more than 1,700 physicians, clinicians, and administrative staff at the largest independent, physician-led, multispecialty medical group in Oregon and Southwest Washington. Together, these physicians deliver evidence- and value-based health care with humanity — Permanente Medicine — to more than 640,000 Kaiser Permanente members in the region.
He also co-leads Kaiser Permanente's national health equity workgroups and serves as a member of the health equity sponsor group.
Dr. Koh has practiced family medicine for more than 25 years and has served in a variety of key operational and strategic leadership roles at both regional and national levels, most recently as vice president of Quality, Care Experience, and Patient Safety. During Dr. Koh's tenure, Kaiser Permanente Northwest has once again achieved Medicare 5-star status and several other prestigious awards and recognition for the high-quality, exceptional care our teams provide.
Prior to his role in quality, Dr. Koh spent over a decade in care delivery leadership. As the regional director of operations for primary care, he oversaw primary care operations in both Oregon and Southwest Washington.
Dr. Koh received his medical degree from Loma Linda University School of Medicine, in Loma Linda, California. He completed his family medicine residency at Kaiser Permanente in Southern California and practiced for 4 years in Seattle before coming to Northwest Permanente in 2003.
Dr. Koh has a keen interest in physician wellness in all its facets, including physical, mental, and emotional. He and his wife, also a physician, have 2 young-adult daughters, with whom they enjoy spending as much time as they can, both at home and afar.