Kaiser Permanente physician leaders pen perspective piece on firearm injury prevention
Kaiser Permanente's Firearm Injury Prevention Task Force co-leads David Grossman, MD, MPH, and Bechara Choucair, MD, co-authored an article recently published in Pediatrics on the role health systems have in preventing firearm injury. The article states that in order for health professionals to be effective in protecting patients from firearm injury, they must know how to identify high-risk individuals and have the tools necessary to intervene effectively.
Kaiser Permanente, with care to its 12.3 million members provided by the Permanente Medical Groups, is unique because it offers several "touch points" that can serve as opportunities for intervention before a firearm injury occurs. One such opportunity referenced in the article is screening for depression that can occur across various specialties, which may help identify when someone is at risk for suicide. In addition, addressing social determinants that influence patient and community health can also provide opportunities for intervention.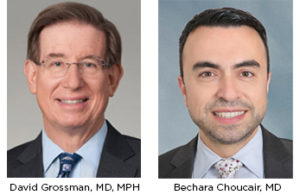 The authors reference a 2018 National Academies of Sciences, Engineering, and Medicine workshop on firearm injury prevention that was sponsored by Kaiser Permanente and the American Hospital Association. Overarching themes for hospitals and health systems that emerged from participants included knowing the epidemiology and burden of firearm injury within our communities, investing in research to identify high-risk individuals and developing interventions, and collaborating with other organizations to develop and share best practices and evidence-based prevention programs.
Kaiser Permanente dedicated $2 million to firearm injury prevention research in April 2018 and continues to lead research in finding new ways to prevent firearm injuries.
Other co-authors of the article included Elizabeth McGlynn, PhD, vice president of research at Kaiser Permanente and executive director of its Center for Effectiveness and Safety Research.
To learn more, read the full article in Pediatrics.