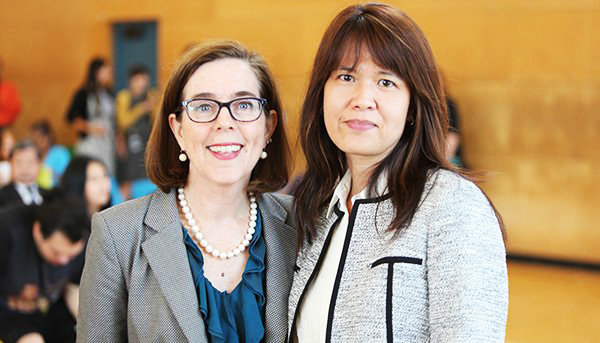 Kaiser Permanente Northwest and Imelda Dacones, MD, Recognized for Leadership in Health Equity
Last month, the Oregon Latino Health Coalition honored Kaiser Permanente Northwest with the "Campeones de Salud" Award for that region's work to end Latino health disparities in Oregon. The award was presented at the coalition's annual Health Equity Dinner, where guests celebrated the passage of the "Cover All Kids" state senate bill.
Kaiser Permanente Northwest has proudly supported the Oregon Latino Health Coalition and other partners in their work to pass Cover All Kids, which extends health care coverage for all Oregon children up to 300 percent of the federal poverty level. This makes Oregon the seventh state in the nation to provide health care for all children regardless of residency status.
In August, Northwest Permanente CEO and President Imelda Dacones, MD, was invited to Oregon Governor Kate Brown's bill signing at the Immigrant & Refugee Community Organization. Dr. Dacones plans to support the rollout of Cover All Kids by sharing experiences from Kaiser Permanente Northwest's own Child Health Program Plus. To learn more, read Dr. Dacones' post on Linkedin.