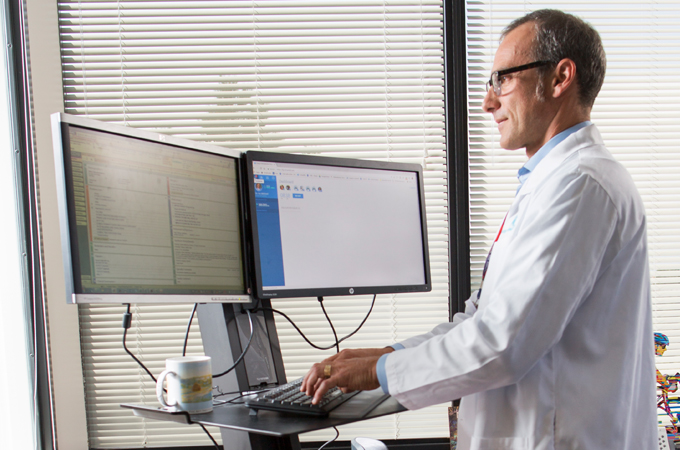 Innovation Snapshot: Ari Melmed, MD
Implementing Telehealth Strategy to Provide Key Services to Patients
This is a special series hearing from the voices of our Permanente physicians on how they bring innovation into their practice to support Permanente Medicine.
Who am I?
I love Colorado. As a Colorado Permanente Medical Group (CPMG) emergency physician, I care for patients at Saint Joseph Hospital, Kaiser Permanente Colorado's central affiliated hospital in Denver. Growing up, my family moved from Israel to Denver when I was 10 years old, and I have spent the majority of my life in Colorado. I earned both my Bachelor of Arts degree and medical degree from the University of Colorado, and did my residency training in emergency medicine at the University of Chicago. After my first son was born, I returned to Denver and I have worked for CPMG at Saint Joseph Hospital for 19 years.
I love living in Colorado. I have a large network of family and friends nearby. My wife works for the Colorado state government and I have two boys in college. Through the years I've relished the many opportunities to enjoy the outdoors in Colorado, from skiing and participating in triathlons to adventure races and racing mountain bikes.
What do I do for Colorado Permanente Medical Group?
I care for our patients in the Emergency Department and via telehealth channels. I've also sought out administrative opportunities to support my physician colleagues as an advocate for physician wellness.
I led the effort to bring scribes to our Emergency Department and I co-chaired and helped found the CPMG Physician Wellness Committee. This has become the window through which I continue to view all of my administrative work. I believe that happy doctors make happy patients. The long-term viability of our company will depend on setting up a work environment that truly supports the needs of our providers and ensures that careers are rewarding and sustainable rather than time-limited by burn out.
Telehealth efforts have been driven largely by passionate individuals working in various parts of the medical group.
Currently, I split my time between a half-time clinical role and an administrative role as regional lead for telehealth strategy. In the last couple of years, I have served as the medical director for Colorado's Telephone Medicine Center and have led development of our online "Chat with a Doc" program. The latter has proven to be a very successful program and has highlighted the need for the region to develop and implement a cohesive strategy for appropriate use of telehealth as a key piece of our services.
While any physician would say that they believe that the future of medicine will include a significant portion of telehealth work, many physicians have difficulty imagining what portion of their current work they could do differently. Similarly, organizational leaders are constantly bombarded with ideas and products that promise to "disrupt," "innovate," "transform" and "modernize" our care.
We face an enormous challenge as we try to evolve our practice into one that will meet the needs and preferences of our members. We must find a way to do so that serves the quadruple aim of bringing high quality, affordable, convenient care to our members while preserving and enhancing the careers of our providers. I'm a true believer in the promise of telehealth to contribute to that mission.
How's it going?
To date, telehealth efforts have been driven largely by passionate individuals working in various parts of the medical group. This, I believe, is the necessary genesis of a widespread change in the way we deliver some of our health care.
Moving forward we'll need to marshal the collective forces of the medical group to support and expand certain offerings to our patients as they prove to be effective and their proper use identified. As an example, the "Chat with a Doc" service has to date demonstrated the ability to deliver immediate medical advice to members. Members are highly satisfied with the service and the service contributes to our commitment to support access to one's physician. Physicians who staff "Chat with a Doc" also report that they enjoy the work, which serves as a nice counter balance to in-clinic work.
At the same time, we continue to work to adjust physician schedules and clinic scheduling to support patient access, physician wellness, and "right care at the right time." By coordinating the efforts to staff telehealth venues and outpatient access, we'll succeed in not only providing our members with convenient high-quality care, but will bolster the careers of our physicians who will enjoy well-balanced and sustainable work weeks.
---
Ari Melmed, MD, is an emergency physician, medical director of Telephone Medicine Center, and medical director of "Chat with a Doc" at the Colorado Permanente Medical Group, which provides care to Kaiser Permanente members in Colorado. The telehealth innovations described here are also featured at the Kaiser Permanente Center for Total Health in Washington, DC. Follow Dr. Melmed on Twitter at @AZMelmed.