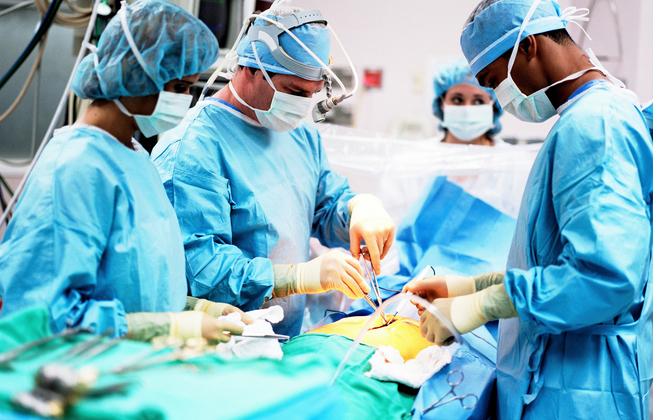 At the Heart of Quality Cardiac Specialty Care
Physicians at Kaiser Permanente Excel in State-of-the-Art Cardiac Surgeries
Kaiser Permanente – with its strong emphasis on integrated care and prevention – is an industry leader in preventing and managing heart disease in members. But what health care experts and the public may be less familiar with is that Kaiser Permanente facilities and physicians also earn top honors when it comes to cardiac specialty care.
Whether you are looking in San Francisco or Seattle, the accolades and top quality scores extend across multiple facilities and regions.
Sunnyside Medical Center Receives Top Honors
In 2017 Consumer Reports named Kaiser Permanente's Sunnyside Medical Center near Portland, Ore., as the only hospital in the Western region to receive top scores for both heart valve and coronary artery bypass surgery. The finding was based on medical record data that included details on survival rates and complications from 400 hospitals nationwide. For seven consecutive years since the opening of its Northwest Center for Heart and Vascular Care, Sunnyside has received the Society of Thoracic Surgeons (STS)'s three-star quality rating for bypass surgery.
Sunnyside is also the only Kaiser Permanente program certified by the Joint Commission to provide HeartMate II Left Ventricular Assist Device (LVAD) surgery for patients with end-stage heart failure.
The honors are due, in no small part, to the good work of Permanente physicians like Yong Shin, MD, chief of Cardiovascular Surgery at the Kaiser Permanente Northwest Center for Heart and Vascular Care.
"The key to our success has been our highly dedicated and skilled cardiovascular team, which is passionately committed to providing the very best care for our patients," says Dr. Shin. "Our repeated top three-star STS quality rating has been a powerful example of how Kaiser Permanente's integrated care model can facilitate a health care team to work together in a multidisciplinary fashion to achieve excellence in patient-centered care."
Meanwhile, more than 600 miles south, our Kaiser Permanente San Francisco Medical Center was named by U.S. News & World Report in 2016 as one of the top 50 hospitals for cardiac care and heart surgery. The San Francisco Medical Center has the largest cardiac surgery program in the San Francisco Bay Area and one of the largest in California.
Kaiser Permanente's Northern California cardiac surgery program has also earned the coveted three-star rating from the Society of Thoracic Surgeons; only 97 programs out of more than 1,000 across the nation have earned this distinction.
In 2017, our Southern California Cardiovascular Surgical Services Program at the Kaiser Permanente Los Angeles Medical Center also received the society's three-star rating for the third consecutive year. It was also named by U.S. News & World Report as a top hospital, designated as a high-performer in nine common adult procedures and conditions in three specialties: aortic valve surgery, heart failure, and heart bypass surgery.
Volume Matters
Kaiser Permanente patients who need complex cardiac procedures benefit from something else health experts know to be universally true – care at medical centers that do a high volume of procedures results in better outcomes. When it comes to quality, volume matters.
In Northern California, patients who need heart surgery, treatment of heart rhythm issues, and high-risk angioplasty and stenting procedures receive them at Kaiser Permanente Medical Centers in San Francisco and Santa Clara, where a high volume of these procedures are performed.
"Practice makes perfect, or nearly perfect," says Edward McNulty, MD, medical director of Cardiac Services at The Permanente Medical Group, the physician group that provides care to Kaiser Permanente members in Northern California. "The high volumes combined with our experienced care teams mean our patients are receiving highly skilled, high-quality cardiac care."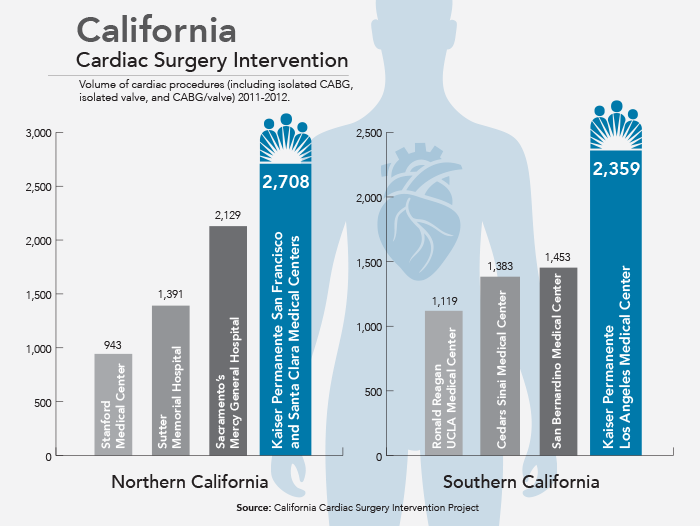 At our Kaiser Permanente Santa Clara Cardiac Specialty Care Center, Charlie Young, MD, chief of Cardiac Electrophysiology for Kaiser Permanente Northern California, and his team of 17 physicians, nurses, technologists, and physician assistants perform about 30 procedures a week on patients referred to them with cardiac rhythm disorders.
They oversee procedures like ablation – a minimally invasive, advanced procedure in which flexible wires are inserted into a patient's groin or neck veins and threaded up into the chambers of the heart. The team also utilizes a state-of-the-art, remote navigational device that more accurately and safely delivers ablative lesions to target sites in the heart.
According to Kaiser Permanente Northern California Cardiac Services Director Julie Rowell, the data consistently proves volume and quality go hand-in-hand. She shares this example: "When we look at data from the most accurate source for cardiac outcomes in the U.S. cardiology community, our cardiac catheterization lab in San Francisco is a top performer nationally in terms of volume and quality — recently ranking in the best 10 percent of programs."
State-of-the-Art Procedures
But having the nation's leading experts working together at these facilities means they can do more than just a high volume of procedures. They can also perform advanced, state-of-the-art procedures. For example, in 2012 interventional cardiologist Jacob Mishell, MD, put together a dream team to start performing transcatheter aortic valve replacement, or TAVR, at our Kaiser Permanente San Francisco Medical Center.
With TAVR, the aortic valve is accessed via a catheter inserted into a blood vessel through a small incision, usually in the leg. A physician passes a specially designed artificial heart valve through the catheter and guides it into position where it can expand and take over the function of the original, damaged valve. TAVR is much less invasive than open-heart surgery.
Dr. Mishell, who directs the Structural Heart Program, assembled a team that includes heart surgeons, interventional cardiologists, imaging cardiologists, vascular surgeons, and an array of other specialists, nurses, and technologists. The Kaiser Permanente Northern California program is one of the larger TAVR programs in the United States, performing over 150 TAVR procedures a year. The program has lower rates of major complication and mortality than those in published studies for similar patients.
Caring for the heart can be complex, so we strive to assemble a team of expert surgeons and physicians who are constantly keeping up with the latest approaches to cardiac treatments.

— Edward McNulty, MD, medical director of Cardiac Services at The Permanente Medical Group
Our Southern California Cardiovascular Surgical Services Program also performs TAVR, along with minimally invasive thoracic endovascular aortic repair (TEVAR) to repair the major blood vessel in the body and MitraClip transcatheter repair for conditions when the mitral valve of the heart creates a backflow or regurgitation.
Our surgeons participate in research trials of cutting-edge therapies, such as in Southern California, where they participated in the pivotal CoreValve Trial of minimally invasive aortic valve surgery, while in Northern California our Permanente surgeons are participating in the PARTNER 3 Trial of TAVR.
"Caring for the heart can be complex, so we strive to assemble a team of expert surgeons and physicians who are constantly keeping up with the latest approaches to cardiac treatments," says Dr. McNulty, adding that in most Kaiser Permanente Regions, teams from various departments work together to help guide individual heart patients to ensure each patient gets the care that's right for him or her.
High Quality Around the Regions
Kaiser Permanente's newest region in Washington state also has top quality scores for TAVR. Now in its third year, the Group Health/Overlake TAVR program is celebrating its 120th procedure and outcomes surpassing national averages.
In the Colorado region, where Kaiser Permanente does not own its own hospitals, Permanente physicians have a special partnership with Saint Joseph Hospital. Colorado Permanente Medical Group physicians provide 90 percent of the acute cardiovascular care at Saint Joseph, which also has a three-star STS rating for complex heart surgeries that include isolated aortic valve replacement (AVR), isolated coronary artery bypass grafting (CABG) and AVR+CABG surgeries.
Across the organization there is still, of course, a strong focus on preventive cardiac care too. That, coupled with the best physicians doing a high volume of state-of-the-art cardiac procedures, means Kaiser Permanente is truly the best place to be when it comes to all matters of the heart.
"The secret sauce is our integrated care model, dedication to quality, and of course a commitment to the well-being of all our members," says Blanding Jones, MD, director of Cardiovascular Surgery and Services for the Southern California Permanente Medical Group.