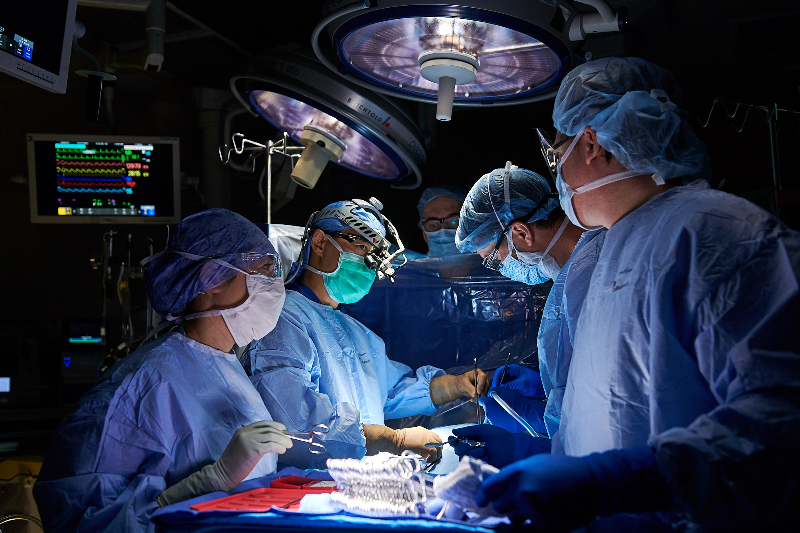 At the heart of quality cardiac specialty care
Physicians at Kaiser Permanente excel in state-of-the-art cardiac surgeries
This story was updated in February 2023 to include latest statistics, updated chart, additional information on extracorporeal membrane oxygenation (ECMO), and quotes from current medical directors.
Kaiser Permanente — with its strong emphasis on integrated care and prevention — is an industry leader in preventing and managing heart disease. But what health care experts and the public may be less familiar with is that Kaiser Permanente medical facilities and Permanente physicians also earn top honors when it comes to cardiac specialty care.
Whether in San Francisco or Seattle, the accolades and top quality scores extend across multiple facilities and regions.
Sunnyside Medical Center receives top honors
Since 2009, the Kaiser Permanente Sunnyside Medical Center's Northwest Center for Heart and Vascular Care has earned the highest 3-star quality rating for cardiac surgery from the Society of Thoracic Surgeons (STS). For general thoracic surgery, Sunnyside is one of only 7 hospitals in the country to earn the highest distinction.
The honors are due, in no small part, to the good work of Permanente physicians like Yong Shin, MD, chief of Cardiothoracic Surgery at Northwest Permanente.
"The key to our success has been our highly dedicated and skilled cardiovascular team, which is passionately committed to providing the very best care for our patients," says Dr. Shin. "Our repeated top 3-star STS quality rating has been a powerful example of how Kaiser Permanente's integrated care model can facilitate a health care team to work together in a multidisciplinary fashion to achieve excellence in patient-centered care."
Meanwhile, more than 600 miles south, the cardiac programs at Kaiser Permanente's San Francisco and Santa Clara medical centers also earned the coveted 3-star rating from the Society of Thoracic Surgeons in categories such as morbidity and medications. Our Northern California cardiac surgery program is the largest in the region and one of the largest in the state.
In 2022, our Southern California Cardiovascular Surgical Services Program at the Kaiser Permanente Los Angeles Medical Center also received the society's 3-star rating for the eighth consecutive year. It was also named by U.S. News & World Report as a top hospital, designated as a high-performer for 5 years straight in the categories of aortic valve surgery, heart failure, and heart bypass surgery.
In California, the Kaiser Permanente Los Angeles Medical Center was the only hospital in the state to score a "better" ranking ("better" being the highest designation) in 4 categories according to the California Department of Health Care Access and Information: isolated coronary artery bypass (CABG), bypass surgery and valve operative mortality results, post-operative stroke after isolated CABG, and CABG 30-day readmission.
Volume matters
Kaiser Permanente patients who need complex cardiac procedures benefit from something else health experts know to be universally true — care at medical centers that perform lots of procedures results in better outcomes. When it comes to quality, volume matters.
In Northern California, patients who need heart surgery, heart arrhythmia treatment, and high-risk angioplasty and stenting procedures receive them at Kaiser Permanente medical centers in San Francisco and Santa Clara, where a high number of these procedures are performed.
"With such high volumes, our highly trained interdisciplinary teams are constantly pushing the envelope in innovation and consistently achieving the highest quality of care and services," says Eric Au, MD, director of Cardiac Services for The Permanente Medical Group. "Like a world-class orchestra, dedication and practice lead to amazing outcomes."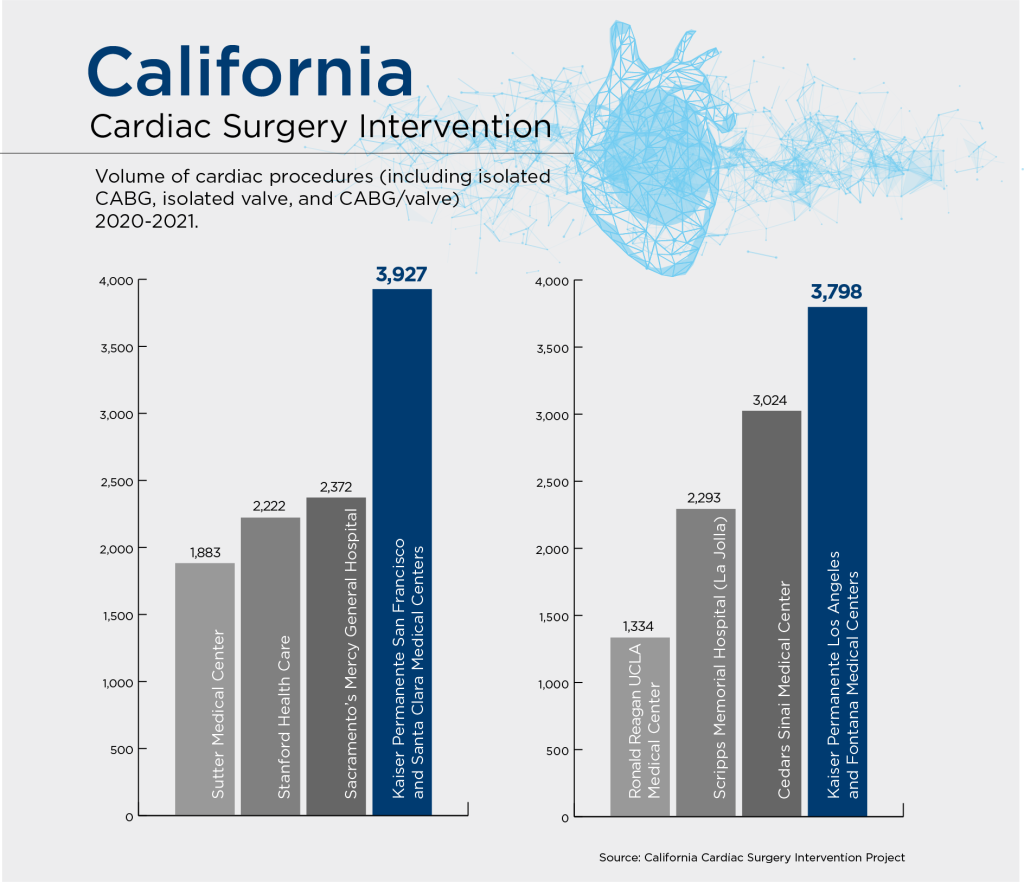 At our Kaiser Permanente medical centers in Santa Clara, Sacramento, and Redwood City, Taylor Liu, MD, chief of Cardiac Electrophysiology for Kaiser Permanente Northern California, says care teams of physicians, nurses, technologists, and physician assistants perform about 2,400 procedures a year on patients with cardiac rhythm disorders.
The teams oversee procedures like ablation — a minimally invasive, advanced procedure in which flexible wires are inserted into a patient's groin or neck veins and threaded up into the chambers of the heart. Teams also utilize a state-of-the-art, remote navigational device that more accurately and safely delivers ablative lesions to target sites in the heart, destroying abnormal tissue.
State-of-the-art procedures
But having the nation's leading experts working together at these facilities means they can do more than just a high volume of procedures. They can also perform advanced, state-of-the-art procedures. For example, in 2012 interventional cardiologist Jacob Mishell, MD, put together a dream team to start performing transcatheter aortic valve replacement, or TAVR, at our Kaiser Permanente San Francisco Medical Center.
With TAVR, the aortic valve is accessed via a catheter inserted into a blood vessel through a small incision, usually in the leg. A physician passes a specially designed artificial heart valve through the catheter and guides it into position where it can expand and take over the function of the original, damaged valve. TAVR is much less invasive than open-heart surgery.
Dr. Mishell, who directs the Structural Heart Program, assembled a team that includes heart surgeons, interventional cardiologists, imaging cardiologists, vascular surgeons, and an array of other specialists, nurses, and technologists. The Kaiser Permanente Northern California program is among the 10 largest TAVR programs in the United States, performing over 1,000 complex TAVR procedures a year. The program has lower rates of major complication and mortality than those in published studies for similar patients.
Like a world-class orchestra, dedication and practice lead to amazing outcomes.

— Eric Au, MD, director of Cardiac Services at The Permanente Medical Group
Kaiser Permanente in Northern California also has the only full-service Mechanical Circulatory Support (MCS) program in all of Kaiser Permanente, providing durable ventricular assist device implantation (certified by the Joint Commission for Heartmate III), surgical temporary ventricular assist devices, and extracorporeal membrane oxygenation (ECMO). ECMO is a portable heart-lung bypass machine used on patients whose heart or lungs are not functioning, and requires a highly coordinated, high-functioning team to provide care.
"The ECMO program in Northern California has performed nearly 100 runs in a short amount of time, and is the only internalized, regionally integrated ECMO program in the United States providing lifesaving care for nearly 45% of Bay Area patients," says Richard Ha, MD, associate medical director of Cardiac Services and surgical director of Mechanical Circulatory Support at The Permanente Medical Group.
Our Southern California Cardiovascular Surgical Services Program also performs TAVR, along with other minimally invasive procedures. For example, thoracic endovascular aortic repair (TEVAR) treats a weak aorta, the largest artery in the body. MitraClip transcatheter repairs the heart's mitral valve when it creates a backflow or regurgitation.
Our surgeons participate in research trials of cutting-edge therapies, such as in Southern California, where they participated in the pivotal CoreValve trial of minimally invasive aortic valve surgery. In Northern California our Permanente surgeons participated in phase III clinical trials that led to the FDA's broad approval of an expanded indication for TAVR in 2019.
"The field of cardiovascular medicine continues to evolve at a fast pace," says Dr. Au. "Our teams are not only keeping up with these innovations, they are experts in the field and are leading the nation in bringing the latest technologies to our millions of members."
Related story: "Driving health care innovation in 10 steps"
High quality around the regions
Kaiser Permanente in Washington state also has top quality scores for TAVR. Since 2014, the Washington Permanente Medical Group and Overlake Medical Center have co-led the Structural Heart Program, which is among the top 25% nationwide for 3-year positive outcomes according to the Transcatheter Valvular Therapeutics Registry.
In the Colorado region, Permanente physicians have a special partnership with Saint Joseph Hospital. Colorado Permanente Medical Group physicians provide 90 percent of the acute cardiovascular care at Saint Joseph, which also has a three-star STS rating for complex heart surgeries.
Across the organization there is still, of course, a strong focus on preventive cardiac care too. That, coupled with the best physicians doing a high volume of state-of-the-art cardiac procedures, means Kaiser Permanente is truly the best place to be when it comes to all matters of the heart.
"The secret sauce is our integrated care model, dedication to quality, and of course a commitment to lifestyle intervention in our members," says Columbus Batiste, MD, regional chief of Cardiology for the Southern California Permanente Medical Group.