Hawaii Pediatrician Named a 2018 CDC Immunization Champion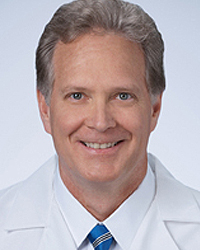 R. Michael Hamilton, MD, MS, FAAP, a pediatrician with the Hawaii Permanente Medical Group, is one of 38 physicians across the country receiving the 2018 Childhood Immunization Champion Award from the Centers for Disease Control and Prevention.
Dr. Hamilton, who provides care at the Kaiser Permanente Moanalua Medical Center in Honolulu, is active in the Hawaii chapter of the American Academy of Pediatrics, serving as the chapter president from 2013-16. He was instrumental in continuing the chapter's immunization committee, which works closely with the Hawaii Immunization Coalition.
Dr. Hamilton is a strong advocate of Permanente Medicine where patient-focused care brings the patient into the care team decision-making process. "Partnering with my patients and their parents helps me provide quality care while helping the family to make wise health care choices," he says.
The CDC honor, presented with the CDC Foundation, recognizes individuals who are doing an exemplary job to promote childhood immunizations in their communities. The award is presented each year during National Infant Immunization Week, April 21-28, 2018.
To see the complete list of honorees, visit the CDC site.