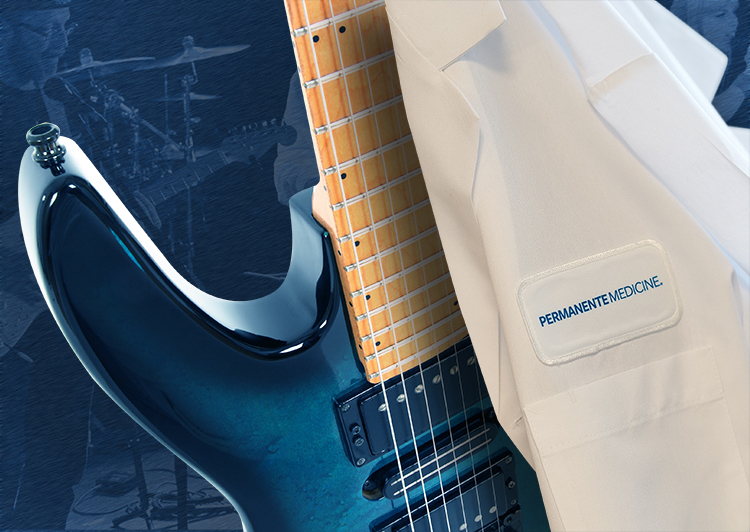 Harmonizing physician wellness through music
Doctors playing in bands connect with their love of music
By Benjamin Seto
The Permanente Federation
For years, research has demonstrated that music can be an effective form of therapy. In fact, the Southern California Permanente Medical Group (SCPMG) strummed a new tune in this area with its Music Medicine Intervention program last year to help Kaiser Permanente members going through such treatments as chemotherapy.
But the benefits of music aren't just a one-way street where only those seeking help can benefit. It also does wonders for those providing care.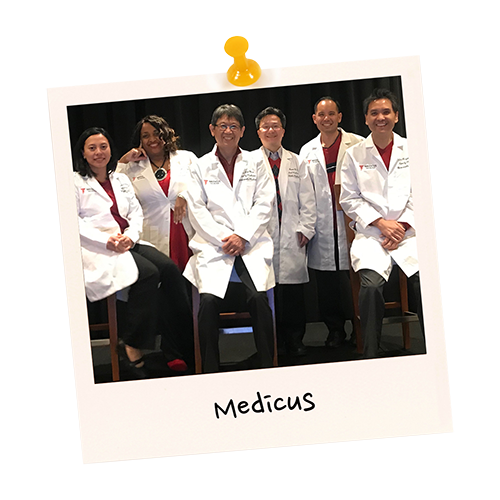 Physicians – with their demanding work of providing precision care in often life-and-death situations – need ways to relieve stress, recalibrate, and find balance in life so they can continue to care for others. Several Permanente physicians have found their love of music as an answer to complement their hectic lives in medicine.
"Medicine is a significant part of our lives, but music reminds us that we're also human," says Brian Bautista, MD, a family medicine physician with SCPMG and keyboardist for the physician band Medicus. "It's important to find a balance so we can enjoy life and be refreshed when we care for our patients."
Started 4 years ago, Medicus is a cover band performing at Kaiser Permanente functions and area medical offices. In addition to Dr. Bautista, band members include: guitarist Roger Batin, MD, family medicine; guitarist/vocalist Lien Tran Pham, MD, (recently retired) family medicine; drummer Steven M. Lee, DO, pulmonology; vocalist Malrie Brown, MD, family medicine; and vocalist Lourdes Minaya, MD, pediatrics.
Striking similar notes
Physician bands allow doctors to find common ground in two areas – medicine and music.
"Most of us played when we were in high school or college, some even majored in music," says Matthew Lau, MD, chief of Allergy with Hawaii Permanente Medical Group and leader of the ensemble group Medical Notes. "There's a very nice connection that happens when you not only play music as great enjoyment but with colleagues who understand each other. We talk about music and medicine."
For those looking for a brief escape from the world of medicine, being part of a band allows that to happen, too. "Even though we're all from the same industry, playing in a band is completely different," says James Wentzien, MD, an ophthalmologist with Northwest Permanente (NWP) and guitarist for Big Sound, a band started by NWP's current chief of staff, Tim Borne. "It's a chance for us to interact with colleagues in a different way and do something creative."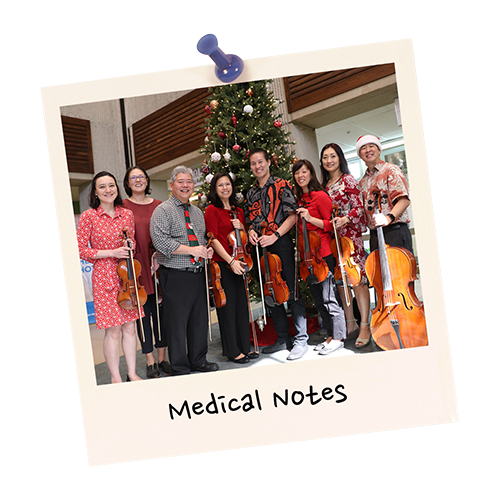 Along with Dr. Wentzien and Borne (the group's singer), Big Sound includes guitarist/singer Wiley Chan, MD, a retired internist; bassist Hyatt Yu, a NWP practice manager; trumpet player Brent Roth, a practice director; drummer Ed Borne (Tim's brother); and percussionist Mike Kinard, a retired administrator on the health plan side. The band plays rock standards.
Hawaii's Medical Notes, a string ensemble that started off primarily with Dr. Lau playing with his daughter and some patients, has grown to 8 members – all but one are practicing Permanente physicians. The group plays at Kaiser Permanente Hawaii locations throughout the year and at events, but mostly around the holidays. "It's a great gift we can give to our patients," Dr. Lau says. "They enjoy seeing their doctors perform and you realize we're all one big family."
Current members of Medical Notes include violinists Dr. Lau, pulmonologist Janet Myers, MD, pediatric dermatologist Allyson Spence-Shishido, MD, and colorectal surgeon Rebecca Sawai, MD; celloist Aaron Choy, MD, internist; and violaists Gary Yap, MD, family medicine, audiologist Chantelle Nakata, AuD, and internal medicine resident Diana Kim, MD.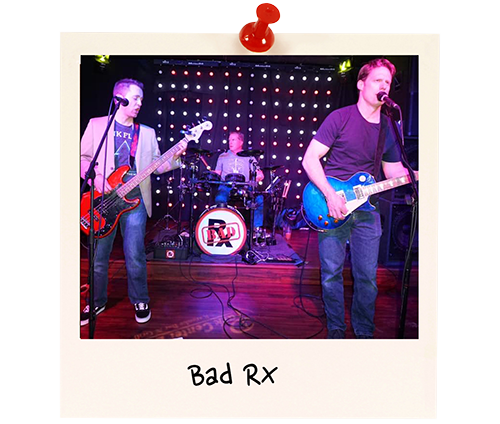 Dan O'Brien, DO, a family medicine physician with Colorado Permanente Medical Group, is the newest member of Bad Rx, playing bass and doing vocals. The classic rock cover band, which is really known as Bad Medicine despite the moniker, was started by James Hardee, MD, internist and drummer; and Scott Clemensen, MD, family medicine physician and lead guitarist. After a few years of playing for friends and local clubs, Bad Rx last year started to do charity shows – raising more than $2,000 for local causes – and hosted a battle-of-the-band-like concert known as "Docs That Rock" with physicians bands from other health care organizations.
Like others, Dr. O'Brien says music is a great way to escape from the stress of work. "Playing puts you in the moment," he says. "You can't think about things that happened or are going to happen. You're totally absorbed in the moment."
Working with their hands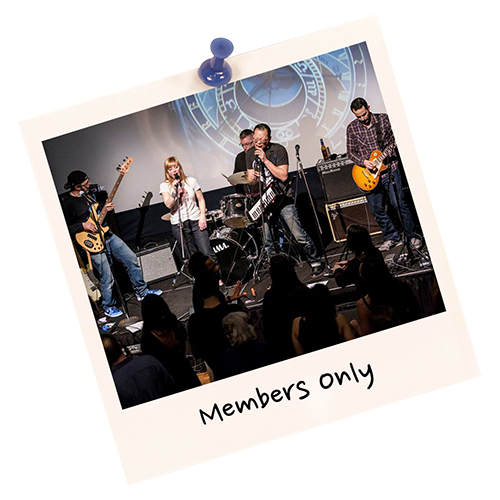 Sometimes doctors can relate music to their work in medicine. David Cho, MD, a colon and rectal surgeon at the Kaiser Permanente Sunnybrook Medical Offices in Oregon, says it's no surprise many of the Northwest Permanente physicians in the band Members Only are surgeons.
"One reason why we're surgeons is that we like to do stuff with our hands," says Dr. Cho, who has been playing keyboards since residency. "We're also used to the idea of doing one thing and being responsible for the work. Playing music in front of people has that same immediate sensation. A lot of things meld with who we are as surgeons."
Members Only has performed at local clubs around Portland and even at the "Battle of the Bands" to support the regional arts council. Other band members include Chris Moran, MD, surgical oncologist and drummer; Daniel Ladizinsky, MD, recently retired plastic surgeon; Samir Shehab, MD, pediatrician and guitarist/vocalist/bassist; and Brownyn Baz, MD, pediatrician and guest singer.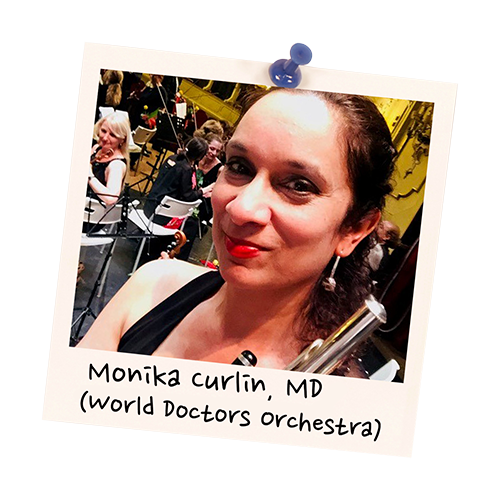 Some physicians play in larger groups, such as Monika Curlin, MD, a dermatologist with SCPMG at Kaiser Permanente Fontana Medical Center who plays the flute and piccolo with the World Doctors Orchestra, a Berlin-based symphony with more than 100 physicians from around the world performing once or twice a year to raise money for local health clinics.
Dr. Curlin, who has played musical instruments all her life and continues to take lessons to perfect her craft, started off joining a local orchestra before auditioning for the international group. Spending time with music is a great stress reliever, she says, "and it teaches me about communications and how to interact with people. I learn how to solve problems, little by little. That's how music works, really."